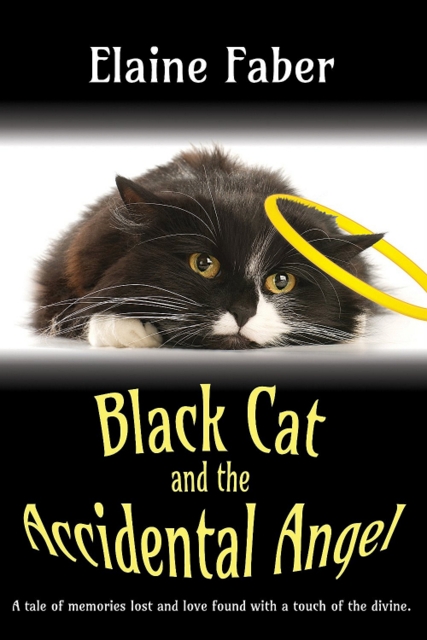 Black Cat And The Accidental Angel by Elaine Farber.
Book review by Melissa Lapierre
Even though I've been a cat lady since the day I was born, as a little girl one of my favorite television shows was The Littlest Hobo. Do you remember the stray German Shepherd who roamed from town to town befriending and helping people in need?
Each family would attempt to adopt him, but at the end of every episode he hit the road again for his next adventure. My mother has often reminded me how I was left in tears every single week when he ended up on his own once again (apparently I didn't quite understand the concept of the show). Then there was Lassie…something was always happening that would separate her from Timmy, and oh the adventures she would find with the people she met on her way home to him.

I recently read a wonderful mystery that reminded me of these special shows from my childhood: Black Cat and the Accidental Angel by Elaine Faber, the third book in her delightful Black Cat mystery series.
From the publisher: When the family SUV flips and Kimberlee is rushed to the hospital, Black Cat (Thumper) and his soul-mate are left behind. Black Cat loses all memory of his former life and the identity of the lovely feline companion by his side. "Call me Angel. I'm here to take care of you." Her words set them on a long journey toward home, and life brings them face to face with episodes of joy and sorrow.
The two cats are taken in by John and his young daughter, Cindy, facing foreclosure of the family vineyard and emu farm. In addition, someone is playing increasingly dangerous pranks that threaten Cindy's safety. Angel makes it her mission to help their new family. John's prayers are answered in unexpected ways, but not until Angel puts her life at risk to protect the child, and Black Cat finds there are more important things in life than knowing your real name.
Told mainly from the cats' point of view, I found myself caring deeply about the humans in the story too, and my heart was touched by the bond that Black Cat, Angel, John and Cindy formed in such a short period of time. More than once I teared up at the thought that by the end of the book they would have to say good-bye, but it was done in a way that left me with happy tears at the turn of the last page.
Even if you haven't read the first two books in the series, this one stands on its own as a very special story with important life lessons, a beautiful feline romance, and a cast of characters that you will find hard to forget.
Amazon purchase link: Black Cat and The Accidental Angel
Visit Elaine Faber at her website MindCandyMysteries
Visit Melissa Lapierre at her blog MochasMysteriesMeows
Read any exceptional cat books lately you'd like reviewed at the CWA blog? Email the editor, Layla Morgan Wilde Layla@laylamorganwilde.com
[subscribe2]