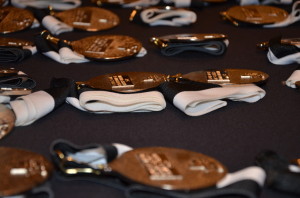 Each year, the Cat Writers' Association honors the best cat work of the year, recognizing the finalists and winners of the prestigious Muse Medallion™ and corporate awards (this year in excess of $11,000) at a gala Awards Banquet celebration traditionally held during our annual Writers Conference. Many of these sponsors will be on hand to present awards and meet-and-greet attendees. Since cats are so concerned about their grooming and appearance, banquet attendees often dress to the nines (lives.) Black tie is in no way required, but as they used to say, "If you got 'em, wear 'em." Bling is encouraged, and in the case of our officers, expected.
STAY TUNED FOR BREAKING NEWS!
CWA AWARDS BANQUET–A SEPARATE TICKET!

The CWA Awards Banquet is a SEPARATE TICKET and must be purchased from this page. The 22nd Annual CWA Awards Banquet will be held Friday evening, starting about 7:30-10:00 pm June 24, 2016, also at the Wild Horse Pass Resort & Spa outside Phoenix, AZ. The CWA wants as many contest entrants and guests to be able to attend as possible (contest details are here). Thanks to our generous sponsors, the cost of the night's reception and banquet is subsidized at a fraction of the actual cost. Register EARLY to take advantage of these savings.
BANQUET REGISTRATION DEADLINE JUNE 10, 2016
NO REFUNDS! But you can transfer your registration (CWA rate to CWA members only) through June 10th, 2016, by notifying Amy Shojai (amy@shojai.com) of the name change. After June 10th transfers cannot be processed.