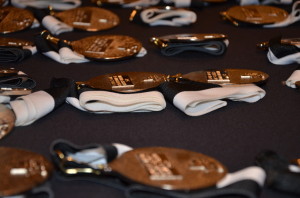 Each year, the Cat Writers' Association honors the best cat work of the year, recognizing the finalists and winners of the prestigious Muse Medallion™ and corporate awards at a gala Awards Banquet celebration.
The 22nd Annual CWA Awards Banquet will be held Friday evening, 6-10:00 pm June 24, 2016, at the Wild Horse Pass Resort & Spa outside Phoenix, AZ. Thanks to our generous sponsors, the cost of the night's reception and banquet is subsidized at a fraction of the actual cost.
Register EARLY to take advantage of these savings.
Since cats are so concerned about their grooming and appearance, banquet attendees often dress to the nines (lives.) Black tie is in no way required, but as they used to say, "If you got 'em, wear 'em." Bling is encouraged, and in the case of our officers, expected.
REGISTRATION PRICE/SCHEDULE
Early Bird Banquet Registration until Dec. 5, 2015:  $65.00 (RUSH to take advantage of this huge discount!)
Banquet Registration Dec. 6 until Jan. 19, 2016 (contest deadline!): Member Rate $75, Nonmember rate $85
Banquet Registration Jan. 20 until June 15, 2016: $95.00
CONFERENCE DETAILS COMING SOON!