CWA 2017 Conference and Annual Awards Banquet

---
---
MARK YOUR CALENDARS!
CWA will hold its  23nd Annual CWA Conference & Awards Banquet from May 18 – May 20, 2017, in conjunction with  2017 BlogPaws conference at the Sheraton Myrtle Beach Convention Center Hotel in Myrtle Beach, South Carolina. This marks the second consecutive year we have partnered with our friends at BlogPaws. We hope to see YOU at the conference!
CWA writers' tracks will be scheduled for Thursday, May 18, or Friday, May 19. Sessions are scheduled to run for approximately one hour each.
Those interested in attending BlogPaws conference programming can check out registration links here. And here's the link to the conference hotel.
Don't miss this PAW-some opportunity–All Conference registrants can attend any/all combination of CWA and BlogPaws seminars/sessions.
REGISTER for the Conference here.
We have learned that air fares to Myrtle Beach are rather steep. The folks at BlogPaws suggest flying into nearby Charleston. A two-hour Greyhound bus ride from there for $22 drops you just down the street from the Conference hotel.
The 23nd Annual CWA Awards Banquet will be held on Friday evening, May 19, 2017, at the Sheraton Myrtle Beach Convention Center Hotel.
BlogPaws traditionally has a "free night" on Friday, so the CWA Awards Banquet will not conflict with BlogPaws events. CWA members and contest nominees can double their pleasure and attend BlogPaws events, and BlogPaws folks can join our furry throng for a fantastic Awards Night celebration!
For the 2016 Conference CWA successfully found a sponsor for the Awards Banquet, allowing all CWA members to attend free. That is our aim for 2017 as well, although we are not quite there yet.
See you in Myrtle Beach for another stellar conference!
---
2017 CWA Conference Panels and Speakers
---
Managing your time, refining your craft, accessing the latest programs, ideas and research about cats are topics that will appeal to all cat writers, from novice to pro. The 2017 conference of the Cat Writers' Association will be held in conjunction with BlogPaws from May 18-20, 2017 at the Sheraton Myrtle Beach Convention Center Hotel in Myrtle Beach, SC. CWA's conference offers another opportunity to join fellow cat writers who share the bond of writing and love for cats. This year's CWA tracks include:
Thursday, May 18:
WINN Feline Foundation panel – "Supporting Cat Health Studies, and Providing a Resource for Cat Writers/Bloggers"
Synopsis: You'll hear the latest in cat health news including diabetes and new parasite control. You'll learn how Winn can be a resource for stories you may be working on, or even impetus for developing blog and story ideas.
Panelists: Dr. Vicki Thayer, Shila Nordone, PhD, and moderated by Steve Dale
---
American Association of Feline Practitioners (AAFP) panel – "Cat Friendly Practices Begin at Home: How Your Help is Needed to Save Cat Lives"
Synopsis: American Association of Feline Practitioners (AAFP) has new data that demonstrates that Cat Friendly Practices (CFP) are worth the effort, and cats benefit once they're in the clinic. Dr. Lambrecht will reveal the latest. Steve Dale describes how CFP really begin in the home, so getting them there isn't half the battle – it's not a battle at all.
Most importantly, your help is needed as cat writer's and bloggers can play an integral role as cat loving ambassadors to relay factual information about CFP and cat behavior to the general public. Doing so will save cat lives, and that is no exaggeration.
Panelists: Dr. Ken Lambrecht and his cat, Ms. Bug , (more panelists to come), moderated by Steve Dale
---
Robbi Hess – "Overworked & Overwhelmed? The Four-Step Process for Reinventing Your Writing"
Synopsis: Whether you're a full time writer, blogger, in the midst of a multi-book project or just starting out, this session will help you lose the feeling of being overworked and overwhelmed. You'll learn a four-step process to beat procrastination, use time blocking to help you get more done, claim your writing time and bump up your creativity and some in-the-trenches writing tips, hacks and advice. There will be giveaways, handouts and time for questions!
Speaker: Robbie is a CWA member, seasoned public speaker, full-time writer, and manager and story editor for Crimeless Cat of Positively Woof.
---
Friday, May 19:
Fear Free panel – "Enrichment in the Built Environment"
Synopsis: The panel will discuss all aspects of cat enrichment indoors, especially in owner's homes. Get creative! Great new content for articles and blog posts.
Panelists: Heather Lewis (cat-friendly architecture expert), Elizabeth Bales (creator of "nobowl" cat feeding system), and Kristen Levine (pet lifestyle expert)
---
Susan Willett and Sandy Robins – "
How to create and develop engaging content that attracts readers, followers, sponsors — and even a book deal!

"

Synopsis: The title says it all as these two talented writers team up to help you make the most from your written word.

Speakers: Susan is a CWA member, corporate communications professional and creative force behind http://lifewithdogsandcats.com. Sandy is a CWA member, award-winning author, columnist, and pet lifestyle expert.
---
Book Signing Opportunities at the 2017 CWA Conference
---
Kate Benjamin's CAT LOUNGE at the 2017 BlogPaws / CWA Conference will include a book-signing table. Just imagine how many cat lovers will be strolling by, drooling over all the goodies on display and just hankering to buy something – like your books!
So if you have been on the fence about attending the conference, hesitate no longer and register here.
---
2017 CWA Conference Editor Appointments
---
For those conference attendees who would like to present pitches to editors, we already have four editors signed up to hear your pitches — and we're working to expand the list. Stay tuned!
Paul Glassner will be your contact for scheduling your one-on-one pitch sessions with these editors. Paul won't be taking names until April, so you have plenty of time to refine your pitches for that all-important 10 minute editor appointment.
CONFIRMED EDITORS:
Lonnie Hull DuPont is an Executive Editor at Revell, a division of Baker Publishing Group, where she acquires books for publication. She is the author of several books herself, including the recent Kit Kat & Lucy: The Country Cats Who Changed a City Girl's World. She is also the compiler of five collections of animal stories under the pseudonym of Callie Smith Grant.
ELLEN PRICE has worked for Pet Sitters International for 15+ years as editor of the Pet Sitters WORLD and as academic manager. PSI is the international membership association for more than 7,000 pet-sitting businesses. She previously worked in sports marketing for the San Antonio Express News and in the livestock publication industry. She will take pitches to write for Pet Sitters WORLD and guest blogs for PSI.
JANISS GARZA has been a writer and editor for over 25 years, beginning as a rock journalist and senior editor for nationally acclaimed hard rock magazine RIP, and later spreading her topics to include vintage film, fitness, and cats.
Along with being the author of several cat books, a contributor to Catster, and a columnist for CatChannel.com, Janiss also collaborated with Motörhead's Lemmy Kilmister on his autobiograhpy, White Line Fever.
Janiss used all the skills she learned over the decades to form FitCat Publishing, a small imprint that focuses on cause-oriented, highly niched books. FitCat's first anthology of cat stories, Rescued, won several awards and was an Amazon best seller. The company is currently editing a second volume of Rescued stories and looking for submissions from authors who have a cause to champion and a story to tell.
DUSTY RAINBOLT is the award-winning author of 11 novels and cat care books. She is the editor-in-chief at AdoptAShelter.com and owner of Stupid Gravity Press, LLC. Stupid Gravity is looking for well-researched and entertaining pet care books, pets and faith and paranormal pets.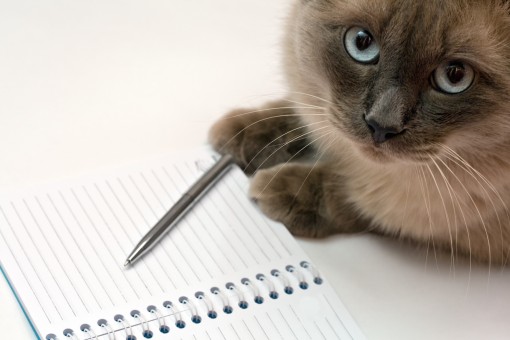 Image copr. dundanim via DepositPhotos.com
The CWA boasts an international membership that lives in the far corners of the world. While today's digital presence allows us to remain *virtually* close, nothing compares with in-person meetings — yet the time and expense of travel to a single location can be a financial and time challenge that many members find difficult to overcome.
As the writing world evolves, the CWA will continue to seek innovative ways, as well as collaborative or partnership opportunities to expand the value of CWA membership benefits. While the annual conference will remain the highlight and focus of the year, CWA hopes to make additional events available to the membership. Stay tuned to the CWA web site  to stay up to date on the latest.
"CWA has given me so much. Working with sponsors opened doors to work with brands. I got dozens of article assignments and several book contracts after meeting with editors at the CWA conference. Awards recognition meant editors contacted me—rather than me having to go to them. But the best part of CWA is the mentoring of each other, mutual support, willing help and celebration of each others' successes." ~Amy Shojai, CWA founding president, and award-winning author of 26 pet care books
Save
Save