CWA 2017 Conference and Annual Awards Banquet

---
---
Winners of MUSE Medallions and Special Awards
Download a complete list of Award Winners in the 2016 CWA Communications Contest/ Awards were presented at the Awards Banquet on May 19, 2017.
Download a copy of the 2017 CWA Awards Banquet Program Booklet, showing all the MUSE Medallion and Special Award winners in the 2016 Communications Contest.
---
---
MARK YOUR CALENDARS!
CWA will hold its  23nd Annual CWA Conference & Awards Banquet from May 18 – May 20, 2017, in conjunction with  2017 BlogPaws conference at the Sheraton Myrtle Beach Convention Center Hotel in Myrtle Beach, South Carolina. This marks the second consecutive year we have partnered with our friends at BlogPaws. We hope to see YOU at the conference!
CWA writers' tracks will be scheduled for Thursday, May 18, or Friday, May 19. Sessions are scheduled to run for approximately one hour each.
Those interested in attending BlogPaws conference programming can check out registration links here. And here's the link to the conference hotel.
Don't miss this PAW-some opportunity–All Conference registrants can attend any/all combination of CWA and BlogPaws seminars/sessions.
REGISTER for the Conference here.
We have learned that air fares to Myrtle Beach are rather steep. The folks at BlogPaws suggest flying into nearby Charleston. A two-hour Greyhound bus ride from there for $22 drops you just down the street from the Conference hotel.
The 23nd Annual CWA Awards Banquet will be held on Friday evening, May 19, 2017, at the Sheraton Myrtle Beach Convention Center Hotel.
BlogPaws traditionally has a "free night" on Friday, so the CWA Awards Banquet will not conflict with BlogPaws events. CWA members and contest nominees can double their pleasure and attend BlogPaws events, and BlogPaws folks can join our furry throng for a fantastic Awards Night celebration!
For the 2016 Conference CWA successfully found a sponsor for the Awards Banquet, allowing all CWA members to attend free. That is our aim for 2017 as well, although we are not quite there yet.
See you in Myrtle Beach for another stellar conference!
---
SIGN UP FOR THE FREE AWARDS BANQUET!
---
Due to the pawsome EMERALD LEVEL sponsorship of PURINA, once again the banquet will be free to all CWA members (and one significant other/guest), award nominees, and special guests of CWA.
The banquet is open to all conference attendees, so reserve your CWA Awards Banquet ticket here — DON'T WAIT, as it's first come, first served. For those not qualifying for the free offer, CWA will make available discounted ($20/seat) tickets, again on a first come, first served basis, until the room sells out.
RESERVATION DEADLINE: Midnight Sunday, May 7, 2017. (Note: Each banquet attendee must sign up separately.)
We'll have your name on the reserved list at the door, but to be safe, BE SURE TO PRINT OUT and BRING YOUR EMAILED CONFIRMATION TO THE BANQUET!
---
2017 CWA Conference Panels and Speakers
---
Managing your time, refining your craft, accessing the latest programs, ideas and research about cats are topics that will appeal to all cat writers, from novice to pro. The 2017 conference of the Cat Writers' Association will be held in conjunction with BlogPaws from May 18-20, 2017 at the Sheraton Myrtle Beach Convention Center Hotel in Myrtle Beach, SC. CWA's conference offers another opportunity to join fellow cat writers who share the bond of writing and love for cats. This year's CWA tracks include:
Thursday, May 18:
WINN Feline Foundation panel – "Supporting Cat Health Studies, and Providing a Resource for Cat Writers/Bloggers"

Synopsis: You'll hear the latest in cat health news including diabetes and new parasite control. You'll learn how Winn can be a resource for stories you may be working on, or even impetus for developing blog and story ideas.
Panelists:
Dr. Vicki Thayer, Executive Director of the Winn Feline Foundation, has a 35-year background in feline medicine. A graduate of Washington State University's College of Veterinary Medicine, Dr. Thayer is board certified in feline medicine by the American Board of Veterinary Practitioners (ABVP) and was principal owner of Civic Feline Clinic. Dr. Thayer served on the board of AAFP for 20 years, and as president from 1996-1998. From 2004-2010. She is currently a board member of the largest private cat adoption shelter in the Pacific Northwest, Cat Adoption Team, and is Executive Director of the Winn Feline Foundation. She lives on a 40-acre heritage farm in the foothills of the Oregon Cascades with her husband, six cats and two dogs.
Shila Nordone, PhD is currently a Research Assistant Professor and instructor in veterinary immunology at NC State College of Veterinary Medicine. She is the recipient of many honors, including the Iowa State University "Excellence in Graduate Teaching" award. Dr. Nordone has participated in research projects and authored papers on human immunodeficiency virus, feline immunodeficiency virus, and Bartonella henselae and others. Dr. Nordone is currently Director of Business Development American Kennel Club Canine Health Foundation and the president elect of the Winn Feline Foundation.
Steve Dale (moderator), CABC (certified animal behavior consultant) is host of two national radio shows (Black Dog Radio Productions), Steve Dale's Pet World and The Pet Minute, and Steve Dale's Pet World on WGN Radio, Chicago. For 21 year years he authored a Tribune syndicated national newspaper column. His blog is at www.stevedale.tv. Steve's many TV appearances range from Oprah to National Geographic Explorer to a wide variety of Animal Planet programs, and as a former contributor to superstation WGN. He's currently a regular on nationally syndicated HouseSmarts TV. Books he has authored include two ebooks, Good Dog! and Good Cat! He's a co-editor of Decoding Your Dog (authored by the American College of Veterinary Behaviorists). Steve is also a contributor to The Cat: Clinical Medicine and Management (edited Dr. Susan Little), Treatment and Care of the Geriatric Veterinary Patient (edited Dr. Mary Gardner and Dr. Dani McVety, 2017), and others. Steve's a columnist at Veterinary Practice News, and CATster magazine, and has written forewords and introductions to many books. Formerly he was the pet editor at USA Weekend. He speaks at veterinary and animal welfare conferences around the world.
---
American Association of Feline Practitioners (AAFP) panel – "Cat Friendly Practices Begin at Home: How Your Help is Needed to Save Cat Lives"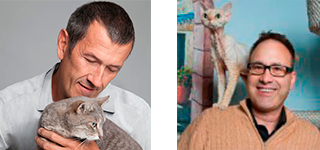 Synopsis: American Association of Feline Practitioners (AAFP) has new data that demonstrates that Cat Friendly Practices (CFP) are worth the effort, and cats benefit once they're in the clinic. Dr. Lambrecht will reveal the latest. Steve Dale describes how CFP really begin in the home, so getting them there isn't half the battle – it's not a battle at all.
Most importantly, your help is needed as cat writer's and bloggers can play an integral role as cat loving ambassadors to relay factual information about CFP and cat behavior to the general public. Doing so will save cat lives, and that is no exaggeration.
Panelists:
Dr. Ken Lambrecht has been the Medical Director and owner of an AAHA accredited practice in Madison, Wisconsin since 1995 and is currently medical director of West Towne Veterinary Center which is a Gold Level Designated Cat Friendly Practice. His primary interests are feline medicine, dentistry and preventive nutrition, in particular obesity prevention and management. He has 4 cats including Bug, who is his constant travel companion, having visited over 20 U.S. states and 3 other countries. Bug has her own FB page with over 1100 Likes.
Moderated by Steve Dale.
---
Robbi Hess – "Overworked & Overwhelmed? The Four-Step Process for Reinventing Your Writing"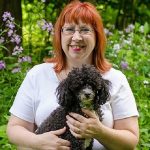 Synopsis: Whether you're a full time writer, blogger, in the midst of a multi-book project or just starting out, this session will help you lose the feeling of being overworked and overwhelmed. You'll learn a four-step process to beat procrastination, use time blocking to help you get more done, claim your writing time and bump up your creativity and some in-the-trenches writing tips, hacks and advice. There will be giveaways, handouts and time for questions!
Speaker:
Robbie Hess is a CWA member, seasoned public speaker, full-time writer, and manager and story editor for Crimeless Cat of Positively Woof.
---
Friday, May 19:
Fear Free panel – "Enrichment in the Built Environment"

Synopsis: The panel will discuss all aspects of cat enrichment indoors, especially in owner's homes. Get creative! Great new content for articles and blog posts.
Panelists:
Heather Lewis is a principal of Animal Arts, an architectural firm that has exclusively designed veterinary hospitals and animal care facilities since 1979. The firm has designed projects ranging in size from 2,400 to 110,000 square feet in 40 states, Canada, Australia, and Japan and has earned 42 awards for architectural excellence from Veterinary Economics magazine. Ms. Lewis is a regular contributor to various veterinary industry magazines. She has spoken about practical and innovative design solutions at past the CVC Hospital Design Conferences, the UC Davis Low Stress Animal Handling Conference, the American Association of Feline Practitioners Conference, and the Humane Society of the United States Animal Care Expo.
Dr. Liz Bales, VMD, is a 16-year practicing veterinarian who, through her experience, has gained a special interest in the unique behavioral and wellness needs of cats, including feline behavior, nutrition and internal medicine. She is the founder of the Feline Environmental Enrichment Design Company (FEED Co.) and inventor of The NoBowl Feeding System. Dr.Bales is featured as an expert in feline medicine for the 2017 series Natural Pets TV – The Cat Edition, and in her Pet-X talk on the natural feeding behavior of cats. Dr. Bales has contributed to Modern Cat Magazine, CatingtonPost.com and Cat Talk magazine, in addition to her own blog, TheCatvocate.com.
Kristen Levine is the Founder of Fetching Communications. A pet industry authority and entrepreneur, Kristen has a pedigreed reputation for helping pet brands connect authentically with pet parents. She believes that we need pets as much as they need us and she shows people how to live happier, healthier lives through pets on her multi-media platform, Kristen Levine Pet Living. In 2003, she founded the first marketing agency to exclusively serve the pet and veterinary market, Fetching Communications. She lives in Florida with her husband, two cats, a dog and two miniature donkeys—all of them rescued or adopted.
---
Susan Willett – "Telling Tails: How to write and craft posts that attract, engage, and keep your audience coming back for more"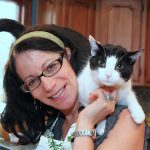 Synopsis: How do some blogs get so many followers? Why do certain posts get shared repeatedly? Why did that tweet or photo go viral? It all starts with great content. Writing is a craft, and this session provides tips and tools that every author can use to create great stories, posts and content that grab readers and keep them coming back.
Speaker:
Susan C. Willett's award-winning original stories, photography, and humor can be found on her website LifeWithDogsAndCats.com, as well as on Facebook, Twitter, Instagram, Pinterest, and YouTube. The creator — along with her pets — of Dogs and Cats Texting™, Haiku by Cat™ (and Haiku by Dog™), she shares her home with shelter dogs Lilah, Jasper, and Tucker, as well as rescued cats Dawn, Athena, Elsa Clair, and Calvin T. Katz, The Most Interesting Cat in the World™, whose photo went viral and now has his own Facebook, Instagram, and Twitter accounts. Currently at work on a humorous memoir and a pet-related novel, Susan keeps her menagerie fed and amused through her day job as a corporate communications consultant.
---
Book Signing Opportunities at the 2017 CWA Conference
---
Kate Benjamin's CAT LOUNGE at the 2017 BlogPaws / CWA Conference will include a book-signing table. Kate Benjamin, a brand-new CWA member, and owner of Hauspanther, has invited CWA to have our booth and book-signing table within the Cat Lounge this year — and hopefully from now on! We all agree that it's a purrrrfect fit for all, and a wonderful chance for CWA authors to sign and sell their awesome books.
Just imagine how many cat lovers will be strolling by, drooling over all the goodies on display and just hankering to buy something – like your books!
Still on the fence about attending the conference? Hesitate no longer and register here.

Specifics about the Cat Lounge can be seen on the BlogPaws web site, and information has been sent out to all sorts of social media outlets through our own PR guru, Lea-Ann Germinder of Germinder and Associates and GoodNewsForPets. You can also find out more info about this year's fabulous Cat Lounge in this press release from BlogPaws. This is going to be one spectacular kitty-drooling paradise of the most awesome products, all of which will be going home with lucky conference attendees!

Cat Lounge Hours
Thursday, May 18: 10:00-6:00pm
Friday, May 19: 8:30am to 6:30pm
Saturday, May 20: 9:00am to 4:00pm
We are working on getting book-signing and booth-manning sign-up forms out to CWA members very soon. (We will not be covering all the hours the Lounge is open, as some of them coincide with our Awards Banquet on Friday night and the Annual Breakfast Meeting on Saturday morning.) Check your conference schedule and have in mind what time(s) you'd like to sign books — and be ready to sign up as soon as you get the official word.
---
2017 CWA Conference Editor Appointments
---
For those conference attendees who would like to present pitches to editors, we already have four editors signed up to hear your pitches — and we're working to expand the list. Stay tuned!
Paul Glassner ( peregrinity@comcast.net ) will be your contact for scheduling your one-on-one pitch sessions with these editors.
Start refining your pitches for that all-important 10 minute editor appointment!
Sign Ups For One-on-One Editor Appointments Are Now Open!
Make your editor appointments NOW for this most amazing feature of the CWA conference!
What: You talk one-on-one with an editor.
Who: You (of course) and up to three editors.
When & where: Saturday afternoon May 20, 2:30pm-4:00pm at the conference.
Appointment Length: Expect no more than 10 minutes to present your query to an editor.
How: See simple instructions below.
Why: To fast-forward your career!
Deadline: Make your editor appointments by Friday May 12, 2017. First come, first served.
Contact CWA coordinator Paul Glassner with your requests at peregrinity@comcast.net. The venue will be the conference hotel, and you will be informed of the exact meeting place and time. That deadline, again: Friday May 12  2017. The final schedule will be sent to all attendees on Monday, May 15, and may be updated afterwards only at the request of editors. Follow the rules and regulations below.
1) Editor appointments are available to CWA members who have paid their 2017 dues and full conference registration fees, and to guests of CWA members who have paid full conference registration fees. All fees must be paid prior to booking the appointments. (ANY conference registrant will have the opportunity to sign up for open time slots onsite. This includes BlogPaws members. As CWA facilitates this great opportunity, we give CWA members and their guests first dibs.)
2) You can make up to three appointments. Choose the people you want to see and rank them by priority. Clearly identify editors by name; it is not CWA's job to play matchmaker. Stay tuned for updates on attending editors You can also email peregrinity@comcast.net for an updated list.
3) If you know you can't be scheduled for appointments at certain times during the conference, please tell Paul as early as possible, and he'll do his best to accommodate.
4) Arrive at your appointments on time; editors are not committed to reschedule if you miss your appointment.
5) If you need to cancel any appointments, tell me as early as possible.
6) If an editor cancels her attendance, you will be notified by a general email directed to the list.
7) Requests for appointments or changes will be disregarded after the deadline, Friday May 12, 2017.
CONFIRMED EDITORS: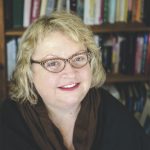 LONNIE HULL DUPONT is an Executive Editor at Revell, a division of Baker Publishing Group, where she acquires books for publication. She is the author of several books herself, including the recent Kit Kat & Lucy: The Country Cats Who Changed a City Girl's World. She is also the compiler of five collections of animal stories under the pseudonym of Callie Smith Grant.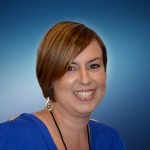 BETH STUTZ  will be representing Pet Sitters International and Pet Sitters WORLD. PSI is the international membership association for more than 7,000 pet-sitting businesses. She will take pitches to write for Pet Sitters WORLD and guest blogs for PSI.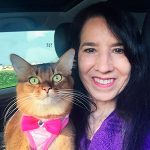 JANISS GARZA is representing FitCat Publishing, an indie publishing company that puts out niche books with a strong platform/ audience. FitCat's anthology, Rescued: The Stories of 12 Cats, Through Their Eyes, won a number of awards, including the prestigious CWA President's Award for one of the short stories it contained. FitCat is looking for both fiction and nonfiction ideas, preferably with a niche that has a charity angle — not just cat books. FitCat doesn't do memoir or biography, exercise/fitness, or political books, but will consider pretty much anything else.
DUSTY RAINBOLT is the award-winning author of 11 novels and cat care books. She is the editor-in-chief at AdoptAShelter.com and owner of Stupid Gravity Press, LLC. Stupid Gravity is looking for well-researched and entertaining pet care books, pets and faith and paranormal pets.
Bonus Editor for CWA Conference Attendees Only:
MICHAELA HAMILTON of Kensington Books has graciously renewed her offer to review "PROFESSIONALLY WRITTEN" pet book queries from CWA members attending the conference. She will not be onsite but may be contacted via email. Ask Paul to connect you!
We'll update the list of participating editors and publishers as invitations are accepted. Remember, appointments will be scheduled on a first-come, first-served basis, and all requests must be made by Friday May 12, 2017.
Pounce on this great opportunity!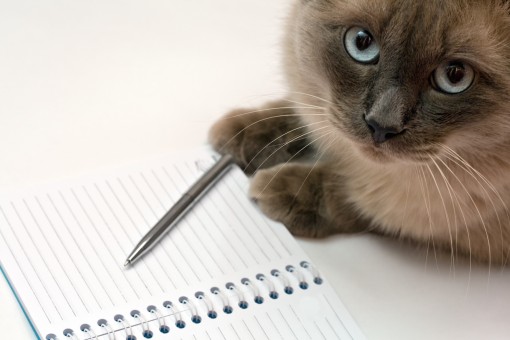 Image copr. dundanim via DepositPhotos.com
The CWA boasts an international membership that lives in the far corners of the world. While today's digital presence allows us to remain *virtually* close, nothing compares with in-person meetings — yet the time and expense of travel to a single location can be a financial and time challenge that many members find difficult to overcome.
As the writing world evolves, the CWA will continue to seek innovative ways, as well as collaborative or partnership opportunities to expand the value of CWA membership benefits. While the annual conference will remain the highlight and focus of the year, CWA hopes to make additional events available to the membership. Stay tuned to the CWA web site  to stay up to date on the latest.
"CWA has given me so much. Working with sponsors opened doors to work with brands. I got dozens of article assignments and several book contracts after meeting with editors at the CWA conference. Awards recognition meant editors contacted me—rather than me having to go to them. But the best part of CWA is the mentoring of each other, mutual support, willing help and celebration of each others' successes." ~Amy Shojai, CWA founding president, and award-winning author of 26 pet care books
Save
Save
Save
Save
Save
Save
Save
Save