Happy Caturday! Our guest post is from Debbie Glovatsky, the awarding blogger behind the always entertaining Glogirly Check out her hysterical, retro-style TV spoofs starring her cats every Saturday.
Finding a Forever Home through the Power of a Feather
 by Debbie Glovatsky
GLOGIRLY.com
It wasn't until I clicked the 'publish' button on a blog post announcing some winners in a giveaway event I'd held that something really wonderful struck me.
The sponsors I'd worked with had generously agreed to double their prizes so that winning readers would have an opportunity to select a rescue shelter to also receive a prize.
In the big announcement, I'd included all the shelter names and logos. These weren't huge prizes – a kitty lounger for one shelter, a pet portrait to help with a fundraiser for another. A few shelters were going to receive a wand toy with dangly feathers. A wash of emotion overcame me as I thought about what a single toy could do.
It was Sunday afternoon in November, about two years ago, when I jumped into the car with an empty pet carrier. I was headed to the Animal Humane Society in Buffalo, Minnesota. There was someone very special I wanted to meet – a tiny orange kitten I'd found on Petfinder.com just hours before while lying in bed with my laptop.
The shelter volunteers introduced to me to "Jackson" and "Herbie." They showed us into a quiet room and handed me a wand toy with a feather on it.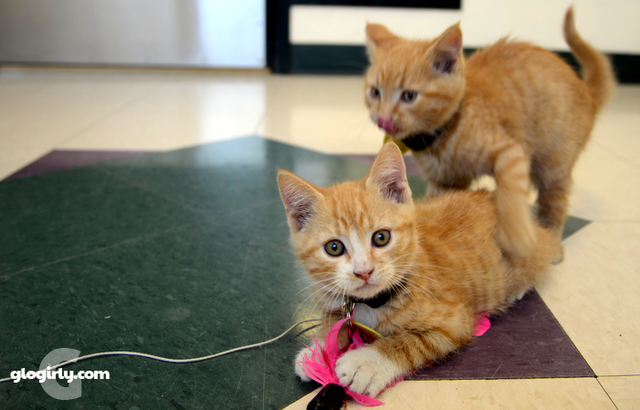 I sat on the floor, toy in hand, and invited them to come play. They jumped and flipped and twirled, everything was new and exciting to them. It was like they were giggling with delight. Or maybe that was me.
And yes, the thought of bringing them BOTH home was a serious consideration. There was another family visiting though and I could tell they really wanted to adopt one of the kittens.
After an hour or so, "Jackson" decided he'd had enough feather chasing. As I sat cross-legged on the floor, he hopped onto my lap, curled into a little ball and stretched his neck straight up high. Gazing right into my eyes, he purred with the sweetest of smiles. That was it. We found each other.
That play session at the shelter with the wand toy – it was a bonding experience I'll never forget. And something that's taught me no gift is too small. That wand toy brought me and my cat, now named Waffles, together forever. That little feather changed each of our worlds. I've got a sneaking suspicion a feather can change a lot of worlds.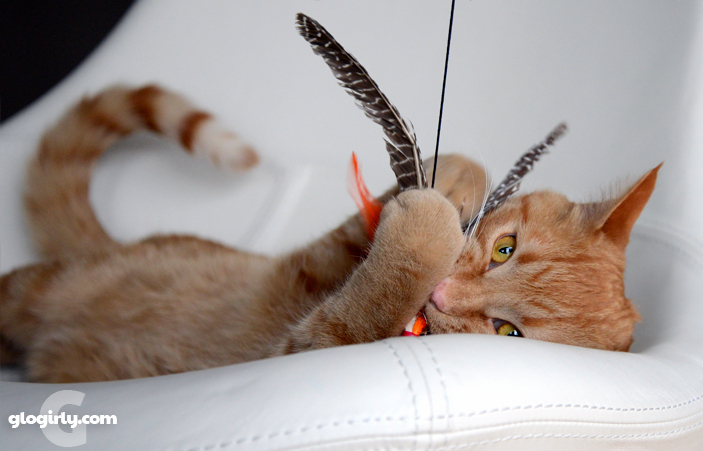 If you would like to share your special cat's story, or have an idea for a guest post, email the CWA editor, Layla Morgan Wilde at Layla@laylamorganwilde.com
[subscribe2]