1997 – 2020 CWA Communications Contest Winners
2020 Annual Contest Winners
2019 Annual Contest Winners
2018 Annual Contest (covers calendar year 2018, awarded in 2019)
2017 Annual Contest (covers calendar year 2017, awarded in 2018)
Complete list of award winners in the 2017 CWA Communications Contest. Awards were presented at the Awards Banquet on June 9, 2018, in Houston, TX. This includes 2017 Special Award winners, 2017 Certificate of Excellence and Muse MedallionTM winners, all other award winners, plus the PetSafe® Scholarship winner and runners-up. (pdf file)
2018 CWA Awards Banquet Program Booklet, showing all 2017 Special Award winners, 2017 Certificate of Excellence and Muse MedallionTM winners, all other award winners, plus the PetSafe® Scholarship winner and runners-up. (pdf file)
2016 Annual Contest
2015 Annual Contest
2014 Annual Contest
2013 Annual Contest
2012 Annual Contest
2011 Annual Contest
2010 Annual Contest
2009 Annual Contest
2008 Award Winners
2007 Award Winners
2006 Award Winners
2005 Award Winners
2004 Award Winners
2003 Award Winners
2002 Award Winners
2001 Award Winners
2000 Award Winners
1999 Award Winners
1998 Award Winners
1997 Award Winners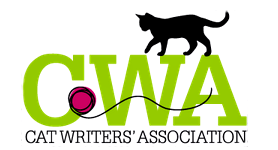 Copyright ©2016 Cat Writers' Association, Inc. All rights reserved.
Please respect the copyright of our writers and artists. Articles,
photographs and illustrations may not be downloaded and re-used
without the express written permission of the owner, artist or author.
For comments and questions: comments@catwriters.com.
Created: 12 August 2013 Updated: 12 May 2015
Site design by Dusty Rainbolt.
Save