The regular category entries below were scored independently by three CWA member judges who had no knowledge of who else shared their judging assignments. Each judge awarded points on a scale of 1-100, and forwarded the results to the Contest Chair. The three scores were then averaged by the Contest Chair to calculate the Certificate of Excellence winners and Muse MedallionTM recipients.

In the past, the three to five highest scoring entries in each category automatically received a Certificate of Excellence award-but at times this meant recognition went to less-than-outstanding work. Therefore, the Contest Committee determined entries must reflect a certain standard of excellence to be mentioned as a finalist. The Certificate of Excellence citations below indicate the entry received an average score of 90 points or higher. Recipients of the Muse MedallionTM (shown right) scored highest in this outstanding field of excellence and are indicated by an asterisk(*).
Congratulations to all of the winners!
---
I.1: Yearbook/Annual
I.2A: Magazine - Four Color, National Circulation
I.2B: Magazine - Black/White, National Circulation
* S. Bahner - Whole Cat Journal
I.3. Special/One Shot Magazine
I.4A: Magazine Article -- Feature on Health or Care Topics
* W. Christensen - Diagnosis: Heartworm
* N. Lawson - Keeping Your Cats Healthy
A. Moore - Hyperthyroidism in Cats
A. Moore - Fighting Kidney Disease
I.4B: Magazine Article -- Feature on Any Other Topic
B. Kollus - Koko's Cats
N. Marano - When Disaster Strikes
* A. Moore - Surviving Abuse
C. Walkowicz - Coexisting with Cats
B. Zeichner - Adopting a Feral Kitten
I.4C: Magazine Column
B.Adelman - From the Editor
* S. Easterly - Serving Animals
A. Moore - Unsung Heroes
I.5A: Newspaper Article, Feature, or News Story
* S. Dale - Prevention Best for Vaccine-Related Cancers
D. B. Trace - Beware of Catastrophes
S. Yin - It's Difficult to Prove Pets Predict Quakes
S. Yin - Holiday Follies
S. Yin - Releasing Your Inner Kitty
S. Yin - Scientists Uncover the Gene Blues
I.5B: Newspaper Column
* R. Young - Dayton Daily News
S. Yin - Pet Tales
---
II.1: Newsletters: Breed Specific
II.2: Newsletters: Others/Four Color
B. Brown - Best Friends
* P. Glassner - Our Animals
II.3: Newsletters: Others/Black & White
* B. Robinson - Alley Cat Action
K. Shanks - Cat Talk
II.4: Newsletters: Article or Feature
D. Congalton - An Empty Chair
* P. Glassner - Pookie Pet-A-Care Cat
K. Winters - Declaw Yes or No
II.5: Newsletters: Column
T.J. Banks - Just Cats
* D. Rainbolt - Dear Hobbes
E. Sayres - From the President
II.6: Newsletters: Annual or Semi-Annual
* B. Robinson - Feral Cat Activist
---
III.1: Short Story
T.J. Banks - The Sweetest of Bears
* Sandra Heath - A Winter's Tail
III.2: Poem
III.3: Book of Poetry
III.4: Humor (Feature, Article or Book )
* M. Durand - How To Introduce Your New Cat
B. Kollus - Confessions of a Cat Guy
P. van Hulsteyn - Vanity in Washington
III.5: Series, Subject-Related (Entire Series)
F. Shaw - The Feline Genome
* A. Shojai - Healing Power of Touch
III.6: Brochure/Pamphlet
* B. Robinson - Cats on Campus
---
IV.1: Books: Fiction
C. N. Douglas - Cat in a Leopard Spot
* S. Murphy - Cat Spitting Mad
IV.2: Books: Children / Young Adult (fiction or nonfiction)
S. Derby - Taiko on a Windy Night
* P. Austen - The Cat Who Loved Mozart
IV.3: Books: Care & Health (includes breeding, medical, grooming)
* S. Easterly - Guide to Handraising Kittens
S. Messonier - Natural Health Bible
A. Shojai - First Aid Companion
IV.4: Books: Behavior & Training
* L. Lachman - Cats on the Couch
K. Pryor - Clicker Training for Cats
IV.5: Books: Single Breed
* J.A. Helgren - Rex Cats
L. Shelton - Guide to Owning a Tonkinese
IV.6: Books: Other
K. Commings - Cat Lover's Survival Guide
C. Davis - For Every Cat an Angel
A. Shojai - My Cat's Tale
K.L. Stevens - All for Animals
* B. Walker - Crazy Cats
---
V.1: Video or Television Presentation
D. Arden - Creatively Speaking
A. Shojai - Way of Life
* S.B. Smith - The Humane Solution
2: Audio Tape or CD
3: Radio Presentation
* S. Dale - Animal Planet Radio
C. Smith - Pet Smith
---
VI.1. Professional Website/Online Magazine
* www.allpets.com
www.cfainc.org/ezine
VI.2. Single Online Article
K. Commings - Finicky Feline
* S. B. Hall - Saying Goodbye at Home
J. A. Helgren - Top 8 Reasons Kitty Won't Use the Litter Box
J. A. Helgren - Selecting a Cat Enclosure
A. Shojai - Homeopathy: A Wakeup Call
VI.2. Online Column
* M. Allen - Hotline to Healing
J. A. Helgren - Choosing a…
* A. Shojai - Way of Life
---
VII.1A: Photography - Black & White
M. Bloom - Kitty on Board
* N. J. Hakim - Playtime
E. Pilchik - Blind Cat on a Boat
VII.1B: Photography - Color Photo
E. Stob - Canoe Takes the Night Watch
* B. Walker - Southpaw Tub Tabby
B. Walker - Projectile Bathing
B. Walker - Louise's First Christmas
VII.1C: Series of Photos or Photo Essay - Color
B. Caldwell - Maine Coon Cats
W. Hutto - Bottle Babies
* B. Walker - Cat's House Calendar
VII.1D: Series of Photos or Photo Essay- Black & White
VII.1D: Series of Photos or Photo Essay- Black & White
* K. Lawrence - A Winner!
VII.2: Illustration
* W. Christensen - Christmas Ribbon Kitten
B. Walker - Accessorize Your Cat
B.Walker - If a Cat Won the Lottery
VII.3: Series of Illustrations
K. Chubb - Feeding Your Finicky Eater
A. Reich - We Drove Cross Country
* P. Wallace - Cat Owner's Makeover
4: Cartoons
Related Links
---
---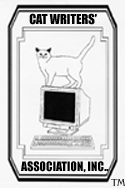 Copyright ©1998-2009 Cat Writers' Association, Inc. All rights reserved.
Please respect the copyright of our writers and artists. Articles,
photographs and illustrations may not be downloaded and re-used
without the express written permission of the owner, artist or author.