2006 CWA COMMUNICATIONS CONTEST
The regular category entries below were scored independently by three CWA member judges who had no knowledge of who else shared their judging assignments. Each judge awarded points on a scale of 1-100, and forwarded the results to the Contest Chair. The three scores were then averaged by the Contest Chair to calculate the Certificate of Excellence winners and Muse MedallionTM recipients.

Entries must reflect a certain standard of excellence to be mentioned as a finalist. The Certificate of Excellence citations below indicate the entry received an average score of 90 points or higher. Muse Medallions will be awarded in each category at the annual awards conference in San Mateo, CA in November. Recipients of the Muse MedallionTM (shown right) scored highest in this outstanding field of excellence and were announced at the 2006 annual conference.
I. Magazines

Magazine, National Magazine

Susan Logan "Cat Fancy" Bowtie Press


Magazine Article - Health and Care

Laura Lee Bloor, "Feline Fitness," Cat Fancy


Magazine Article - Behavior & Training

Debra Horwitz, "Cat Urine-Marking," All Animals


Magazine Article - Other Topics

Kari Winters, "The Best of Both Worlds," Cat Fancy


Magazine Column

Susan Logan, "Editor's Note," Cat Fancy
II. Newspapers
Newspaper Article

Joanne Anderson, "No Candy for Kitty," Babylon Beacon


Newspaper Column

Amy D. Shojai, "P'ETiQuette," Herald Democrat
III. Newsletters
Newsletter - Breed

Lynn Thompson "National Alliance of Burmese Breeders Newsletter" - National Alliance of Burmese Breeders


Newsletter - National
Newsletter - Regional or Membership

Cimeron Morrissey, Cat Tales Newsletter


Newsletter Article - Health and General Care

Kim Thornton, "Update in Treating Diabetes," Catnip


Newsletter Article - Other Topics

Paul Glassner & Marlene Blackstone, "Princess Lana," Our Animals


Newspaper Column

Nancy Marano "Cat Chat" - Petroglyphs
IV. Miscellaneous
Short Story

Carole Nelson Douglas, "The Riches That There Lie," Poe's Lighthouse (Cemetary Dance Publications)


Poem

Betsy Stowe, "Rhyme Time," CFA Fanc-e-Mews


Humor

Dena Harris, "Jingle Ball Horrors," Cats & Kittens


Special Publication

The Humane Society of the United States, "Your Allergies and Your Pet"


Opinion Piece/Essay/Editorial

Dusty Rainbolt, "Ask Einstein," www.stickypaws.com
V. Books
Fiction

Clea Simon, Mew Is for Murder (Poisoned Pen Press


Children's Book

Judy Snider & Thomas McAteer, Goldy's Baby Socks (Xlibris)


Health& Care Book

Debra Eldredge & Margaret Bonham, Cancer & Your Pet (Capital Books)


Gift Book

Cathy Conheim & BJ Gallagher, What's the Matter with Henry? (Breakthrough Press)


Book of Poetry

Margy Ohring, Cat-House Sonnets (Jorlan Publishing)


Other Book

Amy Shojai, Jack Canfield, Mark Victor Hansen, Marty Becker, & Carol Kline, Chicken Soup for the Cat Lover's Soul (HCI Publications)
VI. Non-Print Media
DVD Production

Laura Fulda, Cats Without a Home (Humane Society Silicon Valley) Eric Theis, Traci Theis, Kellyann Conway, Jeff Yarlett, & Sam Means, Your Adopted Cat (PetsIncredible)


Radio Presentation

Steve Dale, "Dr. Susan Little," Pet Central (WGN Radio)


Online Magazine

Mary Anne Miller, Felinexpress.com


Online Article - Health and General Care

Kim Thornton, "Shaggy Survivors Hanging on After Katrina," MSNBC.com
VII. Graphic Arts
Black & White Photograph

Sandra Toney, "Tulip Watches Butterflies Flutter," Catnip


Color Photograph

Joe Fierst, "Three Foster Sisters," Our Animals


Cartoon

Stuart Hample, "Tiger's Tales, April 2006" Cat Fancy


Illustration

Brad W. Foster, Coyote Peyote cover (Cozy Noir Press)
---
---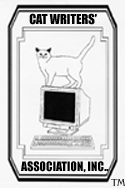 Copyright ©1998-2009 Cat Writers' Association, Inc. All rights reserved.
Please respect the copyright of our writers and artists. Articles,
photographs and illustrations may not be downloaded and re-used
without the express written permission of the owner, artist or author.