1997 Special Awards Presentations

DERMAPET® FELINE GROOMING & SKIN CARE AWARD honors the best single or series entry that educates and informs readers on the importance of good grooming and healthy skin. -- Awarded to Pamela Donegan for "Your Cat's Skin," published in Tufts University's CATNIP.

DERMAPET® TRAINING AWARD -- minimum of five entries required. Only two entries received; no award given.

EVER CLEAN® FELINE BEHAVIOR AWARD is presented by A & M Pet Products for the best entry on the subject of feline behavior. -- Awarded to Kim Campbell Thornton for WHY DO CATS DO THAT?, Bow Tie Publications.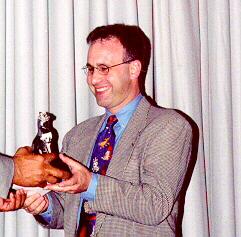 FRISKIES® PUBLICATION OF THE YEAR AWARD is offered to the writer and publication that have done the most to promote the welfare, health and proper care of cats.

Awarded to Steve Dale
"My Pet World" column
Tribune Media Services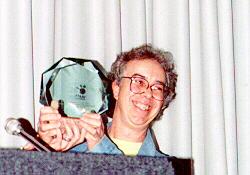 IAMS® CAT FOOD RESPONSIBLE CAT OWNERSHIP AWARD is awarded for the best individual or series entry about pet ownership responsibility.

Awarded to Bob Walker
THE CATS HOUSE
Andrews/McMeel Publishing


JONNY CAT® LITTER-ARY AWARD FOR FICTION is presented for the outstanding short story entry featuring cats in a positive light. -- Awarded to Lyn McConchie for "Death Song," published in CATFANTASTIC, Daw Publishing.

THE LITTER PURRFERRED® NEWSLETTER AWARD is presented by Super Dry Industries to the association, club, or other newsletter that best informs and educates readers about cats -- Awarded to Gloria Parkinson for Tufts University's CATNIP.

PET CARE FORUM VETERINARY ISSUES AWARD is presented to the single article entry that best educates and informs the general cat-owning public about technical advances and innovations in feline veterinary medicine. -- Awarded to H. Ellen Whiteley, DVM for "Feline Hyperthyroidism," published in CAT FANCY.

PURINA ® CAT CHOW ® NUTRITION AWARD goes to the best column, article, or book entry on feline nutrition. -- Awarded to Liz Palika for THE CONSUMER'S GUIDE TO CAT FOOD, Howell Book House.

PURINA® CAT CHOW SPECIAL CARE® HEALTH AWARD goes to the outstanding single article reporting on feline health issues. -- Awarded to Fran Pennock Shaw for "Kitty Code Blue," published in CATS.

PURINA® KITTEN CHOW® KITTEN AWARD is presented to the author of the outstanding entry on caring for kittens. -- Awarded to Elaine Wexler-Mitchell, DVM for "Finding the Right Vet," published in KITTENS U.S.A.
---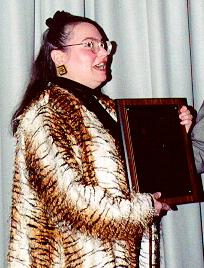 Fran Casselman receives a Special Recognition Award for her much appreciated work to organize the excellent 1997 Conference Seminars

---




Muse MedallionTM Winner (Novel), Shirley Rousseau Murphy, is congratulated by Contest Chairperson Sally Bahner.

---
---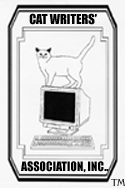 Copyright ©1998-2009 Cat Writers' Association, Inc. All rights reserved.
Please respect the copyright of our writers and artists. Articles,
photographs and illustrations may not be downloaded and re-used
without the express written permission of the owner, artist or author.