1998 Special Award Winners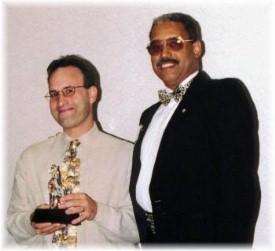 Friskies Publication of the Year

Winner: Steve Dale
columnist, Tribune Media Services

Iams Cat Food Responsible Cat Ownership Award

Winner: Gina Spadafori & Dr. Paul Pion, "Cats For Dummies"

Pet Care Forum Veterinary Issues Award

Winner: Dr. Elaine Wexler-Mitchell, "Milestones in Medicine" (Cat Fancy, Sept. '97)

Purina Cat Chow Nutrition Award

Winner: Gina Spadafori & Dr. Paul Pion, "Cats For Dummies"

Purina Cat Chow Special Care Health Award

Winner: Diane Smith, "Feline (Yes, Feline) Heartworm" (TICA Trend)

Purina Kitten Chow Kitten Award

Winner: Mark Evans, The Complete Guide to Kitten Care (Howell Book House)

Tidy Cats Feline Behavior Award

Winner: Gina Spadafori & Dr. Paul Pion, "Cats For Dummies"

CWA President's Award

Winner: Shirley Rousseau Murphy, "Cat Raise the Dead"

1999 Kuykendall Award for Art

The following received the Council of Directors' Award:
Sally Bahner, for chairing the CWA Awards from 1995-1998

Shara Rendell-Smock and T. J. Banks, co- chairs CWA Awards 1997 & 1998 (with Sally)

Kathleen Rodgers, CWA Website chair 1996 -1998


---

---




Copyright ©1998-2009 Cat Writers' Association, Inc. All rights reserved.
Please respect the copyright of our writers and artists. Articles,
photographs and illustrations may not be downloaded and re-used
without the express written permission of the owner, artist or author.