2016 CWA ANNUAL COMMUNICATION CONTEST (Scroll down for links!)
---
---
SPECIAL ANNOUNCEMENT: Winners of 2016 MUSE Medallions and Special Awards – Awarded on May 19, 2017

Download a complete list of Award Winners in the 2016 CWA Communications Contest/ Awards were presented at the Awards Banquet on May 19, 2017.
Download a copy of the 2017 CWA Awards Banquet Program Booklet, showing all the MUSE Medallion and Special Award winners in the 2016 Communications Contest.
---
---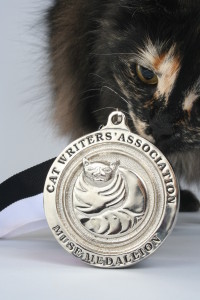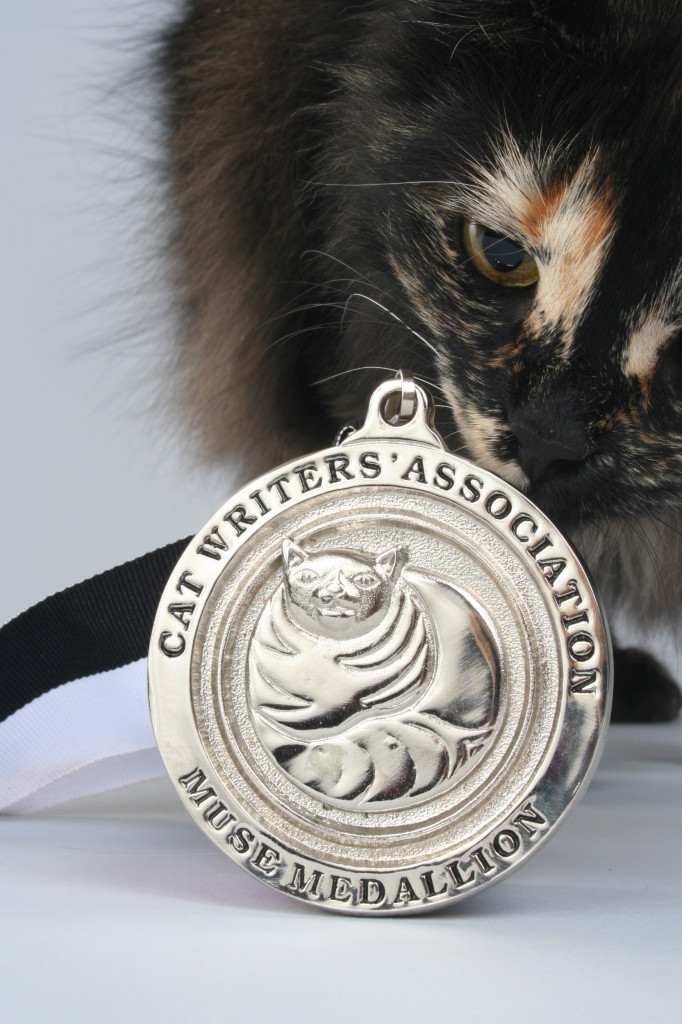 In November, 1994, the newly formed Cat Writers' Association, held its first writing contest. Founding member, the late Karen Kuykendall, designed the coveted Muse Medallion™. Karen was also the first recipient of a Muse Medallion. The Muse is awarded to the best work of like kind, such as newspaper articles about health and general care, magazine articles about behavior, or newsletter columns. The special awards go to the entry that best covers a specific topic.
Today, the spirit of the excellence still lives on in the Muse Medallion. That first competition had 5 regular categories and 10 sponsored special awards. Since then the awards have been broadened to most recently include dozens of regular categories and special awards.  View PAST contest awards winners here!
Qualified entries are evaluated by professional members of the Cat Writers' Association. Certificates of Excellence are awarded to entries that earn an average score of 90 or higher, as judged by three professional CWA members. The Certificate of Excellence recipient with the highest score is the winner of the Muse Medallion for the category in which it was entered. In addition to the highly sought after Muse Medallions, numerous special awards are available through the generosity of corporate and private sponsors. The winners are announced at the Cat Writers' Association Annual Awards Banquet.
Are you ready to be a winner? Great! It's time to let the news about 2016 Cat Writers Communication Contest out of the bag.
What's New: We are happy to announce FOUR new special awards for 2016. Here are the details on the new awards:
The BARN CATS, INC. SAVE-A-FERAL-CAT AWARD, sponsored by Barn Cats, Inc., is presented to the informative entry that best describes the plight of feral cats, or educates on the topics of TNR, feral cat relocation, humane and nonlethal colony management options. Entries will be judged for quality as well as the ability to persuade the reader. Qualified online or print entries include articles, blogs, features, columns, series of articles, websites, blogs, videos,. The award consists of a $500 and a commemorative item. 
The CATALYST COUNCIL CONNECTION AWARD, sponsored by CATalyst Council, celebrates both the writer and subject of a true story depicting an experience of a kitten or cat adopted from a shelter which results in a profound connection between the cat and its adoptive pet parent. The relationship described will be equally beneficial to the cat and the person; special consideration will be given to those pieces showing a positive community-wide connection involving both the shelter and a local veterinarian. The story may be written in first purr or first person if appropriate. Entries may include a single book or short story, poem, article (print or online), newsletter, editorial, blog, commercial radio/TV/internet recording or a photograph with corresponding copy. Entries will be judged on the ability of the reader/viewer to reach the conclusion that cats are valuable members of our families, they enrich our lives and they deserve our love and our care. This award consists of $500 and special gift and/or appropriate acknowledgement of the story subjects.
The FEAR FREESM PETS AWARD, sponsored by Fear Free, LLC, is awarded for the article, book, blog, TV segment, radio spot, video, column or other creative media format that best educates, promotes, or demonstrates the importance of how a cat's emotional well-being can play a role in all aspects of its life and health, including veterinary care. Topics may include how decreasing fear, anxiety, and stress is beneficial to the patient and owner both during the veterinary visit and at home, a focus on Fear Free applications pre- and post-veterinary visit, or how going to a Fear Free certified professional is beneficial to staff, patients, and clients. This award consists of $2,000 and a one-of-a-kind commemorative award.
The FEAR FREESM CAT ENRICHMENT AWARD, sponsored by Fear Free, LLC, is awarded for the article, book, blog, TV segment, radio spot, video, column or other creative media formats that best educates, promotes, or demonstrates how enrichment activities (exercise, food puzzles, scent training, etc.) can benefit a pet's emotional and physical well-being and the role that has in their overall health. This award consists of $2,000 and a one-of-a-kind commemorative award.
Deadlines: We're back on a calendar-year format, so eligible entries must have been published, posted or aired between Jan. 1, 2016, and Dec. 31, 2016. To be eligible for the contest, all entries must be postmarked no later than January 9, 2017 – no exceptions! Entries are to be sent to CWA Contest Chair Arden Moore, 726 Deep Well Drive, Allen, TX 75002.
MARK YOUR CALENDARS!
The 23nd Annual CWA Awards Banquet will be held on Friday evening, May 19, 2017, at the Sheraton Myrtle Beach Convention Center Hotel in Myrtle Beach, SC, in conjunction with the 2017 BlogPaws Conference set for May 18-20, 2017. This marks the second consecutive year we have partnered with our friends at BlogPaws. We hope to see YOU at the conference!
Those interested in attending BlogPaws programming can check out registration links here. And here's the link to the conference hotel.
BlogPaws traditionally has a "free night" on Friday, so the CWA Banquet will not conflict with BlogPaws events. CWA members and contest nominees can double their pleasure and attend BlogPaws events, and BlogPaws folks can join our furry throng for a fantastic Awards Night celebration!
READY…SET…ENTER YOUR WORK!
(The documents and forms linked below are downloadable PDF files that you can save and/or print as required.)
RULES & CATEGORIES
2016 CWA COMMUNICATION CONTEST RULES
ENTRY FORMS
2016 Regular Categories Entry Form
2016 Special Awards Entry Form
2016 Shojai Mentor Award Entry Form
2016 Michael Brim Distinguished Service Award Entry Form
CWA is grateful to all of our sponsors for their continued support of our conference and contest. Without them, our conference and these awards would not be available. If you would like to sponsor a CWA Special Award and reach nearly 300 professional cat journalists and their readers, please email CWA President Marci Kladnik for further information.
Save
Save
Save
Save
Save
Save