ANNUAL COMMUNICATION COMPETITION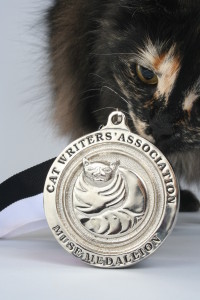 In November 1994, the newly formed Cat Writers' Association, held its first writing competition. Founding member, the late Karen Kuykendall, designed the coveted Muse Medallion™. Karen was also the first recipient of a Muse Medallion. The Muse is awarded to the best work of like kind, such as newspaper articles about health and general care, magazine articles about behavior, or newsletter columns. The special awards go to the entry that best covers a specific topic.
Today, the spirit of the excellence still lives on in the Muse Medallion. That first competition had 5 regular categories and 10 sponsored special awards. Since then the awards have been broadened to most recently include 50 regular categories and 22 special awards.
The process is as follows: Qualified entries are evaluated by professional members of the Cat Writers' Association. Certificates of Excellence are sent to people whose entries receive an average score of 90 or higher by three professional CWA members. The certificate recipient with the highest score is the winner of the Muse Medallion for the category in which it was entered. The winners are announced at the Cat Writers' Association annual conference in a specially scheduled awards banquet.
In addition to the highly sought after Muse Medallions, numerous special awards are available through the generosity of corporate and private sponsors. These award winners are also announced at the awards banquet during the annual conference.
CWA is grateful to all of our sponsors for their continued support. In particular, we wish to thank the sponsors of our special awards. Without them, these awards would not be available. If you would like to sponsor a CWA Special Award and reach more than 200 professional cat journalists and their readers, please email CWA President Marci Kladnick for further information.
View the PAST contest awards winners here!
2015 CONTEST DEADLINE CHANGES!
The 2015 contest entry eligibility period will be extended until December 31 this year (18 months rather than the usual 12), so that the contest period coincides with CWA's fiscal year. The 2015 awards will be presented at the 2016 spring banquet (details tbd). The new contest period will only be 18 months long this one time. Entries must have been published between June 16, 2014 and December 31, 2015 to be eligible. For 2016 and beyond, the eligibility dates will correspond with the calendar, January 1 — December 31.
Stay tuned for more contest updates as they become available!