2017 CWA ANNUAL COMMUNICATION CONTEST (Scroll down for links!)
---
---
SPECIAL ANNOUNCEMENT: Winners of 2017 MUSE Medallions and Special Awards – Awarded on June 9, 2018

Download a complete list of Award Winners in the 2016 CWA Communications Contest/ Awards were presented at the Awards Banquet on May 19, 2017.
Download a copy of the 2017 CWA Awards Banquet Program Booklet, showing all the MUSE Medallion and Special Award winners in the 2016 Communications Contest.
---
---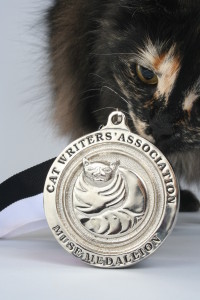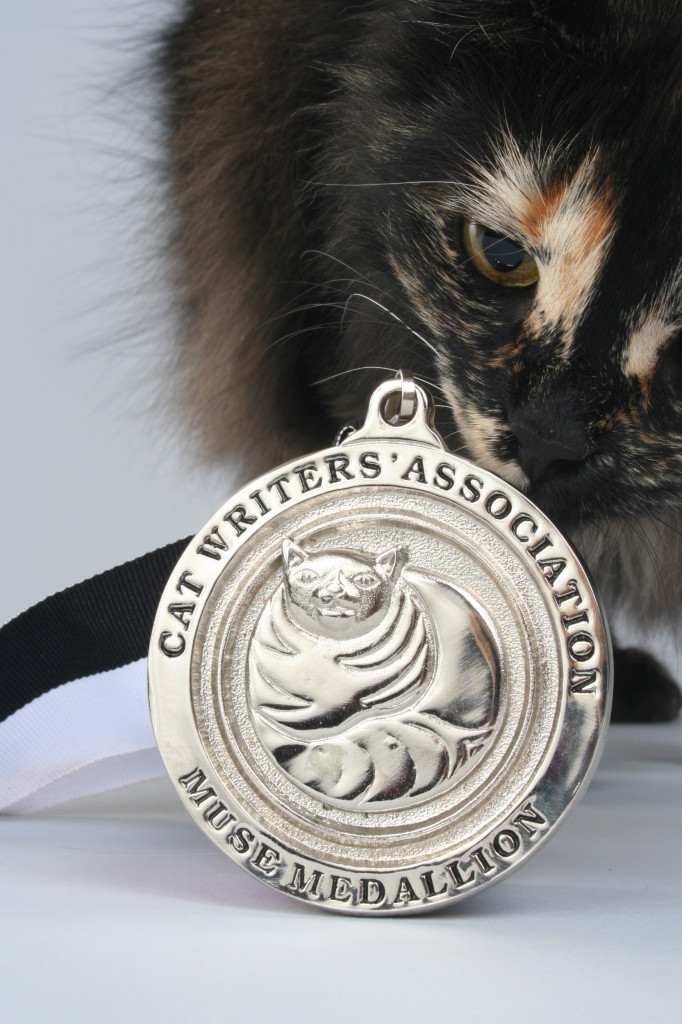 In November, 1994, the newly formed Cat Writers' Association, held its first writing contest. Founding member, the late Karen Kuykendall, designed the coveted Muse Medallion™. Karen was also the first recipient of a Muse Medallion. The Muse is awarded to the best work of like kind, such as newspaper articles about health and general care, magazine articles about behavior, or newsletter columns. The special awards go to the entry that best covers a specific topic.
Today, the spirit of the excellence still lives on in the Muse Medallion. That first competition had 5 regular categories and 10 sponsored special awards. Since then the awards have been broadened to most recently include dozens of regular categories and special awards.  View PAST contest awards winners here!
Qualified entries are evaluated by professional members of the Cat Writers' Association. Certificates of Excellence are awarded to entries that earn an average score of 90 or higher, as judged by three professional CWA members. The Certificate of Excellence recipient with the highest score is the winner of the Muse Medallion for the category in which it was entered. In addition to the highly sought after Muse Medallions, numerous special awards are available through the generosity of corporate and private sponsors. The winners are announced at the Cat Writers' Association Annual Awards Banquet.
Are you ready to be a winner? Great! It's time to let the news about 2017 Cat Writers Communication Contest out of the bag.
What's New: We are happy to announce TWO new special awards for 2017. Here are the details on the new awards:
The CATS RULE BIGGEST BLAST OF CAT PRIDE AWARD, sponsored by Cats Rule, is for the best blog, online column, video column or series, or radio broadcast that champions the love we humans have for our cats on a consistent basis, and yes, how we do (almost) anything for them! The winner will successfully communicate the 'magic' that owning a cat(s) brings to your life in such a way that readers say 'yeah' and all are inspired to adopt or rescue a cat to share in the experience. The winner will help foster a community of like-minded cat owners and cat lovers! Award is $500 cash plus a cross-promotion with Cats Rule online and a suite of Cats Rule products!
The CWA SHOJAI MENTOR AWARD, sponsored by CWA in honor of Past President Amy D. Shojai. The award recognizes the CWA member who has offered guidance, encouraging counsel, support, or other help that has had a direct and positive influence on another's writing/publishing success. Qualifying mentor experiences are limited to those occurring within the past three contest periods (approximately the last three years). The recipient shall exemplify the highest ideals of the CWA vision, that is, to promote communal support, networking, and mutual respect between colleagues. Only CWA members are eligible for this award. This award consists of $500 and a commemorative item. There is no entry fee required to nominate someone for this award. Please download and complete the Application to nominate someone for this Award.
Deadlines: We're back on a calendar-year format, so eligible entries must have been published, posted or aired between Jan. 1, 2017, and Dec. 31, 2017. To be eligible for the contest, all entries must be postmarked no later than January 9, 2018 – no exceptions! Entries are to be sent to CWA Contest Chair Robbi Hess, 444 Oak Orchard Estates, 50 Beechwood Blvd, Albion, NY 14411.
MARK YOUR CALENDARS!
The 23nd Annual CWA Awards Banquet will be held on Saturday evening, June 9, 2018, at the Hyatt Regency North Houston, 425 North Sam Houston Pkwy E, Houston, TX 77060!
READY…SET…ENTER YOUR WORK!
(The documents and forms linked below are downloadable PDF files that you can save and/or print as required.)
RULES & CATEGORIES
2016 CWA COMMUNICATION CONTEST RULES
2017 Special Awards Contest List
ENTRY FORMS
2017 Regular Categories Entry Form
2017 Special Awards Entry Form
2017 Shojai Mentor Award Entry Form
2016 Michael Brim Distinguished Service Award Entry Form
CWA is grateful to all of our sponsors for their continued support of our conference and contest. Without them, our conference and these awards would not be available. If you would like to sponsor a CWA Special Award and reach nearly 300 professional cat journalists and their readers, please email CWA President Marci Kladnik for further information.
Save
Save
Save
Save
Save
Save