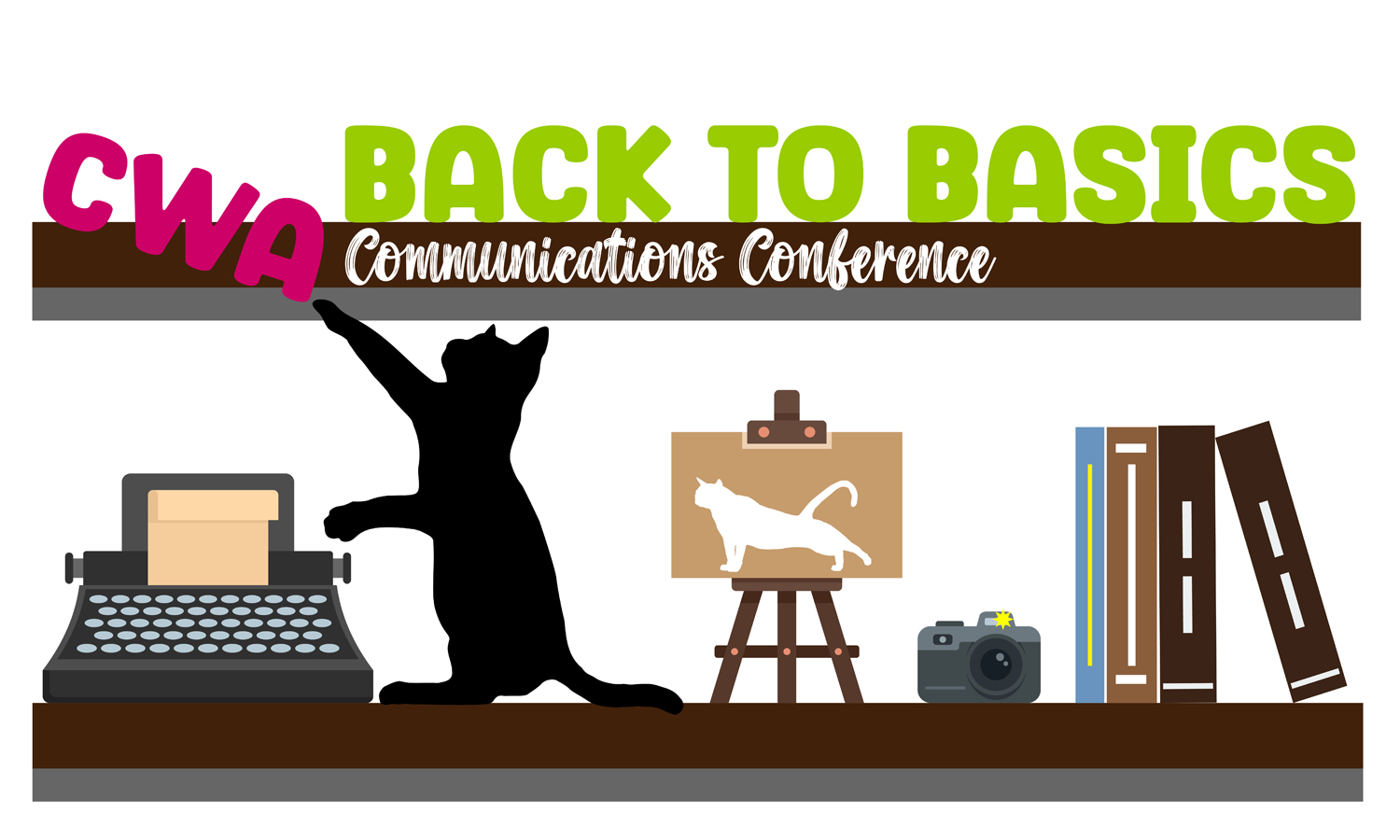 Get ready for the 2023 CWA Communications Conference! More details coming soon!
Conference Details
When: October 14-15, 2023
Where: Virtual Conference
Register to Attend: Opens August 1st
About the Conference
We have a great lineup of speakers and programming. The schedule of sessions is not yet finalized, but here's a sneak peek at what to expect!
OUR SPEAKERS:
Gwen Cooper, Keynote Speaker "Back to Basics"
Heather Kennedy, DVM, Chief of Veterinary Medicine, KC Pet Project (FIV+, FeLV+ cats)
Bonnie Koenig, "The Authenticity of Imperfection"
Amy Shojai, "Writer-icity Schtuff That Helps You…Write, Promote, and More"
Amber Royer, "Working in Short Form – Nonfiction"
Arden Moore, "You're on the Air: Tips and Tricks to Being An Effective Host or An Engaging Guest"
Lorrie Morgan, "Purr-fect Points: Craft Bullets that Resonate with Cat Lovers"
Siri Zwemke, "Breed Rescue: The Ins, Outs, Ups, Downs, and Tumbles!"
Carlton Osborne, Topic: Search Engine Optimization for Writers: Does great cat writing matter if no one reads it?

Bernadette Kazmarski, artistic techniques

Dr. Bethanie Poe, compassion fatigue

And more!
Fundraiser
For this year's fundraiser, Blind Cat Rescue & Sanctuary, Inc., (BCR) has been selected as the non-profit.
BCR is a safe, loving and healthy permanent home for cats deemed unadoptable and therefore immediately euthanized by most shelters and animal control facilities – blind cats, senior cats and those that test positive for FIV or feline leukemia. 
Since its founding in 2005 by a mother-daughter team of shelter volunteers, BCR's mission has continued to be to provide the resident cats with a permanent home while educating the public about them, their right to live and to have the chance to be loved family pets. Through a strong social media presence, 24-hour access cameras, daily live tours and volunteer opportunities, the BCR cats daily demonstrate for a growing global audience that they deserve to live.
Extending its mission outside the shelter walls, BCR continues to sponsor a successful ongoing spay/neuter program for feral cats in Guilford County, NC, that has treated more than 8,000 feral cats in the past six years alone. BCR also spearheaded a 2014 program that put animal oxygen masks in every first-responder vehicle in the shelter's home of Robeson County, NC, and provided a heat detector for the county's canine police unit that alerts the officer when the air conditioner in his police car fails, putting his canine partner at risk for death from excess heat.
BCR is a donation-funded 501c(3) tax-exempt organization, IRS Section 170(b)(2)(iii) for both federal and state tax purposes.
Fundraiser tickets go on sale Oct 1st.
Conference Sponsors
The Cat Writers' Association is proud to announce our conference sponsors! Please click the logos to visit each sponsor and learn more about their company.
Platinum Sponsors
Gold Sponsors
Silver Sponsors
Bronze Sponsors
Friends Sponsors