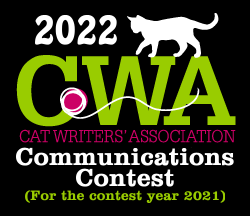 Entries are closed for the 2022 CWA Communications Contest. The Awards Ceremony, announcing the Muse Medallion winners and the Special Award winners, took place virtually on October 15.
Each year, the Cat Writers' Association selects the best entries and awards them with Certificates of Excellence. The highest-scoring Certificate-winning entry in each category receives a Muse Medallion at our Annual Awards Ceremony. Anything published during 2021 may be entered, and that includes writing, photography, art, graphic design, and more. Anyone (including those outside the United States) can enter, not just members!
---
2022 CWA Awards Ceremony Program
2022 Certificate of Excellence winners
Regular Category-specific Rules & Descriptions
The Paula A. Gregg, Ph.D., Memorial Living and Learning With Purebred Cats Special Award
Important changes: Please read!
Regular Category Scoring Criteria
Past Contest Winners (Muses & Special Awards)
For questions about the Contest, please contact the Contest Chair at: contest@catwriters.com.
Regular Category Entry Form – Entries are closed
Special Category Entry Form – Entries are closed
Shojai Mentor Award Nomination Form – Entries are closed
Michael Brim Distinguished Service Award Nomination Form – Entries are closed