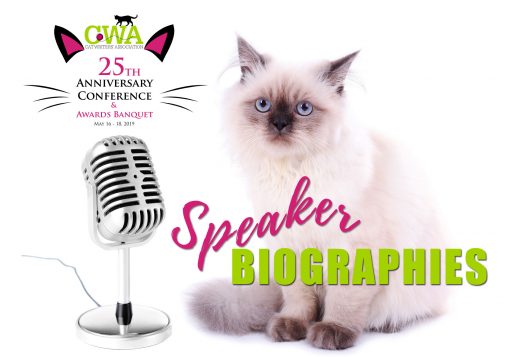 We have a plethora of talented, experienced, and highly-credentialed speakers, presenters, and a keynote who will be featured at our 25th Anniversary Conference and Awards Banquet on May 16 – 18, 2019 at the Drury Plaza Hotel at the Arch, St. Louis, MO. Please see detailed biographies below:
THURSDAY, MAY 16
Creative Cause Marketing for Rescues & More: How to Reach, Retain and Respect Your Audience
Panel Presentation by Julia Grosz, Anita Aurit, and Beth Stultz-Hairston
Julia Grosz earned the nickname "Cat Hustler" in 2015 thanks to her intrinsic ability to pair adoptable cats and their humans through copy writing and social media. In the years since, she's developed her intuitive and learned skills into a teachable set of practices, providing them to shelters, rescues, and the public across the country as Cat Hustler, a nonprofit organization. Her methods have impacted thousands of rescuers' approaches to marketing cats, resulting in incalculable lives being saved. Julia's business model has expanded to include community-building events and symposiums, further empowering rescuers to maximize their value to the homeless cat population.
Anita Aurit is a published author, frequent speaker, and Cat Writers' Association Muse award-winning cat blogger. Her writing career took a feline turn four years ago and she's been blogging from a feline point of view and writing feline fiction and non-fiction. Anita is a regular speaker at women's and business events and she recently created and taught an entrepreneurial class in conjunction with her local animal shelter and Charter High School.
Beth Stultz-Hairston, Vice-President of Pet Sitters International, has worked in the pet industry for more than a decade. She is the editor of Pet Sitter's World magazine and author of The Professional Pet Sitter's Startup Guide. Beth was awarded the Certificate of Excellence from the Cat Writers Association and selected as a 2017 Muse Medallion winner. She received her B.A., English, from the University of North Carolina at Chapel Hill, and pursued her studies in compassion fatigue through Divine Mercy University and Regent University. Beth has obtained certification as both a Compassion Fatigue Educator and Compassion Fatigue Therapist.
How to Write Short Pieces for Publication
Session by Lonnie Hull DuPont
Lonnie Hull DuPont is a writer, editor, and award-winning poet who has worked in publishing for three decades. She is the author of several nonfiction books, including her recent memoir, Kit Kat & Lucy: The Country Cats Who Changed a City Girl's World. She also compiles anthologies of true animal stories under the pseudonym Callie Smith Grant, and the most recent title is Second-Chance Dogs: True Stories of the Dogs We Rescue and the Dogs Who Rescue Us. She and her husband Joe are owned and loved by two highly evolved cats, Tiki and Mary Katherine.
The Myth Of Busyness: How To Claim Time For Your Business
Session by Robbi Hess
Robbi Hess is a former journalist, print magazine owner, and newspaper editor. She currently writes and works at Crimeless Cat (a division of Positively Woof) and owns a copywriting and productivity services business at All Words Matter, Inc. She is a published author, having written dozens of confession romance stories, and has three nonfiction books in the works. She is also a content creator/social media strategist/productivity coach.
Editing and Graphics with PicMonkey and Canva
Session by Paula Gregg
Paula Gregg began blogging in 2008 with Sweet Praline, which featured her tortoiseshell Persian, Praline. After losing Praline to cancer, a new blog, Sweet Purrfections, began in 2011 when Truffle and Brulee came to live with her. Paula has also received a Ph.D. in Curriculum and Instruction in Secondary Mathematics and worked 40+ years in education and government. During this time, she had numerous mathematics articles published in state, regional, and national educational journals. Paula has published five weekly calendar planners that feature cats in the blogging world and has received Certificates of Excellence from BlogPaws and the Cat Writers' Association for her writing. She is a pet influencer with BlogPaws and Chewy.com and is the Vice President of the Cat Writers' Association.
FRIDAY, MAY 17
The Science of Cats: Feline Nutrition & Hydration
Panel discussion by Dr. Kurt Venator and Dr. Janet Jackson
Dr. Kurt Venator has worked with Purina for 15 years and currently serves as the company's Chief Veterinary Officer. Kurt earned his Doctor of Veterinary Medicine degree from Cornell University and a Ph.D. in Zoology – Behavior & Physiology from the University of Texas at Austin. The inspiration for his career in veterinary medicine came from his first dog, Acadia, an overly intelligent and somewhat irreverent yellow Labrador Retriever who hailed from the small town of Luling, Texas. Memories of this special dog continue to fuel Kurt's life-long passion for pets of all shapes and sizes. Kurt resides in upstate New York with his wife, Kristi (his high school sweetheart), three sons and two yellow Labrador Retrievers (Sailor and Chance). When not working at Purina, spending time with his family or fly fishing on a winding river, Kurt still finds time to practice medicine. Kurt speaks across North America on the topics of small animal nutrition and veterinary medicine. He works closely with many U.S. veterinary schools to create partnerships that foster nutrition education and professional development for the veterinarians of tomorrow. He also works actively with veterinary clinics across the country to enhance the role of nutrition in clinical practice to help pets live long, healthy lives. Lastly, he directs the Purina Advisory Council, a 19-member group of world-renowned veterinarians from various medical specialties who help Purina advance pet nutrition, health and wellness across the globe.
Dr. Janet Jackson is the Vice President & Director of Research at Purina, where she leads scientists in the fields of nutrition, biochemistry, microbiology, immunology who are working on nutritional innovations that enhance the health of pets so they can live long, healthy and happy lives. Janet joined Purina in 1990 after receiving a Ph.D. in Animal Nutrition from the University of Illinois. During her career, she has worked with and led cross-functional research and development teams to develop new products across the Purina portfolio. Growing up on a corn and soybean farm in Central Illinois is where Janet discovered her love of pets. Her dogs and cats were always her companions growing up and have helped shape her into the person she is today. Throughout her career at Purina she has been inspired by the opportunity to make a difference in the lives of pets and pet owners, always striving to promote lifelong health and keep pets as an integral part of the family, as she has always known.
Cross-Marketing & Self-Editing
Session by Robyn Conley
Robyn Conley has been a Freelance Editor for 25 years, helping writers of all genres win contests, earn money, and land publishing contracts. As a writer, Robyn's credits include books with Scholastic Press, Writer's Digest, and Capstone. Her writing credentials span web content, magazine content, newspapers, and books. As a book doctor, her clients have published in every genre on all levels, from picture books to academic biographies, with a whole lotta novels in the middle.
Practical Guide to Social Media for Selling Books
Session by Lisa Miller
Lisa Miller is a Partner and the Business and Marketing Manager at Amphorae Publishing. Lisa has a certificate in Strategic Communications from Saint Louis University, an M.A. in English from the University of Missouri-Saint Louis, and B.A. in English for the University of Baltimore. She is a retired Army Lieutenant Colonel who served in Afghanistan in 2009. Lisa's essay, Still Falling Snow, about her experience in Afghanistan, was published in Proud to Be: Writing by American Warriors Vol. 3 in 2014. Lisa has worked in corporate communications as a writer and editor for over 20 years.
Improving the Well-Being of Cats in the Home, Shelters, and Post-Adoption
CWA Keynote by Dr. Debra Horwitz, DVM, DACVB
Dr. Debra F. Horwitz, DVM, DACVB received her DVM from Michigan State University College of Veterinary Medicine and is a past president and former public relations chair of the American College of Veterinary Behaviorists (ACVB). She is an award-winning lecturer and media spokesperson and has authored and edited several books and book chapters in behavior, including a chapter in Feline Stress and Health: Managing Negative Emotions to Improve Feline Health and Wellbeing, a Guide published by the International Society of Feline Medicine (ISFM). She is a frequent lecturer on behavioral topics for veterinarians and pet owners in North America and abroad and is often featured on television and radio. She is also a behavioral consultant on the Veterinary Information Network (VIN).
How to be Successful at Self-Publishing and Own Your Career!
Session by Kevin Tumilson
Kevin Tumlinson is a bestselling and award-winning thriller author, and the host of the popular Wordslinger Podcast. He's also the Director of Marketing for Draft2Digital – the best resource for self-publishing authors to build and grow their writing careers and to reach a wider audience of readers worldwide, with support the whole way. Kevin is known as "the Voice of Indie Publishing," and every day – through blog posts, podcasts, and one-on-one interaction – he helps thousands of will-be authors build a strategy to make their publishing dreams a reality.
What's Your Story Now? Own It! Writers and Bloggers Need Their Own Story To Help Communicate & Connect With Today's Feline Lovers in Social & Traditional Media
Session by Lea-Ann Germinder
Lea-Ann Germinder, APR, Fellow, and President of Germinder + Associates is an award-winning communicator, influencer in digital and traditional media. She has counseled writers, corporate executives and association volunteers on best practices for optimal results in an ever-changing media and digital landscape. She has been a member of CWA since 2000 and is also editor and publisher of Goodnewsforpets.com and Founder of GNFP Digital. Programs range from the iconic "Pets Need Dental Care, Too!" campaign to the more recent #Germinder20 #PowerofPink Honoree program celebrating the success of others with #Givingback.
You're On the Air – With Arden Moore
Session by Arden Moore, with a special appearance by Pet Safety Cat Casey
Arden Moore happily wears many collars in the pet world. She is a best-selling author, in-demand speaker, master pet first aid/CPR instructor and each week, she hosts the award-winning Oh Behave Show on Pet Life Radio, the world's largest pet radio network.
Pet Safety Cat Casey is a friendly, outgoing orange tabby who likes people (especially seniors and kids), other cats and yes, d-o-g-s! He teams up with his human, Arden Moore, Pet Health Safety Coach, and his K9 sis, Kona, to teach pet first aid and pet behavior classes across the U.S. Casey can be seen wearing cowboy hats and bowties and walks on a leash, rides in a pet stroller, and touches paws!
SATURDAY, MAY 18
Feline Health Q&A with Dr. Kasten
Q & A Session with Dr. Jennifer Kasten
Dr. Jennifer Kasten obtained her Doctorate in Veterinary Medicine from The Ohio State University. After several years in clinical practice, she joined Clinician's Brief where she worked as a medical writer and editor. She currently serves as the Technical Services Veterinarian for Tomlyn Veterinary Science. Dr. Kasten has been published in the American Journal of Veterinary Research, Journal of the American Veterinary Medical Association, and Veterinary Record. She is an avid Cincinnati Reds baseball fan. She shares her home with Nabisco, an 8-year-old orange-and-white cat, and Ranger, a 2-year-old border collie.
Bundling for Success
Session by Bonnie Koenig
Bonnie Koenig writes fiction as Bonnie Elizabeth. Her first novel was Whisper Bound which is the first in a series of contemporary fantasy novels. She also writes Gothic novels and has a short series of books for middle graders. Bonnie says the most stressful thing she ever did, other than jump out of an airplane, was move across country with three cats. She has since written the book, Moving with Cats. She has yet to write about jumping out of an airplane. Bonnie lives in Kentucky with her three cats and her husband
Picture Perfect Photos for Print, Social Media, and Publishing
Session by Larry Johnson
Larry Johnson is an award-winning professional photographer with over 30 years' experience photographing animals, with a particular focus on cat shows and home studio sessions, allowing him to visit over 35 major cities throughout the US, Europe, China, and Japan. Among Larry's many acclaimed awards, including the Kendall Camera Club Photographer of the Year in 1983, his work has also been published in Cat Fancy, Catster, Popular Photography, Dog Fancy, CNN, US Dept. of State, National Geographic, the Humane Society of Broward County, Cat Talk (CFA) TICA Trend, AKC, CFA, CFF, CCA, WCF, and TICA.
Communicating, Capitalizing, and Connecting in a Fictional World
Panel Presentation by Mollie Hunt, Patricia Fry, Sandy Murphy, and Debbie De Louise
Mollie Hunt is the author of The Crazy Cat Lady Cozy Mystery Series, featuring Portland native Lynley Cannon, a sixty-something cat shelter volunteer who finds more trouble than a cat in catnip. The 3rd in the series, Cat's Paw, was a finalist for the 2016 Mystery & Mayhem Book Award. Mollie also published a non-cat mystery, Placid River Runs Deep, which delves into murder, obsession, and the challenge of chronic illness in bucolic southwest Washington. Two of her short cat stories have been published in anthologies, one of which, The Dream Spinner, won the prestigious CWA Muse Medallion in 2017. Mollie is a member of the Oregon Writers' Colony, Sisters in Crime, Willamette Writers, the Cat Writers' Association, and NIWA. A native Oregonian, she lives in Portland with her husband and a varying number of cats and is also a grateful shelter volunteer.
Patricia Fry is the author of 74 books, including the 32-book-strong Klepto Cat Mystery series. She's a past president and former director of SPAWN (Small Publishers, Artists, and Writers Network) and a six-year member of CWA. She is also a seasoned speaker, presenting at several CWA conferences as well as dozens of other writers' and authors' organization throughout the US. A highlight in her career was being asked to serve as keynote speaker at a Toastmasters Conference in Dubai. Patricia has always loved cats and currently shares her home with her two fur-kids, Lily and Sophie.
Sandra Murphy is the author of From Hay to Eternity: Ten Tales of Crime and Deceptions. She also writes magazine articles, newsletters, and web content, as well as reviewing mysteries and thrillers for Kings River Life, a weekly online magazine. Her cat, Louie, strives to bring humor and reality to all of her writing.
Debbie De Louise is an award-winning author and a public library reference librarian. She is a member of The Cat Writers' Association, Sisters-in-Crime, International Thriller Writers, and the Long Island Authors Group. She has a BA in English and an MLS in Library Science from Long Island University. Her novels include the four books of the Cobble Cove Cozy Mystery series featuring Sneaky the library cat: A Stone's Throw, Between a Rock and a Hard Place, Written in Stone, and Love on the Rocks. Debbie has also written a standalone mystery, Reason to Die, a romantic comedy novella, When Jack Trumps Ace, and a paranormal romance, Cloudy Rainbow. She lives on Long Island with her husband, Anthony; daughter, Holly; cat Stripey; and kittens, Harry and Hermione.
Understanding and Using Instagram to Build Your Personal Brand and Audience
Panel discussion by Janiss Garza and Jessica Spawn, with a special appearance by Summer the Therapy Cat
Janiss Garza is an author, editor, award-winning blogger, and the founder of FitCat Publishing. She began her writing and editing career as a music journalist, and has written for the Los Angeles Times, L.A. Weekly, Entertainment Weekly, the Allmovie Guide online, Yahoo Music, Cat Fancy, Catster.com, FearFreeHappyHomes.com, and the award-winning blog, Sparklecat.com. She is also the author of two cat advice books, co-wrote the autobiography of heavy metal icon Lemmy Kilmister, and published two anthologies of cat stories, written by other authors. Along the way, Janiss picked up some social media skills, specializing in gaining followers and engagement on Instagram.
Jessica Spawn is a PAWthor, Speaker, and PURRducer who is passionate about cat adoption and all things cats! Her Instagram Cat Mom PURRsona is on display at many live events, trade shows, and various social media platforms. Her short film, "Instagram Cat Mom," is touring 40 cities in 2019 with the New York Cat Film Festival and can be seen online as well. Jessica's recent children's book, The Christmas Kitten, was a 2018 International Book Awards Finalist. This is the FURRst in a series of books, being followed up shortly with The Veterans' Day Kitten, The Valentine's Day Kitten, and many more to inspire love and kindness in the next generations.
Summer is what you call a renaissance cat – she's a therapy cat, regional award-winning Somali cat in both TICA and CFA, award-winning cat blogger, Instagram influencer, and a model with her own annual calendar. She's harness and leash trained and knows a half dozen tricks, including ringing a bell and high fives. Unlike most cats, she enjoys playing dress-up, especially for the camera. A natural celeb-kitty and social butterfly, she is always eager to meet her public or lend healing purrs to an ailing human.
Hypnotic Marketing: How to Create Descriptions and Sales Offers That Mesmerize Readers and Sell More Books, Products, and Services
Session by Bob Baker
Bob Baker helps musicians, authors, artists, and creative entrepreneurs use their talents and know-how to make a living and make a difference in the world. He is the author of the highly acclaimed Guerrilla Music Marketing Handbook (which appeared in the movie "The School of Rock" starring Jack Black). Bob's other books include The Empowered Artist, The Guerrilla Guide to Book Marketing, The Passion Principles, 55 Ways to Promote and Sell Your Book on the Internet, Unleash the Artist Within, and more.
DON'T MISS OUT ON THE EVENT OF THE YEAR – REGISTER FOR THE CONFERENCE HERE!