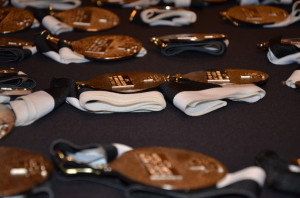 Each year, the Cat Writers' Association honors the best cat work of the year, recognizing the finalists and winners of the prestigious Muse Medallion™ and corporate awards (this year in excess of $11,000) at a gala Awards Banquet celebration traditionally held during our annual Writers Conference. Many of these sponsors will be on hand to present awards and meet-and-greet attendees. Since cats are so concerned about their grooming and appearance, banquet attendees often dress to the nines (lives.) Black tie is in no way required, but as they used to say, "If you got 'em, wear 'em." Bling is encouraged, and in the case of our officers, expected.
CWA AWARDS BANQUET–REGISTRATION CLOSED!

The 22nd Annual CWA Awards Banquet will be held Friday evening June 24, 2016:
7:30-8:15 pm Networking Pre-Dinner Event
8:15-10:00 pm Banquet & Awards.
The annual event this year is held in conjunction with the CWA and BlogPaws conference events at the Wild Horse Pass Resort & Spa outside Phoenix, AZ. The CWA wants as many contest entrants and guests to be able to attend as possible (contest details are here).
Thanks to our generous sponsors, most of the cost of the night's reception and banquet has been subsidized to offer a limited number of FREE REGISTRATIONS. Register ASAP to get your free seat before they run out. Once free seats sell out, a limited number of discounted $45/ticket seats will be available.
IF PLANS CHANGE, please notify AMY SHOJAI (amy@shojai.com) so we can make your ticket available to someone else. 
CWA CONFERENCE
The 22nd Annual CWA Conference events–seminars, book signing, editor/agent appointments and more–will be combined with the 2016 BlogPaws Conference June 23-25, 2016. CWA members receive the same "blogger" and "small business" rate which entitles you to attend any of the exciting sessions/events, whether hosted by CWA, by BlogPaws or by both. This is an event you don't want to miss.