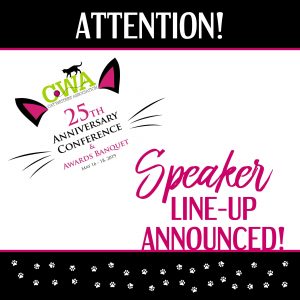 It's our milestone 25th Anniversary Conference and Awards Banquet and we're over the moon excited to announce the powerhouse speaker lineup we have assembled for our 3-day event! We have a combined total of 17 sessions, 24 speakers, and two very special guest cats! From interactive sessions on editing and graphics to informative sessions on self-publishing, traditional publishing, marketing and sales, podcasts, photography, writing for rescues, time management, social media, and more, there is something for communicators of all platforms audio, written, and visual.
To pack it all in, we'll have bonus sessions beginning at 1:15 pm, Thursday, May 16, for those attendees who like to arrive early. The official conference kick-off will start Friday, 9:00 am, with Emerald Sponsor, Purina, hosting a panel discussion featuring Dr. Kurt Venator, Chief Veterinary Officer for Purina and Dr. Janet Jackson, V.P. and Director of Research for Purina. Friday will also feature our keynote speaker, Dr. Debra Horwitz, DVM, DACVB, past president and former public relations chair of the American College of Veterinary Behaviorists, award-winning lecturer, author, and media spokesperson.
If you haven't registered yet, now's the time! With early-bird pricing available until March 31, this conference truly is the deal of the year! For $129 CWA members, and $159 for non-members, ticket price includes our legendary cat swag bag, admission to networking exhibit hall, all conference programming, including keynote, official meals, breaks, and the catnip icing on the cake – the opportunity to attend our gala awards ceremony and banquet on Saturday night! Please click here for ticket and hotel registration information.
We'll also be featuring editor one-on-one appointments on Friday and Saturday as well as a mega book signing/fundraising event that will be open to the general public to support a local St. Louis cat rescue on Friday night (stay tuned for further details).
For full details on each session – who is speaking, the subject matter, date, and time – please visit our CWA website here.