Happy Hanukkah to our Jewish CWA members. Our guest book reviewer is Melissa LaPierre, blogger at Mochas Mysteries and Meows
I was raised in a Catholic family and spent my elementary and high school years attending Catholic schools. I readily admit that I am woefully uneducated about the Jewish faith. As an adult I have found my greatest teachers to be cats, and that it is why I was excited to have the chance to read a copy of Mewsings: My Life as a Jewish Cat by Greta Beigel. I found Ketzel's "mewsings" to be both whimsical and educational!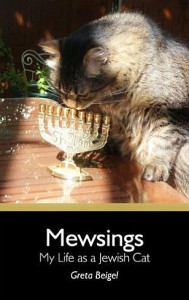 From the publisher: In the playful/educational "Mewsings: My Life as a Jewish Cat," the much-loved Ketzel pontificates in rhyme on what it takes to be a good Jew in these modern times. Clearly the author's alter ego, cat Ketzel celebrates the High Holidays, relishing the rituals and ethnic foods of her rich cultural heritage. Each fall, the feline remains in awe of Rosh Hashanah, expressing hope for peace on this Earth. But soon becomes anxious with the rapidly-approaching Day of Atonement–and mandated food fast. Comes Nov/December, Ketzel recalls those "Hanukkah Nights/Lights" dreaming of dreidels and latkes, and recounting how over eight nights we kindle candles as sacred rite.
With the advent of spring and Passover, she listens attentively to tales of the Hebrews' escape from Egypt & slavery–all the while salivating over the gefilte fish she knows will be served during Seder celebrations. Above all, whether on travels to Iceland, New Zealand, and lovely Hawaii, or merely at home reclining and idle, Ketzel in her musings accords her own Yiddishe Mamma a five-meow rating.
Greta tells the story of how at a cat writers' conference she was asked by a publisher why she wrote a book about a Jewish cat? Her response: "I love having Ketzel purr away in the kitchen as we prepare for Passover, then sit alongside at the Seder table, watching power plays amongst our Orthodox relatives. So good to have her accompany me on a visit to Iceland and express surprise at the lack of Jewry in this land of lava and mist. And what fun to watch her chasing after dreidels (spinning tops) and plates of latkes during Hanukkah."
Our cats are an integral part of our lives and homes, so why shouldn't they share in our religious customs and celebrations? Do you have plans to make your cat(s) a part of this year's holiday season?
Visit the author at her Facebook page for her latest news.
Find out more or to purchase click on the Amazon Link
Editor's note: We're seeking Christmas-themed short stories (fiction or non-fiction), poems or photos. Please send to Layla Morgan Wilde at Layla@laylamorganwilde.com before Dec.18, 2015. If selected, you'll be notified in advance of posting.