by Emily Hall
As writers and content creators, we are always striving to get the most mileage out of our work. When we've put so much time and effort into writing a blog post, article, or book, we might as well make the most of it, right?! 
Not to mention the struggle of having to come up with social media content to promote said blog post, article, or book…
The good news is that there are several ways you can take the content you've already written and repurpose it for both social media content and book promotions.
For this post, I'll be using examples of my own repurposed content from KittyCatGO.
1. Quote Graphics
An effective and easy way to promote your most recent work is with a well-designed quote graphic. Pick an impactful or meaningful statement or excerpt from your article or book, and turn it into a graphic image that can then be shared on social media.
Thanks to programs like Canva, it can take almost no time to either pick a pre-designed template or design your own quote graphic.
Once it's designed, you can share it on Facebook, Instagram, Twitter, Threads, or even Pinterest. Just upload and add your caption and call-to-action (CTA)!
In the example below, I chose a sentence from my blog post "A Step-By-Step Guide to Cat Harness Training" that would get a viewer's attention and make them curious to learn what the first step of the training process is.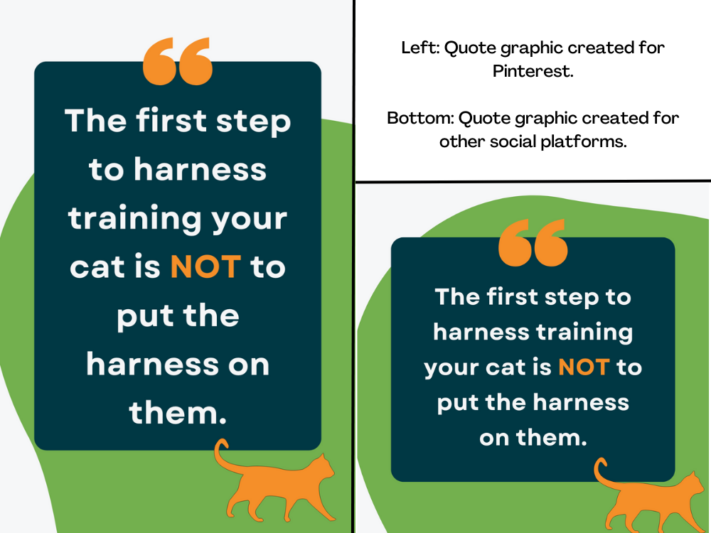 Pro tip: Each social platform has its own preferred image sizes, so you can take the graphic you've made and resize it for each of your respective platforms. A square graphic is a pretty universally accepted image size, with the exception of on Pinterest.
2. Instagram Carousels
Along with Reels, Instagram carousel posts continue to be one of the highest-engaging and most popular post types on the platform. For this reason, creating a carousel post from your article or book is a great way to both repurpose your content AND boost engagement on your Instagram account at the same time.
Ideas for how you might create a carousel post from your content:
If you have an article that includes step-by-step instructions or a list of some sort, you could turn it into a carousel by creating a carousel slide for each step of the process or each item on your list.
If you wrote a fiction book, you could create a carousel highlighting the main characters from the story. Each slide could include a character's name, along with a sentence or two about them.
If you wrote a nonfiction book, you could pick a section from the book, pull out a few of the high points or most interesting facts, and turn them into a carousel post.
Example: I took my blog post "How to Keep Your Cat Hydrated" and then created a carousel post that includes 7 slides, each outlining one of the ways you can make sure your cat stays hydrated when you're adventuring outdoors together in the summer. 
Pro tip: In the caption of your Instagram post, you can include a CTA that points people to your full article or book to read more. Here's an example of a CTA I could have included with the Instagram post I shared above: "Interested in learning more? Comment "cat hydration" and I will DM you a link to the full blog article."
If you're a book author, your CTA could be something like "Interested in reading how these characters' stories play out? Comment "book worm" and I will DM you the link where you can purchase your own copy of the book!"
3. Create Short-Form Videos
With Instagram, TikTok, and YouTube all putting such a strong emphasis on vertical, short-form video, it's more important than ever to get in on the action so you can get more eyes on your content! Google is even going to be prioritizing showing short-form video content in search results with their Perspectives update.
Just as with the Instagram carousel example above, you can take a section of your article or book and turn it into a short video or even a series of videos.
I understand that the thought of creating video content can seem daunting, but the good news is that once you've created it, you can share it on all 3 video platforms – Instagram, TikTok, and YouTube Shorts. In fact, Pinterest even likes short-form vertical video content too. Talk about some serious bang for your buck with just a single video!
Example: I took my blog post "Homemade Lickable Cat Food Recipe: Hydration On-the-Go!" and created a short tutorial video. I then shared it on Instagram, TikTok, YouTube, and Pinterest.
Here's a short-form video idea for you fiction book authors – record yourself reading a small excerpt from your book. If you aren't comfortable putting your face on camera, you could splice a few video clips together of some scenes that relate to the excerpt.
Pro tip: Viewers are more likely to watch and engage with a video that is comprised of multiple shorter clips spliced together. This type of video will hold a viewer's attention better than a video that is just one long, continuous shot without any angle or perspective changes.
4. Create Long Form Videos
Though short-form video may be all the rage, long form video content is still an effective media type. YouTube has over 2 billion monthly active users and 122 million daily users. It's showing no signs of slowing down either!
If you're into video creation, you can take your articles and books and create some long form videos from it.
For example, I took my blog post "A Step-By-Step Guide to Cat Harness Training" and created two different YouTube videos, each highlighting a different part of the training process:
You should include a link to your full blog post or article in the description of your videos in an effort to turn those video viewers into site readers as well!
Pro tip: If you create a video that goes with a blog post or article, you can then embed it into your post (if it's an online post) to further enhance it. Readers that come across your written article will have the added bonus of video content to watch as well (some people prefer watching a video to learn rather than reading, after all). Plus, it will help boost your SEO results. A win-win-win!
5. Create an infographic
People love infographics. They're highly shareable, and they also make effective visual aids and illustrations. If you have an article or book that includes some statistics or facts that could be turned into an infographic, then go for it!
Just as with the video content, an infographic can be added to your article or book to further enhance it. Another win-win!
Example: I haven't created any infographics myself, so I found this example from Alley Cat Allies about declawing cats: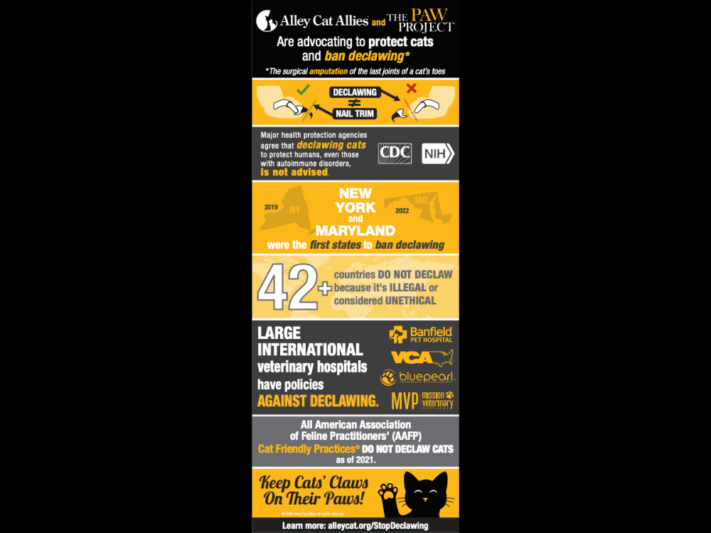 For you novel writers, you could create an infographic to share some facts about the universe in which your book takes place or to share about a character from the story. Creating an infographic for a novel may require some more creativity on your part, but if you're writing novels, then you've got the creativity covered!
Pro Tip: Infographics tend to do well on Pinterest, so if possible, create your infographic using Pinterest's recommended image sizes so you can easily share it there!
In the world of content creation, maximizing the value of our efforts is vital. The journey from an initial blog post, article, or book to engaging social media content and book promotions can be daunting at first, but with the tips outlined above, you should be able to take your content and make it work for you in various forms. As creators, embracing these strategies not only extends the reach of our work but also nurtures the ever-growing connection between our content and our audience.
---
About the Author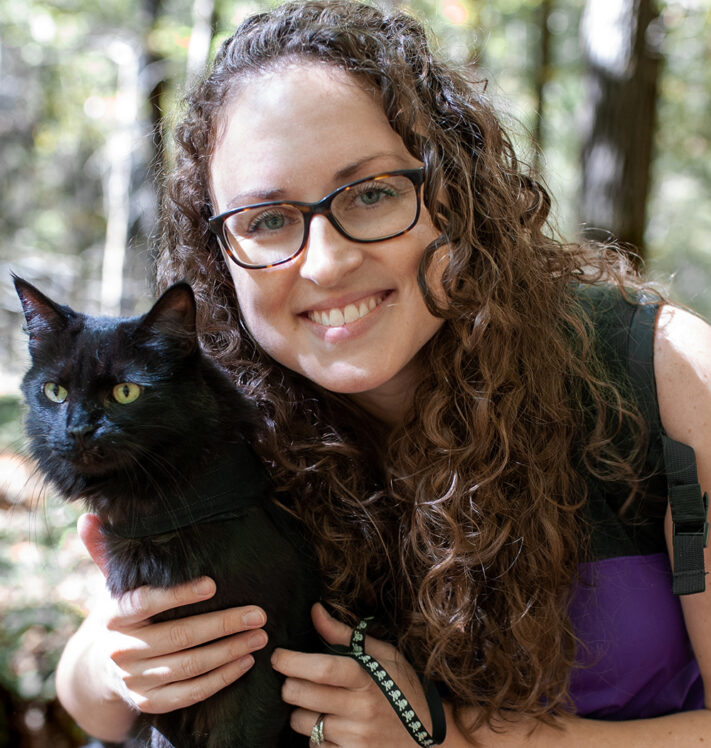 Emily Hall is a cat trainer and cat adventure enthusiast. As a "mom" to seven cats, one dog, and two sugar gliders, she has been writing in the pet industry for almost 10 years, with a focus on traveling and adventuring with cats. Emily and her husband enjoy hiking, road-tripping, camping, and canoeing with their three exploring kitties.