A note from Layla Morgan Wilde, CWA Blog editor. Since returning from Blogpaws, a trifecta of illness, death and 24/7 critical cat care has taken all my time. In order for this blog to continue, I will either need help maintaining it or I'll have to step down. If you're a CWA member and would like to help or have a suggestion email me Layla@laylamorganwilde.com
While I was at Blogpaws a month ago, I sorely felt the absence of the late CWA president Lorie Huston. At Blogpaws last year we'd laughed and enjoyed a quiet lunch of burgers on the patio. I had no clue it would be the last time I'd see her alive. At Blogpaws this year I was keen to chat with Sandra Townsend who had adopted Rhette, one of Lorie's cats. When Lorie died, she left six cats in need of new homes and second chances. Sandra kindly submitted on update on Rhette.
A Second Chance For Rhette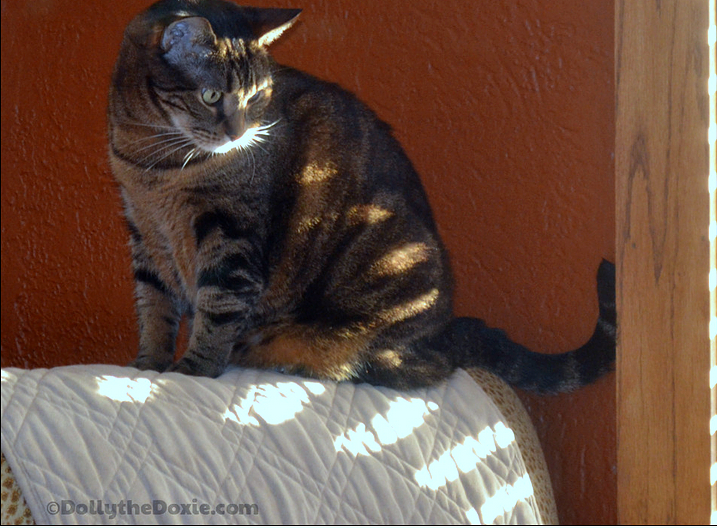 When I returned from BlogPaws, after the dogs finally settled down, I went to look for Rhette. There he was, as usual, sound asleep at the foot of my side of the bed.  I petted him, he woke up realizing right away that I was home, and began to purr and bump me with his head, obviously glad to see me.
I didn't know Lori Huston, I knew of her from Twitter and #blogpawschat, but never got to meet her.  It didn't take long for me to learn of her illness, sudden passing and the cats she left behind. When her grieving friends stepped up to help rehome her "babies" I thought I could help.
Most of Rhette's journey since is documented in my blog Dolly the Doxie (http://www.dollythedoxie.com). It's been almost nine months since we picked him up at O'Hare Airport's cargo terminal. So much has happened since then I honestly don't think I would have adopted Rhette knowing that a month after he came to live with us that I would lose my mother. That's because I was the only one to bring home her beloved Cocker Spaniel Taffy to live with my husband and I, Dolly and Rhette in a two-bedroom flat in the city. But I did, and it's working, mostly.
Rhette had no problem with Dolly, other than her wanting to play. Rhette isn't interested. A month later, when I brought Taffy home, Rhette was not amused at all. Taffy grew up with a cat and she loves Rhette, always sticking her nose right in his face and wiggling her butt. Rhette isn't impressed. Once in awhile the dogs give him a chase through the house, which he enjoys, and that's it. He also thinks its treat time for him too when they get one.
Rhette is a pretty smart cat, and learns things quickly. He's a chronic counter-surfer, but he has his food and water there, to keep away from the dogs, so what are you going to do? I put my foot down about him getting on island where we eat, but I always end up eating my breakfast, looking at my iPad, with him laying a foot away. What are you going to do?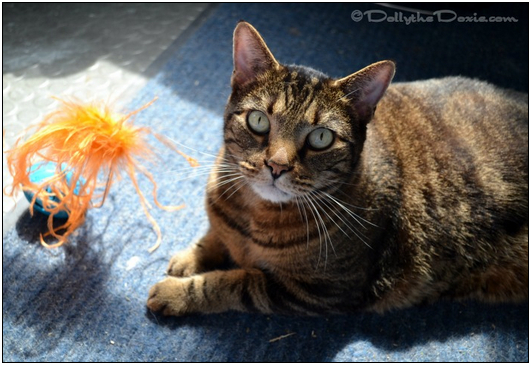 At first Rhette spent most of his days in a bed by the computer. As soon I sit down he's on top of the keyboard making it impossible to work. I always wonder if he did that to Lori too. He head butts everything knocking your mouse, keyboard, papers, which he licks, on the floor. Makes a real nuisance of himself. Ignoring him doesn't work. Getting him to lie in your lap with the keyboard out of the way is about the only way to get anything done. For some reason now Dolly sleeps in that bed but Rhette has several favorite places to spend his time sleeping. He has a bed on the back porch he enjoys and its right by a window. If he's not sleeping on my side of the bed during the day you'll find him on a bench in my TV room.
Still recuperating from back surgery, I spent most of winter afternoons napping on the couch with two dogs and a cat. Rhette never lets the dogs stop him from sitting with us. He's not technically a lap cat, but more of a lying on you cat. He'll lie on your shoulder, arm, neck or your chest, kneading and purring away. I am also now a lady with a cat on my head. If he's not lying on my head, across my neck or on my pillow in bed he's perched right on my chest kneading my neck, purring loudly
I had a chance to meet Lori's friends and colleagues Barkworld in Atlanta last year to thank them in person for finding homes for Lori's cats. I also met Lori's brother, telling him it was fate that I adopt one of Lori's cats. She's a Nebraska girl, and both my parents were born and raised there. He loved seeing pictures of one of Lori's "babies" happy and settled in. And yes, I feel that Rhette is very happy and content with us.
The first night back from BlogPaws I fell asleep with Rhette lying next to me, kneading the inside of my arm, really, and I didn't mind at all. Also, my husband finally stopped saying, "I don't want a cat" to "He's a really nice cat." And he is.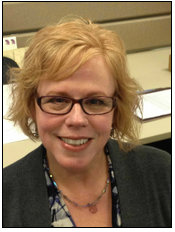 Bio: Sandra Townsend started her blog Dolly the Doxie two and a half years ago to keep herself busy as a result of long-term unemployment. She is an experienced business professional who has combined her love of animals and writing into an engaging and growing pet blog. Dolly is a Dachshund mix rescue whom she shares her adventures with to keep healthy and fit in Chicago.
Visit and follow Sandra Townsend at:
[subscribe2]