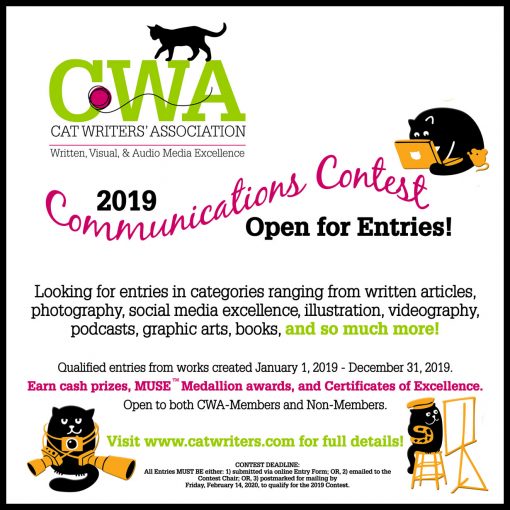 The Cat Writers' Association (CWA) is excited to announce our 2019 Communications Contest is open for entries with opportunities to win cash prizes, MUSE™ Medallion Awards, and Certificates of Excellence totaling over $13,000! Qualified entries range from works produced/created January 1, 2019 – December 31, 2019 and the contest is open to both CWA-Members and Non-Members.
The CWA, founded in 1992 began as a small, grassroots organization looking to support writers to help them provide relevant and important information about cats to the general public. An annual contest was created to award the best of the best in the cat-writing industry and has grown significantly in scope over the years. According to CWA President, Deb Barnes, "While we are a writing organization at heart, we support talents in a wide variety of mediums – written, visual, and audio – all of which will be recognized in a plethora of contest categories and eligible subject content and styles of expression in our 2019 contest."
Really, if it's cats, and it meets the criteria, the sky's the limit in topic or content – serious posts on veterinary breakthroughs, to product reviews, to stories on the feline-human bond and more. Rescue, advocacy, humor and entertainment, lifestyle, kittens, senior cats, special needs cats, pedigree cats, famous cats, fictional cats – the list goes on with over 75 Regular Category entry classifications to choose from. Even our big, jungle cat friends – we encourage pieces that inspire, educate, entertain, inform and more. From the smallest piece of cat designed jewelry to large cat sculptures to an encyclopedia sized novel, there's a category for your talents.
There are also 17 Special Award categories available for entries that are funded for cash prizes from sponsors including the American Association of Feline Practitioners, the CATalyst Council, the CWA, Cornell University's Feline Health Center, Fear Free Pets, goodnewsforpets.com, a digital publishing platform of Germinder + Associates, International Veterinary Sciences (IVS) with support from Christopher Knight, best known for his role as Peter on the Brady Bunch as well as Christopher Knight Brands, the International Cat Association (TICA), Catster/Belvoir Marketing Group, Pet Sitters International, Fran Pennock Shaw and Ray Shaw, Sleepypod, Pioneer Pet, the makers of SmartCat and Sticky Paws, and World's Best® Cat Litter.
For full contest details – rules, categories, submission fees, judging criteria, entry information, and more, please visit our contest tab at our website www.catwriters.com. Submission deadline is February 14, 2020 and we also welcome everyone to join us at our annual conference and awards banquet to be held July 16 – 18, 2020 at the APA Hotel Woodbridge in Iselin, NJ, in which all awards will be announced and celebrated.