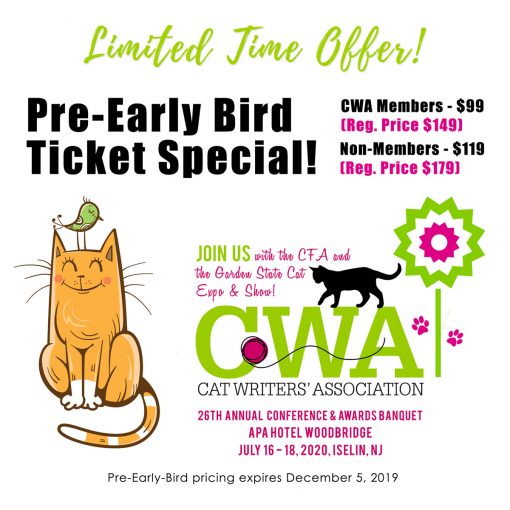 The Cat Writers' Association (CWA) is pleased to announce the location of their 26th annual conference and awards banquet will be at the APA Hotel Woodbridge in Iselin, NJ on July 16 – 18, 2020. A newly renovated, pet-friendly establishment, the CWA is thrilled with the property's modern, four-star rating, as well as its close, 6.2 mile proximity to the NJ Convention and Exposition Center where the Cat Fanciers' Association 84th annual Garden State Cat Show and Expo  Cat Show and Expo will be held.
The conference, open to both CWA members and non-members will be a jam-packed event filled with things to do, places to go, sessions to attend, and so much more! CWA President, Deb Barnes, couldn't be happier. The CWA, a 25 plus year nonprofit organization was founded with the intention of getting "good information" about cats out to the general public, and supporting the writers dedicated to that effort.
Barnes states, "Over the years, we have grown from a handful of members to a worldwide, 250 members plus organization comprised of a wide variety of talent, supporting evolving mediums and platforms such as Fine Arts, Journalism, Social Media, Graphic Design, Writing, Radio, Television, Videography, Podcasts, Websites, Blogs, Photography, Illustration, Cartoons, and so much more. Our annual conferences allow us to broaden our professions, translating to enhanced information that improves the lives of cats."
While the conference will have a cat-centric tone, it's an event anyone in the industries of communications, writing, blogging, publishing, social media and more could benefit from. The conference will feature sessions from renowned experts in the field of publishing, writing, photography, podcasts, and branding in must-attend panels, seminars, and one-on-one meetings. A catalogue of cat-centric attractions from a cat café to cat ears, catty awards to cat products is also planned, as well as a book-signing event open to the public at the conference hotel.
For a limited time only, Pre-Early Bird ticket discount pricing will be available at $99 for CWA-Members and $119 for Non-Members. The offer expires at midnight EST on Thursday, December 5, 2019, with ticket prices increasing to $129 for CWA-Members and $159 after that. Each ticket includes the CWA's world-famous (yes, world-famous) cat swag bag, admission to the brands exhibit area, appointment access to editors and publishers, all conference programming, all keynotes, official meals and snack breaks, access to all book signing and fundraising events and entry to the awards reception and banquet, which includes two-free drink tickets!
For more information and to book your ticket, please click here for details.