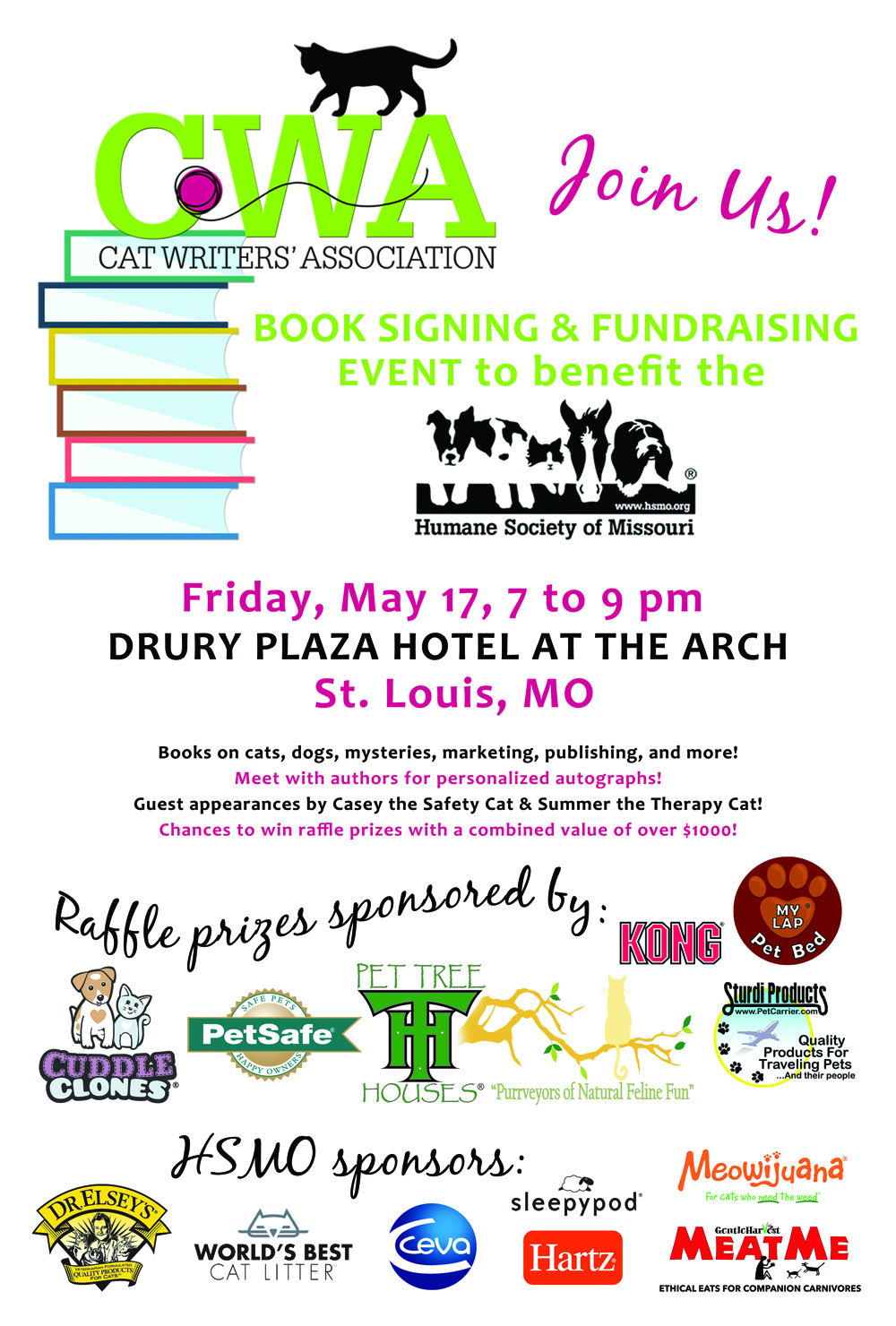 From books on cats, dogs, pet mysteries, animal care, veterinary issues and breeds, science fiction, adventure and fantasy memoirs, publishing, marketing and more you'll want to attend the Cat Writers' Association (CWA) book signing and fundraising event to benefit the Humane Society of Missouri (HSMO). Over a dozen expert authors from the pet, publishing, and marketing industries will be autographing their books at the 2019 Cat Writers' Association 25th anniversary conference at the Drury Plaza Hotel at the Arch, St. Louis on Friday, May 17 from 7:00 p.m. to 9:00 p.m. in the West ballroom, located on the lobby level. The public is invited and prizes from Pet Tree Houses, Cuddle Clones, PetSafe, Sturdi Products, Kong, and My Lap Pet Bed will be raffled off to raise funds for the HSMO. There will also be guest appearances by celebrity cats, Casey the Safety Cat, and Summer the Therapy Cat.
Deborah Barnes, CWA president, is thrilled. "25-years is a milestone for our organization, and we are excited to be in St. Louis to meet and greet animal lovers and to help raise funds for the HSMO."

Educating the general public on animal welfare is an integral part of the CWA and Linda Campbell, Shelter Animal Behavior Manager for the HSMO couldn't be happier. She states, "We thank the CWA for bringing focus to the HSMO's mission to end the cycle of abuse and pet overpopulation through our rescue and investigation efforts, spay/neuter programs and educational classes. Our goals include creating lasting relationships between people and animals, which of course, is a great benefit of what the Cat Writers Association does."
Among the authors scheduled to appear are Amy Shojai, CWA founder and nationally known pet care expert, certified animal behavior consultant and the award-winning author of more than 30 pet care books, Deborah Barnes, CWA president and multi-award-winning author of Makin' Biscuits – Weird Cat Habits and the Even Weirder Habits of the Humans Who Love Them, as well as Anita Aurit, Bob Baker of the highly acclaimed Guerrilla Music Marketing Handbook, Bonnie Elizabeth, Debbie De Louise, Dr. Jason Nicholas, Erin Merryn of the newly released blockbuster, Bailey No Ordinary Cat, Janiss Garza, Jessica Spawn, social media superstar with her children's book, The Christmas Kitten, Larry Johnson, Lisa Annette Powell, Lonnie Hull DuPont, Mollie Hunt, Patricia Fry, Robbi Hess, freelance editor, Robyn Conley, and Ruth E. Thaler-Carter.

There is no entry charge for the event, however, applicable parking fees from the Drury Plaza Hotel will apply. Additional sponsors supporting the fundraiser are Ceva Animal Health, Dr. Elsey's Precious Cat Products, Hartz, MeatMe, Meowijuana, Sleepypod, World's Best Cat Litter, and conference keynote speaker, Dr. Debra Horwitz, DVM, DACVB.
For more information on the conference, please visit here.