by Mollie Hunt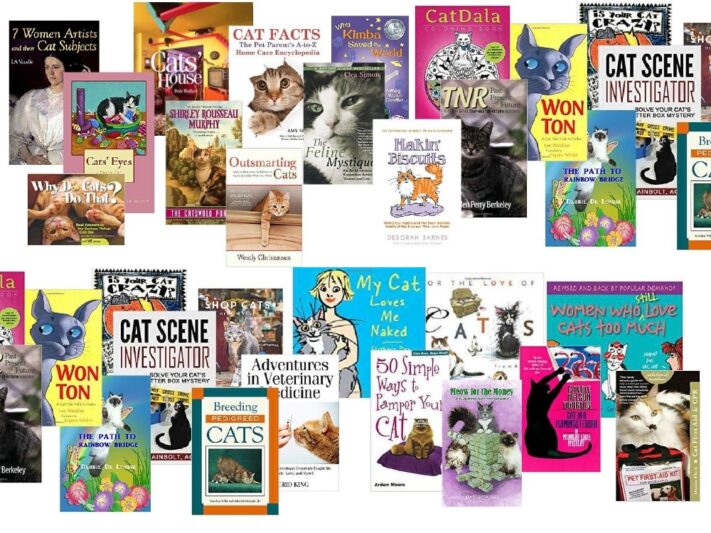 Fiction? Non-fiction? Mystery, thriller, cozy?
Sci-fi and fantasy? Children's, YA, memoir, and poetry? If you look at the CWA Book Directory* you'll see instantly that cat writing comes in all flavors. The booklist itself has fifteen categories for authors to choose from, and that's not counting the vast selection of sub-categories. Those choices are what makes it possible for each writer to find their best voice.
I write in several genres: cozy mystery, paranormal cozy, sci-fantasy, memoir, and poetry, as well as the odd thriller. People ask how I keep all my cat stories from sounding the same. There is no secret to it. I merely follow the example of the cats themselves.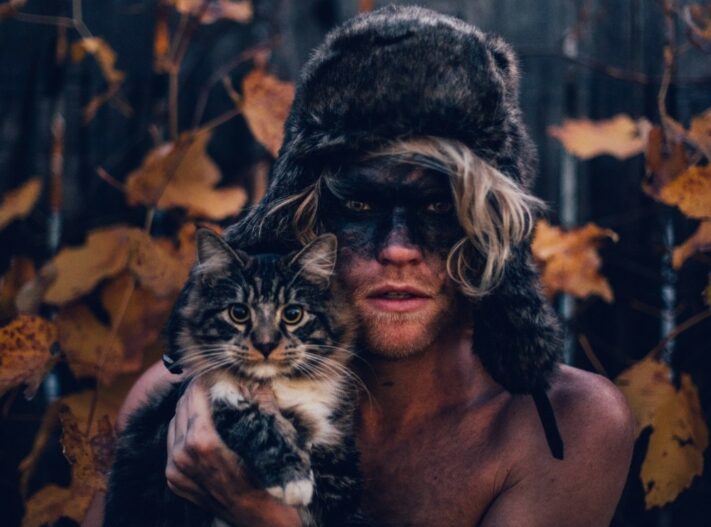 Every cat is different.
We, as cat people, know that to be a fact. Our stories must vary the same way. A black cat may have yellow or green eyes, long silky hair or short fur like velvet. They may be slim or chonky, vocal or quiet, outgoing or shy, or somewhere in between. You would never mistake my black cat for your black cat. Even if they are similar, we learn to recognize the nuances—the little curve of the mouth, the slight stubbiness to the tail, that one white whisker.
This is the way I approach my writing, but instead of personal features, the nuances may be a turn of a phrase, a point of view, or a style of wording and punctuation. Each series presents different locations, descriptions, characters, and cats. Within a series, every book must have its own personality as well.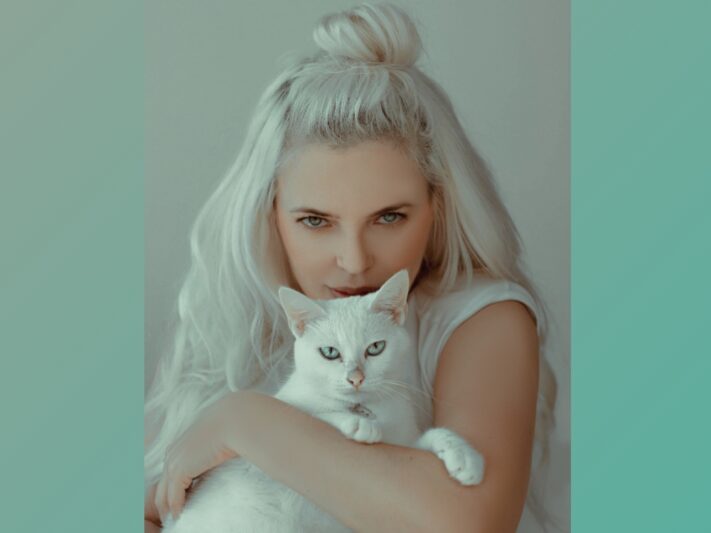 My longest-running series, the Crazy Cat Lady cozy mysteries, are written in first person from the point of view of Lynley Cannon, a sixty-something cat shelter volunteer. Lynley has a varying number of cats in her care. Her cats don't talk or solve mysteries as with some cozies, but that said, they are known to use their catly wiles to steer the story. Other cats come into the books as well—many other cats. Without going against their natural behavior, they drive the action as well as the ultimate outcome.
Here's the first paragraph of book 1:
"My name is Lynley Cannon, and I am the crazy cat lady, only I'm not crazy yet. I swear. Everything I say is true, though it may seem like the wildest fiction. It does to me, now that I look back, starting when Fluffs discovered the stone. But I'm getting ahead of myself. How are you to know what led up to that unfortunate find or its dire consequences? Why, at the time I didn't know myself and could never have guessed."
A shelter volunteer cat lady character has given me the perfect opportunity to do a little cat care education throughout the books. I begin each chapter with an epigraph of cat tips, tricks, and facts. Within the story, I'm able to weave such topics as TNR (Trap/Neuter/Return), registered therapy cats, humane investigations (animal cops), cat shelter protocol, declawing, cat sitting, and more.
I recently began a second cozy series, the Tenth Life Paranormal Series, a lighter story involving a ghost cat. Ghost cat Soji does talk, but only to the main character Camelia who has recently moved into the beach house behind which Soji is entombed. Soji is perfectly capable of solving crimes, but only if she wants to. The Tenth Life series is written in third person. So far, the books don't start right off with cats. I bring in Soji and Camelia's living cat Blaze later in the chapter, letting them evolve their story in a more leisurely fashion. There are no epigraphs in this series, but each chapter has a title and a graphic of a cat.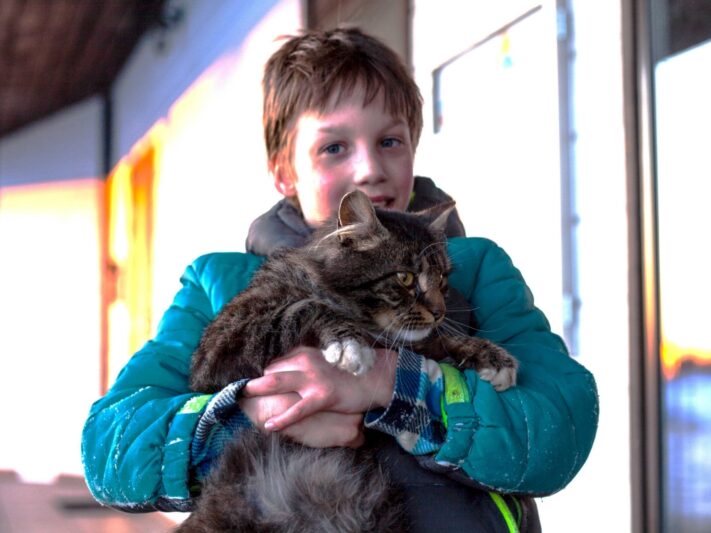 My sci-fantasy tetralogy is made up of four lengthy sagas about cats saving the world. In this series, these cats don't merely talk—they do many amazing things as well. Each of the four books of the tetralogy take place in the same fantastic multiverse, but with a different cast of characters and a different theme. The voice is more formal, since the exchanges between the hero cats are solemn and serious. To note, the human characters in these books end up becoming cats as well.
I try to inject the writing with mood and atmosphere. This is an excerpt from the first chapter of Cat Summer:
"On the overstuffed couch, wedged in between a hillock of throw pillows, lounged Percy, a round-bodied kink-tailed tuxedo cat whose ice-green eyes and luxuriant fur spoke of his roots in the forests of Norway. The elderly feline liked that place and often slept there when he was not on the prowl. Finding him like that was nothing new. On the carpet nearby, however, stood someone else—a great orange tabby Lise had never seen before. The tabby stalked toward her, halting at her feet. His eyes, like yellow lamp globes, seemed to quiz her innermost being.

'Who are you?' Lise asked as she bent down to pet the stranger.

'I am Evermore Artair Eckx,' the tabby replied, rubbing his blunt head against Lise's proffered hand, then retreating to arm's length, just out of reach as cats do. 'But you can call me Tom.'"
My COVID memoir takes place between 2020 and mid-2021. "How Cats Helped Me Through Unprecedented Times" is the main theme. The cats in this story are my own sweet cats and cats within my aura. I document their trials and tribulations with love. The voice that asserted itself for this work is basically my own speaking voice.
For this example, I jumped to the back of the book:
"Epilogue:

Jaimz (the cat who saved me) joined our clowder when the daffodils were in bloom and the fruit trees had begun to flower, casting petals on the sidewalk like pink snow. It was spring, a season of rebirth, a season of gladness, magnified a hundred times over by Jaimz's company. His presence in my life made me a better person, a more compassionate and sympathetic human. His fortitude and tenacity have inspired me to get over myself and carry on."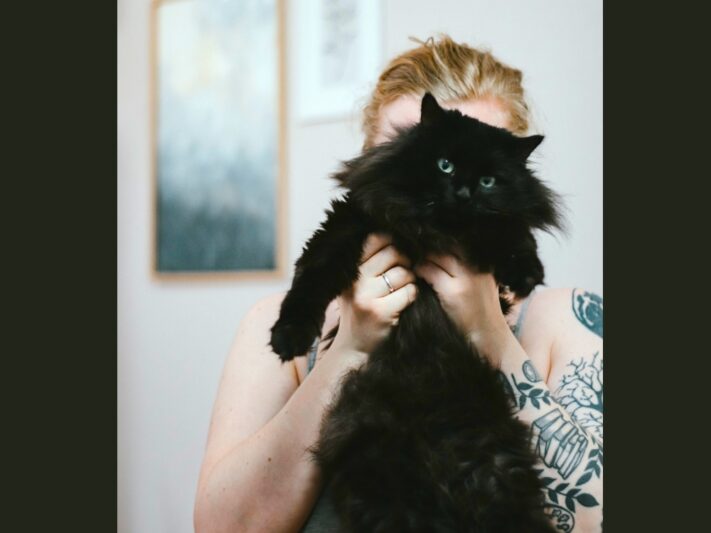 I've used the four photos in this article to demonstrate how the same thing can be so very different. They all can be described as a human holding a cat, yet the details show so much more. When our stories build on this theme of diversity, our readers will never be bored.
---
*Professional CWA Members – You are invited to list your cat-related book on the CWA Website!
CWA is extremely proud of our member authors and their publications. Among our over 250 international members are non-fiction book authors, animal behaviorists, novelists, poets, short story writers, illustrators, and photographers whose works are sold through professional bookstores and online venues. Your book link can be listed too.
For more information, go to the website's "Members Only" tab and click on — Submit (or update) your cat-related book to the CWA Book List.
---
About the Author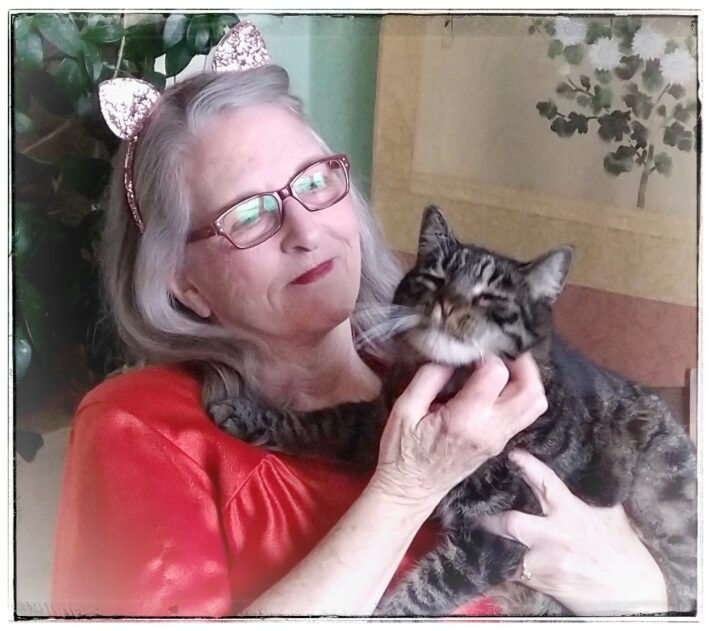 Cat Writer Mollie Hunt is the award-winning author of two cozy series, the Crazy Cat Lady Mysteries and the Tenth Life Mysteries. Her Cat Seasons Sci-Fantasy Tetralogy features extraordinary cats saving the world. Mollie also released a cat-themed COVID memoir. In her spare time, she pens a bit of cat poetry as well.
Mollie is a member of the Oregon Writers' Colony, Sisters in Crime, the Cat Writers' Association, Willamette Writers, and Northwest Independent Writers Association (NIWA). She lives in Portland, Oregon with her husband and a varying number of cats.
You can find Mollie Hunt, Cat Writer at https://molliehuntcatwriter.com/