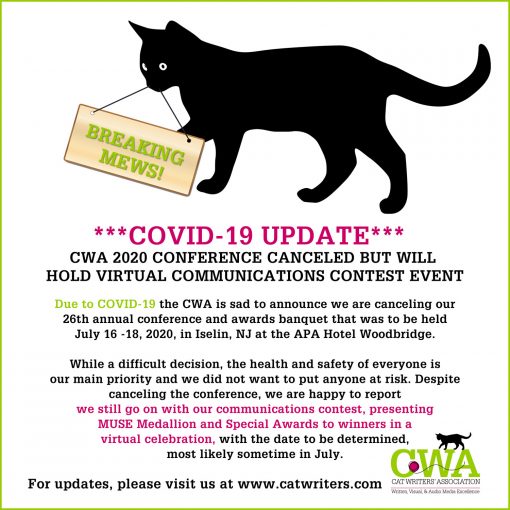 After a decision made by the CWA conference committee consisting of President, Deb Barnes; VP, Paula Gregg; Co-founder, Amy Shojai; Past-President, Marci Kladnik; Treasure and PR, Robbi Hess; and members, Ramona Marek and Ruth Thaler-Carter it has been determined in light of the current COVID-19 circumstances that the CWA will cancel their 26th annual conference and awards banquet that was to be held July 16 -18 in Iselin, NJ at the APA Hotel Woodbridge in conjunction with the CFA/Garden State Cat Expo and Show.
President Deb Barnes says, "We debated many scenarios – hoping for better days ahead by keeping the dates and location as is, postponing it for a later date this year (at possibly a different location) and more, but ultimately with so much uncertainly in the air and everyone's health and safety our main priority – all have given us reason to determine canceling the event is the best option and we will move forward with a conference at some future date in 2021 to be determined."
As it currently stands, the NJ Convention Center where the CFA/Garden State Cat Expo in NJ was to be held, is now a makeshift hospital at least through May, possibly June, and the owners of the venue don't have further knowledge past that, as the State took it over, which means the CFA has also canceled their show for this year.
Despite canceling the conference there is some good news and reason to cheer – the CWA has chosen to still go on with their annual communications contest and presenting MUSE Medallions and Special Awards in a virtual celebration with the date to be determined, probably still in July, it just depends on how long putting together a virtual ceremony takes (something new to CWA planning).
While not what was initially envisioned, the CWA is grateful to offer an event in which people can smile, celebrate, support one another, and support our feline companions who are doing a mighty job lifting our spirits and keeping us company. The CWA is also under discussions to incorporate a fundraising effort for a NJ cat rescue – Tabby's Place – during the virtual celebration.
They had originally planned on holding a fundraising event for Tabby's Place at their conference and decided canceling the event did not mean efforts had to stop to help cats in need. Tabby's Place is a wonderful organization that rescues cats from hopeless situations, with special needs cats the heart and soul of the organization.
Barnes says, "With them currently closed to the public following a NJ Executive Order, they will need help more than ever to fund their cage-free sanctuary that provides their kitties with medical care, food, TNR needs, litter, toys, and so much more. Because they do not choose cats based on "adoptability," they are a haven for those cats who nobody else could take and at any given time, 30-40% of their kitties have chronic conditions like diabetes, heart disease, and paraplegia and I am hoping we will be able to provide them with a generous donation after our ceremony."
Details for both the virtual contest ceremony and Tabby's Place fundraiser are both ongoing. Please visit the CWA at www.catwriters.com to follow updates as they unfold.