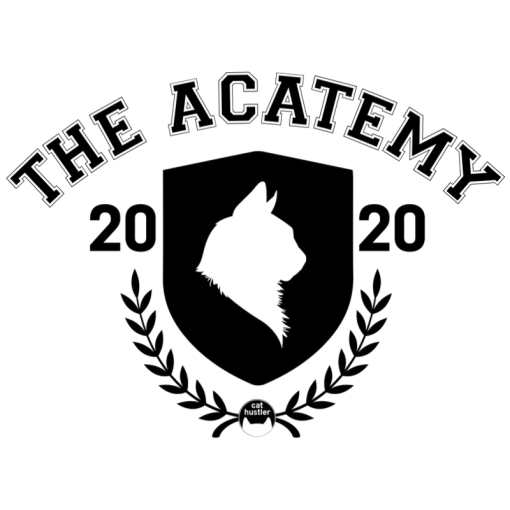 The Cat Writers Association is proud to announce it is one of the sponsors for the second annual Acatemy Symposium, being held on January 17–19, 2020 in Dulles, VA. CWA is also sponsoring six of its professional members, who are speaking at the event.
The Acatemy is geared for boots-on-the-ground cat rescuers, and its sessions focus on topics that will help enhance their efforts to save more cats. The speaker lineup that CWA is sponsoring include:
Personify the Pets: Focused Humor Saves Lives with Alana Grelyak of Tree House Humane Society.
Where Did You Hear That? How to Find Credible Sources & Bust Feline Myths with award-winning cat behavior author, Dusty Rainbolt.
What Cats Can Teach Us About Marketing with Lynn Maria Thompson, author of The Feline CEO.
Crisis Communications 101: When the Cat's Out of the Bag with Mary Tan of Whiskers Media & Animal Humane Society.
Presenting News Releases: Effective Writing for Impact & Reactionwith award-winning author and journalist, Robbi Hess.
Putting Together Annual Reports for Impact and Reactionwith award-winning author and freelance editor, Ruth E. Thaler-Carter.
CWA President Deb Barnes says, "Over the years the CWA has evolved to embrace communications platforms of all mediums – not just writing – such as photography, podcasts, blogging, social media, and video. Being part of the Acatemy will significantly impact the improvement of cat welfare by featuring some of the country's most proactive, successful and influential figures in cat rescue."
Along with the CWA member's sessions, the Acatemy is featuring other highly respected speakers including Arden Moore and Pet Safety Cat Casey; Gina Zaro, Marketing Director with Dr. Elsey's Cat Products;  Wendy Kelly & Erika Kelly of Operation Git-Meow; Laura Cassiday of Thomas the 27 Year Old Cat  & Stefanie Sacripante of NoVa Cats; Teresa Keiger of the Cat Fanciers Association; Monica Frenden, Faith Wright & Jordana Moerbe of American Pets Alive!; Moira Smith of Pet Partners; Sterling Davis of TrapKing Humane Solutions; Charmaine Evonne of The Amazing Acrocats & Rock Cats Rescue; Chris Roy of Doobert.com; Marnie Russ of the Animal Welfare League of Arlington & National Kitten Coalition; Michele Hoffman of Milo's Sanctuary; Kierianne Hansen of the National Kitten Coalition; and Caitlyn McIntosh & ReBecca Dinger-Tedder.
The Academy also includes workshops, social experiences and surprises galore to empower, inspire, educate, and inform anyone wanting to step up their game in cat rescue and saving lives. The Acatemy Symposium is the brainchild of CWA member Julia Grosz of Cat Hustler. To learn more about her, the Acatemy 2020, to register and buy tickets, visit http://www.theacatemy.org.