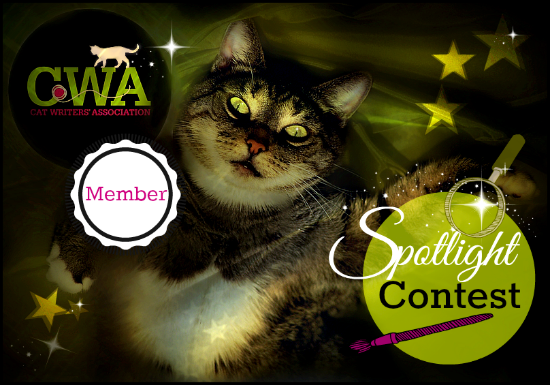 Get into the spotlight! To honor and celebrate our talented members we're proud to announce the CWA Member Spotlight Contest. With so many diverse members in the arts from writers, journalists, bloggers, editors, photographers, designers, broadcasters and so on, the contest offers an opportunity to showcase their unique achievements. The monthly spotlight winner will be selected in a random drawing to spotlight here on our blog. 
The Spotlight Contest is open to Professional and Associate CWA members

 

If chosen, we will contact you via email and invite you to share your cat-related interests and your professional achievements. This is your place to show off. Tell us, in 300-500 words (and up to to five images) what you would like us know about yourself, your career and any cat-related news.

Please feel free to include relevant links to your book, website, blog, or social media accounts. You are welcome to include (up to three links) to cat-related causes as well. 

The first Member Spotlight draw will be on March 1, 2014.
The winner will have 14 days to submit their word, images and links for publication mid-month.
If for any reason the winner is not available, another winner will be selected via a random draw.
We hope our members enjoy this new feature that will give all of us a chance to get to know one another a little better. A new drawing will take place each month and each member will be featured only one time. Once all members have had the opportunity to be in the spotlight, we will restart the drawing with all members again eligible to be chosen. 
Don't miss any of member spotlights and other news. If you're not already a CWA blog subscriber, there is a handy sign up form below the comment box.
Do follow us on Facebook, and other social media. The follow buttons are at the top of the page.
Your comments are welcome.