The CWA is pleased to announce their first-ever virtual awards ceremony to reveal and celebrate the winners of their annual Communications Contest with the theme, "From Glammies to Jammies" (contest period January 1, 2019 – December 31, 2019). Our thought – we really, really, really think people need something to look forward to and just because we're not having our physical conference and awards banquet this year, doesn't mean we still can't celebrate. And what better way to celebrate than by presenting our MUSE Medallion and Special Award winners in an event befitting our new social landscape.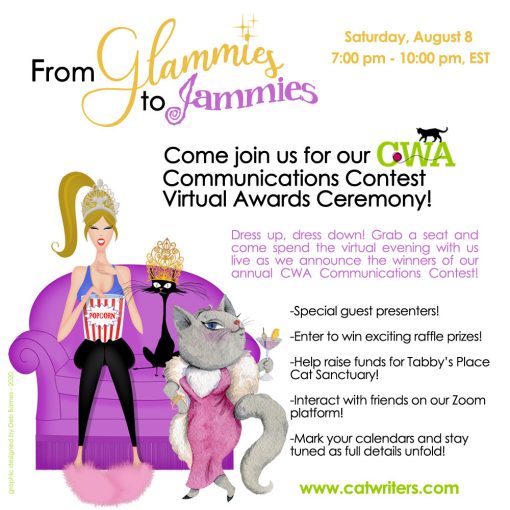 How you watch and enjoy it will be up to you. Get dressed up to the nines and have a pre-event virtual cocktail event with friends. Or maybe you'd prefer more comfortable attire, you know, like pajamas that are the cat's meow! That's the fun of it – as long as it makes you happy, watch the event however you want!
You'll have to keep checking in for full details as they unfold, but for now, mark your calendars and in the days to come we'll announce our guest presenters, raffle prizes, information on our fundraiser for Tabby's Place, and how to tune-in, interact if you want, and watch the event!