By Lynn Maria Thompson
If you've ever been to what most refer to as just "Global," you know how overwhelming it can be the first time you step onto that show floor. If you haven't been, there's no real way to describe it.
Our Treasurer, Katherine Kern, and I worked this humongous trade show this year on behalf of the Cat Writers' Association, connecting with current and potential sponsors. Several other CWA members were also working at the show. Here's a smattering of what we saw that may be of interest if you write or broadcast about cat products. And if you don't…well, look for these new products in your local pet stores soon!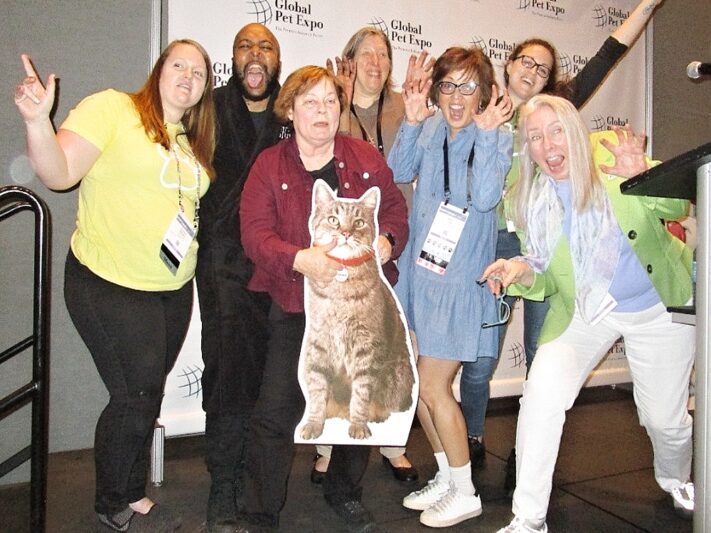 New Cat Products from CWA's Current Sponsors
One of our goals at Global was to visit with the CWA's existing sponsors from the pet industry who are exhibiting there, to say hello face-to-face. We wanted to give them an opportunity to show us their new products and talk about their companies on video; you'll be seeing some of those once they've been edited and "prettied up." In the meantime, here are some photos of our sponsors' new products to whet your appetite.
Catster/Belvoir Media
7:30 a.m. is an early start to the day, but there we were, meeting over avocado toast with Jason Mailliard and Melissa Kauffman from Belvoir Media Publications, publishers of Catster magazine. They had some interesting ideas for new types of sponsorships and memberships we may offer, and they also shared about some of their upcoming projects with us, so stay tuned!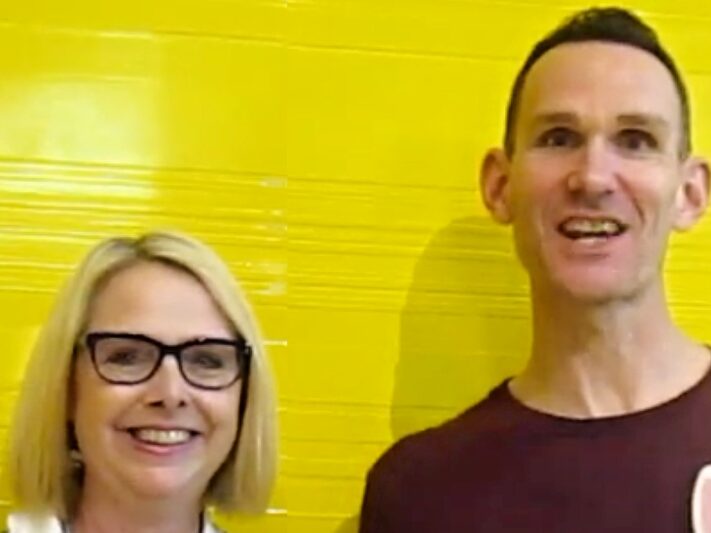 Catster sponsors the CWA's Lorie Huston Health special award. If you wrote something great about feline health care issues last year, make sure you enter it for that award in the CWA communications contest; you could win $500 and a commemorative item! There's a link to the award descriptions and entry form at the bottom of this post.
Visit the Catster website to subscribe or read recent articles.
Catit
R.C. Hagen owns the Catit brand, and what a variety of products they have! Damian Hall walked us through their newest line of Pixi smart products including a feeder that not only allows you to provide timed meals for your cat when you're away, but also has a camera so you can watch kitty eating from the smartphone app! Timed feeders are especially good for diabetic cats who may need to eat a limited amount at specific times, as well as when you have to be gone past your cat's normal meal times.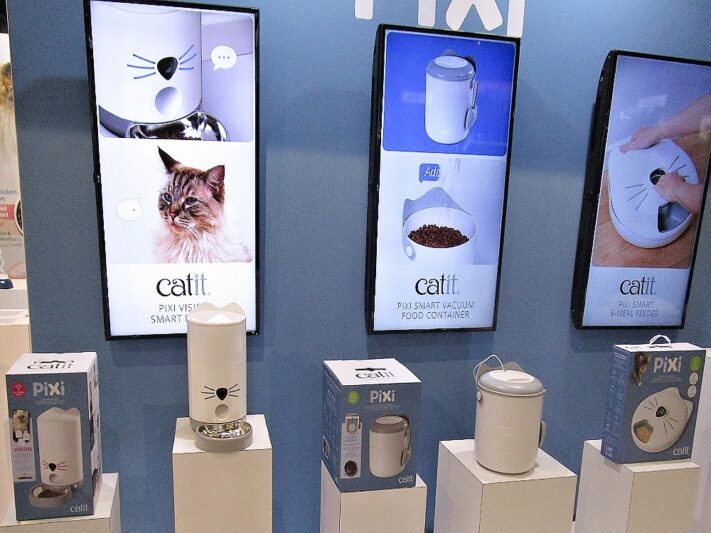 If you have cats who are "helpful" in that they will tear into a bag of food and feed themselves, Catit's new Pixi vacuum-sealed storage canister will be of interest to you. It locks so that even the most ingenious little devil…er, darling cat…can't get into it. The vacuum-sealed lid keeps dry food fresher and crunchier for longer than just clipping the top of a bag.
Catit's Pixi wet food timed feeder has ice packs that fit into a tray underneath the food compartments so they can keep the wet food from spoiling when you have to be gone for a while.
In their Pixi line of fountains, Catit includes optional bowl insets of either plastic, stainless steel, or ceramic, so if your cat has allergies to one material, there's always an alternative. The lighted nose and whiskers on the front of the fountains changes to red when the water level drops too low!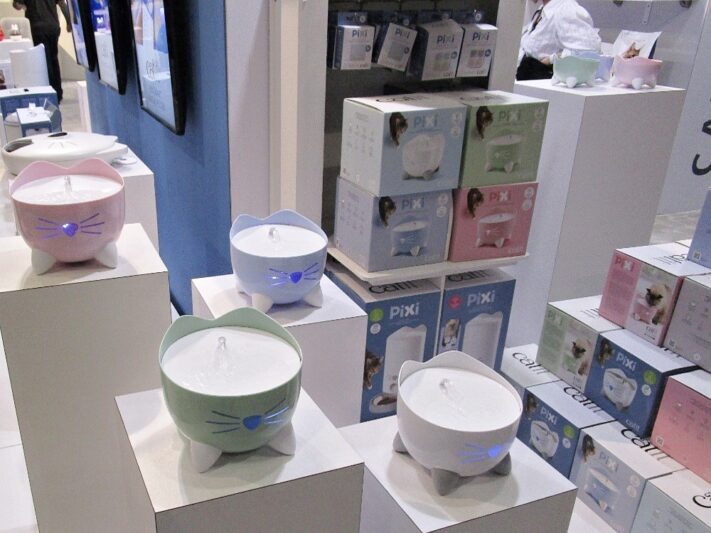 There are so many amazing Catit products I could not possibly cover them all here, but you can read more about them all on the Catit website.
Catit is a sponsor of our 2023 conference, as well as the CWA's Kitten Care and Rescue/Adoption special award. If you wrote or created something last year about kitten care, rescue, or adoption, enter it in our communications contest and you could win $500 and a commemorative item!
Dr. Elsey's
This company has been a CWA sponsor since they were known as Precious Cat, and they'll be a conference sponsor again this year. Matt showed us their newest additions, which include single-meal CleanProtein foods in pouches that come in three flavors: plain chicken, duck & chicken, and salmon & chicken.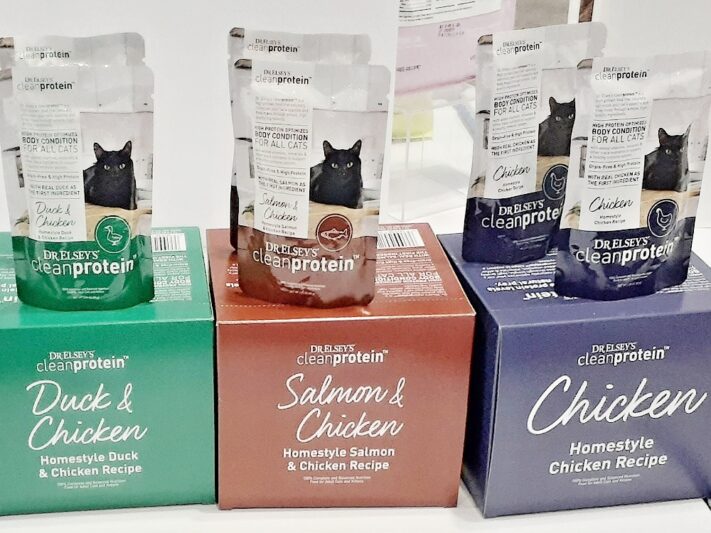 Also new this year from Dr. Elsey's in their litter line is their Ultra+, designed to control even the fiercest odors, and the popular Pine litter, made from 100% kiln-dried pine pellets.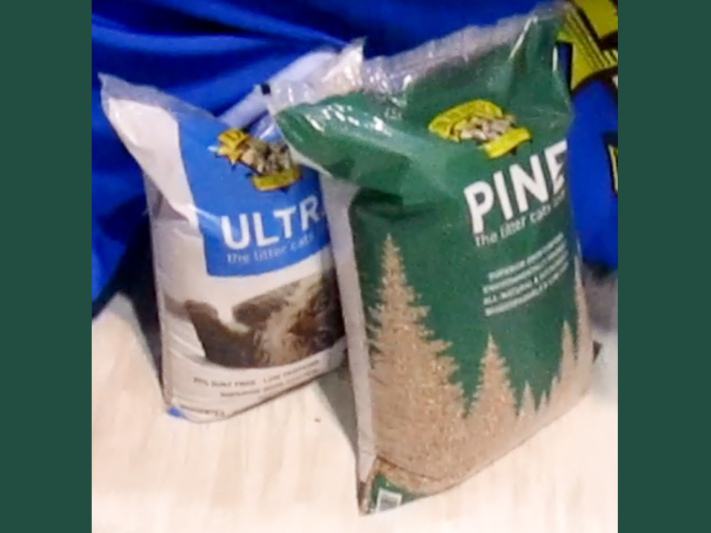 Visit the Dr. Elsey's website to learn more about their food and litter products.
Hartz
Stacy Kisla with longtime CWA sponsor Hartz told us about more variety packs available in their Delectables line of cat treats. They are launching a new flavor of tuna & salmon, and have just added lickable treats to the line in gravy and broth to add to the stew, soft paté, and bisque textures they already offer in those. The gravies and broths can be used as a food topper or given as treats. Hartz is sponsor of the CWA 2023 Conference, as well as both the Kuykendall Image Award and the Newcomer Award in the CWA's special awards this year. Make sure to get your qualifying entries in by the April 30 deadline; you could win $500 and a commemorative item!
Read more about all of Hartz's Delectables cat treats and other cat products on the Hartz website.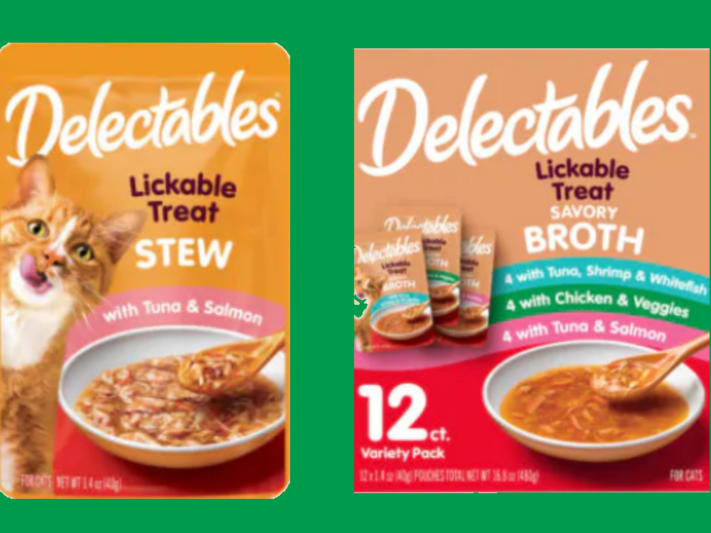 Sleepypod
Katherine could not contain her enthusiasm for Sleepypod products, so imagine what a thrill it was to meet Michael Leung, the founder of the company! He told us about their new calming harness with the Martingale-type clasp on the back, so if the cat pulls while walking (cats would never do that, right?), it tightens. As my cats have learned to run and hide whenever they hear Velcro® being pulled apart, I was excited to learn that it fastens quickly with three clips instead of having to hold a squirming cat while trying to fasten those darn hook-and-loop panels!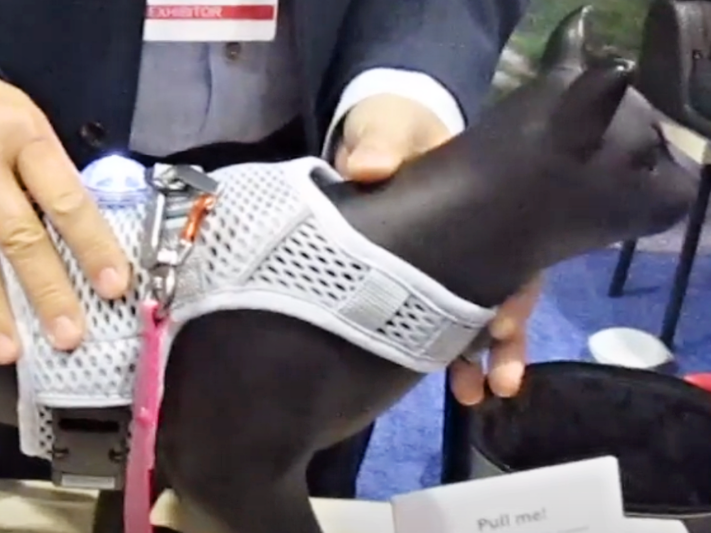 Sleepypod is a 2023 Conference sponsor, and they have sponsored the Cat Safety Award in the CWA's contest since 2016. If you created a great communication piece about safety for cats last year, submit it and you could win $750!
Visit Sleepypod's website to learn more about all their amazing products.
World's Best Cat Litter
Ever since 2000, World's Best Cat Litter has sponsored the CWA's World's Best Cat Litter-ary Award in our contest. Novelists know this award well, as winning it comes with $500 and a commemorative plaque. Dust off those outstanding cat novels you released last year and enter them for your chance to win!
World's Best's sustainable litter is made from corn and is the leading litter in the sustainable category. Now celebrating their 25th birthday, they're currently holding a campaign in which people submit photos and stories about their own cats, who each of us believes is the world's best cat.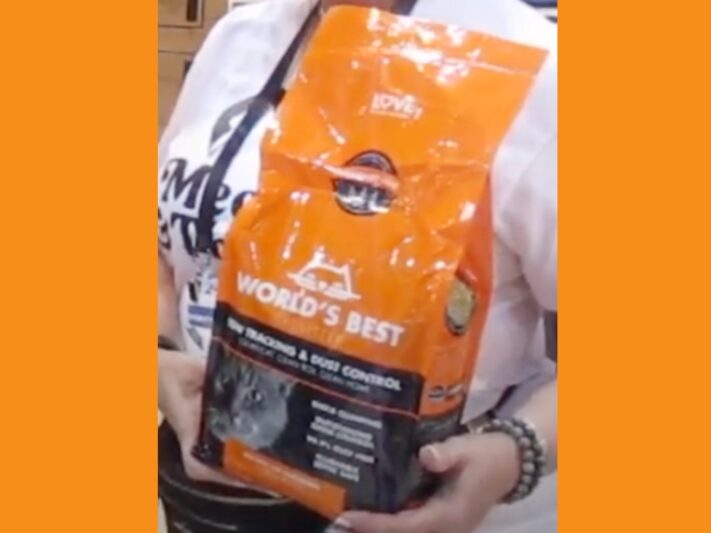 At Global, World's Best was unveiling their new Low Tracking & Dust Control litter, in a bright orange bag. Made from bigger granules, it's less likely to be picked up on your cat's feet and tracked all over your house, and there's a lower probability of dust if you have an avid digger. Could World's Best get any better?!
Learn more about all their sustainable litter products on the World's Best website.
Zymox
What are the odds of this? Zymox, owned by Pet King Brands, was also celebrating their 25th anniversary as a company! Billy showed us their line of TICA-endorsed cat products, which includes two enzymatic ear solutions, one with hydrocortisone, and the other without. Their topical enzymatic hydrocortisone cream, newly packaged for cats, can even be used to treat feline acne.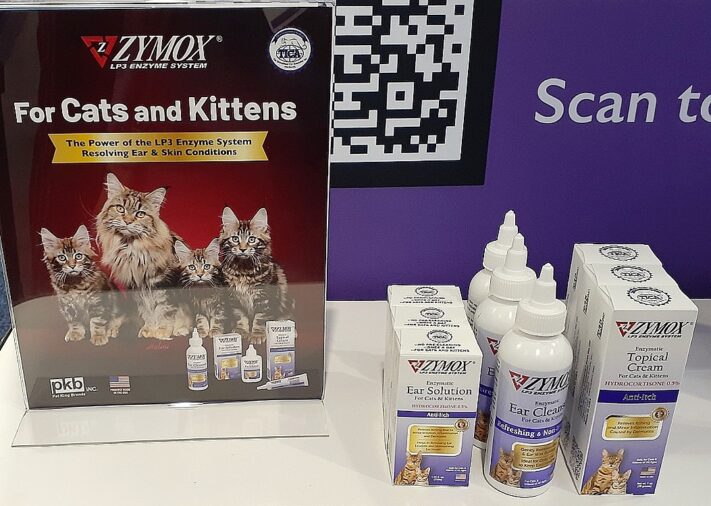 Zymox sponsors the Zymox Feline Skin and Ear Care Award, as well as our 2023 Conference.
Visit Zymox's website to read more about their feline products.
---
To enter something you published in 2022 for any of the special awards mentioned above, you'll find the entry form here, and the descriptions of all the special awards here. The window for entries closes April 30.
Coming up soon, read about even more new products we saw at Global Pet Expo. And watch your social media and emails for video interviews with our sponsors and future sponsors from the Global Pet Expo show floor!
Looking for more updates about our trip to Global Pet Expo? Check out Treasurer (and social media team lead) Katherine Kern's post on Momma Kat & Her Bear Cat about her favorite finds from the show.
---
About the Author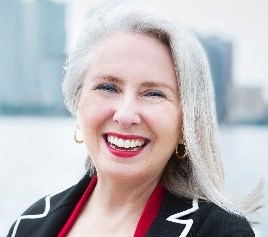 Lynn Maria Thompson is an award-winning writer, editor, book author, and speaker who has been helping other authors refine and market their books for over 20 years. She takes a little time out from leading the Cat Writers' Association as its president to work on her own books, which include The Feline CEO, An Author's Guide to Online Marketing, and An Author's Guide to Literary Genres, of which she's currently writing volume 2 that covers the Young Adult Nonfiction genres.