By Kris Bock.
"Gripping." "A page turner." "I couldn't put it down." Why do some books get this praise?
Characters, plot, setting, and theme are all part of pacing. Compelling characters mean readers will care about them. Stakes that are high and vitally important to the main character help readers root for those characters to succeed.
An active plot keeps readers turning pages, whether that plot involves action scenes, relationship challenges, or laugh-out-loud comedy. An occasional surprise twist can grab the reader's attention and make it even harder to put the book down.
Even the setting can help keep things moving if it's someplace interesting that perhaps adds to the plot complication.
Setting, characters, and plot usually come first, and it may take a few drafts to get them right. At that point, you can pump up the pace even more at the line-by-line level.
Break It Up
Relatively minor changes in sentence structure and paragraphing can make a scene feel more dramatic. A page that is one solid block of text looks dull. Some readers might assume it's a long passage of description or explanation that they can skip.
On the other hand, short paragraphs let the reader's eyes move more quickly down the page. That alone can provide a sense of breathless speed. The book literally becomes a page turner because the reader finishes each page so quickly.
You can actually go in two directions with action scenes. A paragraph with a lot of action, perhaps even in one long sentence, can make it feel like everything is happening at once. On the other hand, short paragraphs emphasize each moment of the action, which generally make action scenes feel more dramatic.
Here's an excerpt from Romance and Rescues at the Cat Café, book 4 in the Furrever Friends cat cafe sweet romance series:
The van bumped over something in the road. A pothole or a rock or a chunk of ice or – please, not an animal.

They veered to one side. Dustin squeezed the wheel in a death grip and wrestled them back toward the center of the road.

The rear end fishtailed. They headed for the trees.

He slammed on the brakes. Tried to remember whether you were supposed to pump or not. It depended on the types of brake, right? What did the van have? He pumped just in case.

The headlights shone on a pothole that stretched halfway across the road. No way he could avoid it.

They dropped down hard. Someone grunted. Maybe him. They launched out the other side.

The van slowed as they hit a section of road rough enough to give them the rattling feeling of a washboard.

Finally the van slid to a stop. He put it in park. For half a minute he simply stared at the road ahead and breathed. They'd survived, so that was something.

He looked at the side mirror to check the road behind and didn't see any injured creature. Thank goodness.

He turned to Holly. "You want to drive for a while?"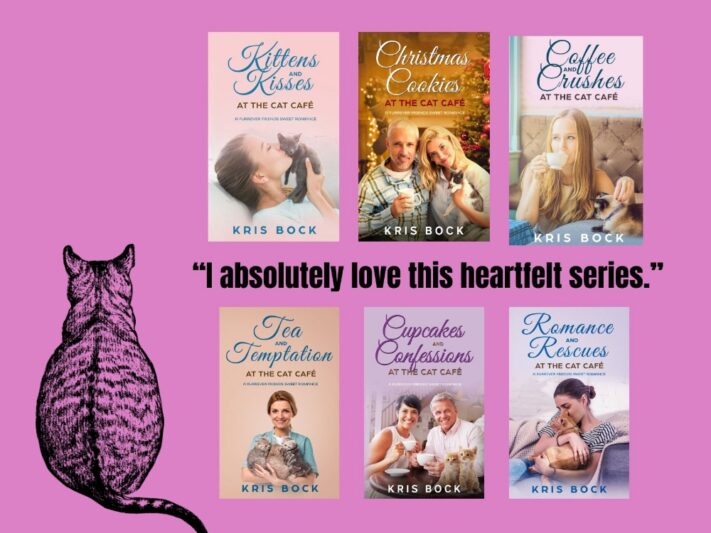 Another option would be to run things together, like this:
They dropped down hard, someone grunted—maybe him—they launched out the other side, and the van slowed as they hit a section of road rough enough to give them the rattling feeling of a washboard.
Which do you think works best? Every author can develop their own style, but paying attention to those sentence and paragraph lengths can make a difference.
Here's another example from Something Shady at Sunshine Haven, book 1 in The Accidental Detective humorous mystery series:
I felt his gaze on me as I turned to cross the room.

Between the residents, visiting family members, dogs, and their handlers, the spacious room was a swirl of activity. I waited for a woman using a walker to cross in front of me. My leg ached, so I shifted more of my weight onto my good leg and the cane. A man to my right half turned, gesturing wildly with his arms while he told a story. I flinched back to avoid being hit.

Something slammed into my left leg. I grunted in pain as my leg collapsed. My cane swung upward, goosing the gesturing man and tangling in his legs.

The next thing I knew, I was sitting on the floor in a heap.
The big paragraph set the scene. Then the two shorter paragraphs emphasize the action. If they had been part of the big paragraph, the action would be buried and lose impact.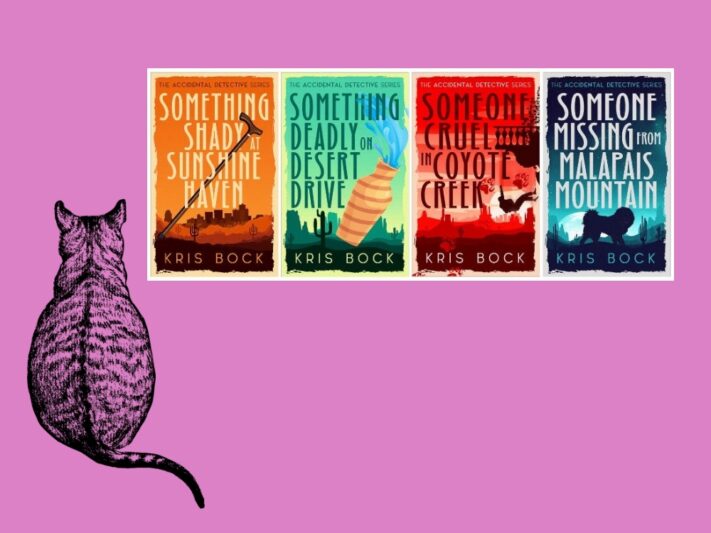 Choose Your Emphasis
This technique isn't only for action scenes. Here's an excerpt from the opening of Tea and Temptation at the Cat Café: the Furrever Friends cat cafe sweet romance series book 4:
Zach frowned at the fluffy white cat sprawled across his laptop keyboard. Working at a cat café came with certain challenges. He could hardly blame the cats. After all, he offered them a warm place to sleep and the opportunity to interfere with a human's work. Nirvana.

He sighed and scratched Snowball.

He hadn't been getting any work done anyway. He was supposed to have his latest novel to his agent in a week, so she could review it and offer feedback, and he could revise it, before sending the manuscript to the publisher in two months. At this rate, he'd finish the book in six months. Or maybe never. He had a hundred pages, but they were so lifeless, he felt like he was moving dolls rather than writing a thriller that was actually, well, thrilling.

He gazed at the cat, her blue eyes half-closed in ecstasy. At least someone was happy.

The door into the cat room opened, but with his mind on his own problems, Zach had only a vague impression of a woman crossing the room.

She threw herself face down on the padded bench along the wall and groaned.

Zach glanced over.

Long brown hair spilled over a burgundy sweater. Faded jeans hugged her hips and long legs. He couldn't see her face.

She didn't stir, even when Merlin, the Maine Coon who weighed over 20 pounds, walked across her legs and curled up on her back.

Snowball meowed, reminding Zach to keep up the petting.

He got his hand moving again. He needed to get his brain moving. He should be focusing on his story, not shooting glances at the odd woman. But for the first time in months, he felt curious about something. Who was she? Why was she upset? Because something about her actions, that moan, the way her hand curled into a fist on the bench above her head, suggested more than exhaustion. She was angry and miserable. In under a minute, this stranger was more of a real person than any of the cardboard characters in his novel.
That's about the farthest thing from an action scene, but it still has a mix of long and short paragraphs. The long paragraphs of Zach's thoughts show how he's in his own mind. The short paragraphs and sentences when he sees the woman emphasize the impact she has on him.
Using Sentence Length
Sentence length affects pace as well. Short sentences have a different rhythm from long ones. Long sentences can feel leisurely, while short ones have blunt impact—the difference between a hug and a slap.
You want a variety of sentence and paragraph lengths, because if everything is the same, the story will feel clunky. Save the longer sentences and paragraphs for description and introspection, and use short sentences and short paragraphs for maximum impact in action scenes.
Compare these examples:
I heard a noise and looked up with a gasp in time to see a huge rock tumbling toward me.
I heard a noise above my head. I looked up and gasped. A boulder tumbled toward me.
It's almost hard to follow the action in the first example, because too much happens in one sentence. Shorter sentences clarify the action and give each piece more impact.
Try It
Print your story or a chapter of your novel, and look at your paragraphing. Don't read it, just see how it looks on the page. Do you have variety, or is everything about the same length? Do you favor short paragraphs or long ones?
Now look closer. Use colored highlighters to mark action scenes, sections of dialogues, and description. Do the sentence and paragraph lengths change for each category? How so?
Do you have long paragraphs of action, where several things are happening within one paragraph? Consider breaking that into shorter paragraphs, starting a new one for each small piece of action, as in the first example above. (Save your current version so you can go back to it if you decide you prefer it.)
Pay special attention to your chapter endings, especially when you have cliffhangers or could add one. Can you break your paragraphs into smaller pieces for more drama? Can you shorten your sentences? How does the feel of the section change as you play with sentence and paragraph length? Note the difference between even small changes in wording and punctuation.
You can do this exercise with published books as well. Note any sections that are poorly paced. Try rewriting them to see how the pace changes as you vary the sentence and paragraph structure.
Master pacing, and keep those pages turning.
Want more plotting advice? Kris offers Advanced Plotting—Keep Those Pages Turning: Learn advanced techniques that will make a decent plot dynamic. Take this online course at your own pace. It includes six videos plus handouts with notes and more resources. Get Advanced Plotting here.
---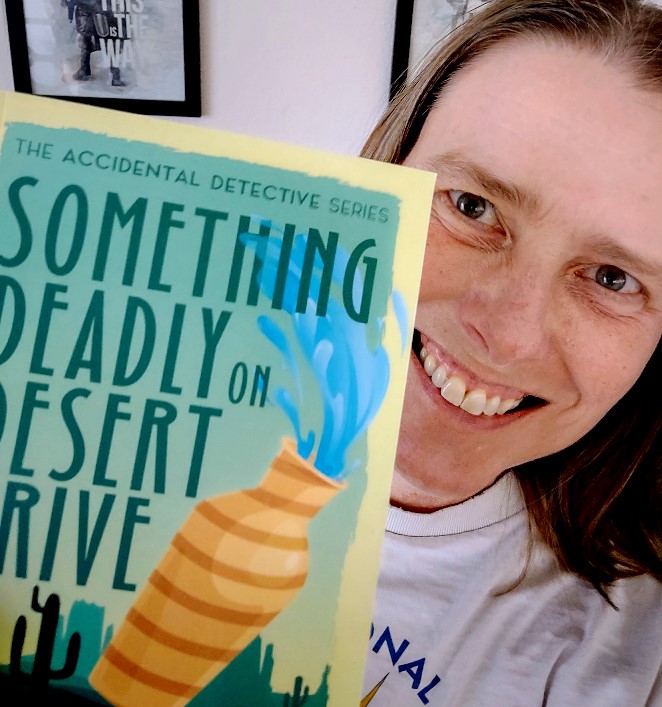 Kris Bock writes romance, mystery, and suspense. Learn more at www.krisbock.com. Her Furrever Friends Sweet Romance series features the employees and customers at a cat café. Watch as they fall in love with each other and shelter cats. In the Accidental Billionaire Cowboys series, a Texas ranching family wins a fortune in the lottery. Who wouldn't want to be a billionaire? Turns out winning the lottery causes as many problems as it solves. In The Accidental Detective humorous mystery series, a witty journalist solves mysteries in Arizona and tackles the challenges of turning fifty.
Sign up for the Kris Bock newsletter and get a free Furrever Friends cat café story, recipes from the cat café novels, and an Accidental Detective short story. Then every two weeks you'll get fun content about animals, books, and more.
Kris also writes a series with her brother, scriptwriter Douglas J Eboch, who wrote the original screenplay for the movie Sweet Home Alabama. The Felony Melanie: Sweet Home Alabama romantic comedy novels follow the crazy antics of Melanie, Jake, and their friends a decade before the events of the movie. Sign up for the romantic comedy newsletter to get a short story preview.