July's member spotlight is a bit late as we're actually into August now. But I'm happy to say that the honor goes to Susan C. Willett. I'll let Susan take it from here. I think you'll enjoy hearing about her activities.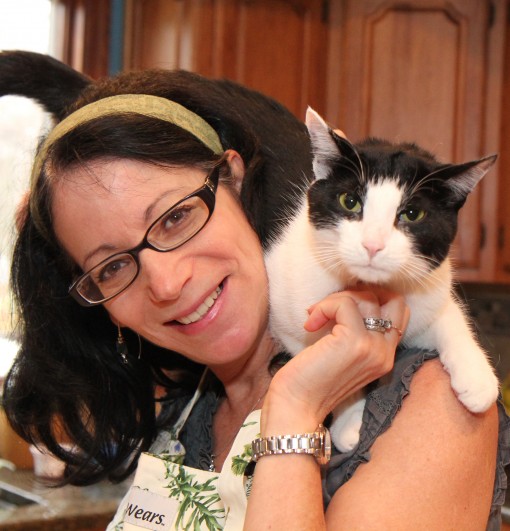 I make a living in corporate communications, where my work has won many awards, including the Gold Quills, Silver Quills and IRIS awards from the International Association of Business Communicators. However, my creative soul comes alive when I write about the four cats and three dogs with whom I share my New Jersey home.
As a writer, photographer, and blogger, I find inspiration all around me: hiding in a box, splashing through a mud puddle, or taking up an entire couch. I post stories, photos, poetry and humor on my website, Life with Dogs and Cats.
I was thrilled when my site was honored in May of 2014 with a BlogPaws Nose-to-Nose Award for Best Post. Currently, it is a finalist for Best Overall Pet Blog in Dogtime's Pettie Awards.
What do I create and post on Life with Dogs and Cats?
Stories: My pets provide endless fodder for my writing, though my topics tend toward the warm and humorous. I've written stories about my terrier whose obsession with his Ball borders on clinical, (yes, it's always capitalized in his mind,) what happened the day my cat Calvin discovered the top of the medicine cabinet, and how to keep backyard wildlife safe from dogs.
Photography: My camera is nearly always at hand, and I take hundreds of pictures a week. Sometimes just one photo will help me tell a story. Other times, I'll put together an amusing set of pictures for a photo essay, such as "18 Reasons Cats Love Boxes", or "From Calm to Chaos in .3 Seconds".

Haiku by Cat (and Haiku by Dog): I write haiku from a cat's (or dog's) perspective, combine each poem with an illustrative photo, and share them on my site. I envision these sweet and funny musings as gift books to be enjoyed by fellow cat and dog lovers. If you know someone who might be interested in publishing them, let me know.
Dogs and Cats Texting: I'd be willing to bet I'm not the only person who has conversations with her pets. I go one step further, imagining text message discussions between me and one of my cats (or dogs). I capture these short exchanges on my cell phone, add one of my photos–and post the result.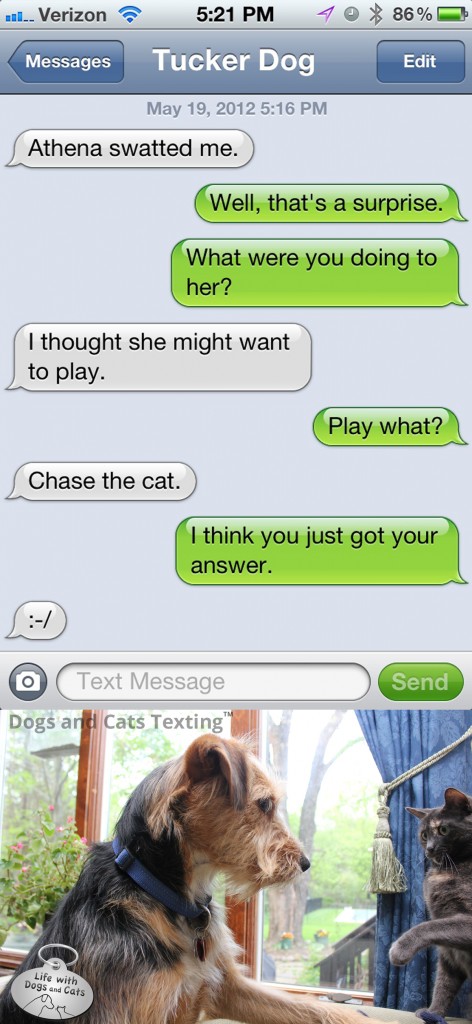 In addition to my online presence, I've written several children's picture books, which I am currently shopping around. I also began adapting some of my narrative blog posts into a full-length book. (I have two novels mapped out as well, but there's only so much time in a day.)
My work has appeared online on Slimkitty, Mousebreath, and The Pet Museum, and in the 2014 calendar Cats of the Cat Blogosphere. One of my photos graced the cover of the Ruff Drafts, the DWAA's quarterly newsletter.
I am active in social media, with a loyal following on Facebook, Twitter, Instagram, Pinterest, and Google+. Feel free to follow me on any or all of them.
A relatively new member of the CWA, I was very happy to meet a few members at BlogPaws and am looking forward to meeting many more at the conference in Atlanta.