Five-time bestselling author, entrepreneur, customer service experience expert and founder of HARO (Help a Reporter Out) Peter Shankman will be the featured keynote speaker at the Cat Writers' Association (CWA) 26th Annual Conference and Awards Banquet, to be held July 16–18, 2020 at the APA Hotel Woodbridge in Iselin, NJ.
Called by the New York Times "a rock star who knows everything about social media and then some," Shankman will share his expertise with conference attendees in his keynote "The Customer Service Experience – Running the Economy for the Next 50 Years." For career-minded individuals and creative talents — writers, bloggers, artists, animal rescuers, photographers and more looking to increase public visibility, sales or educational reach, this translates to focusing on the customer experience, because, according to Shankman, "without that, no amount of advertising, marketing or SEO will save you."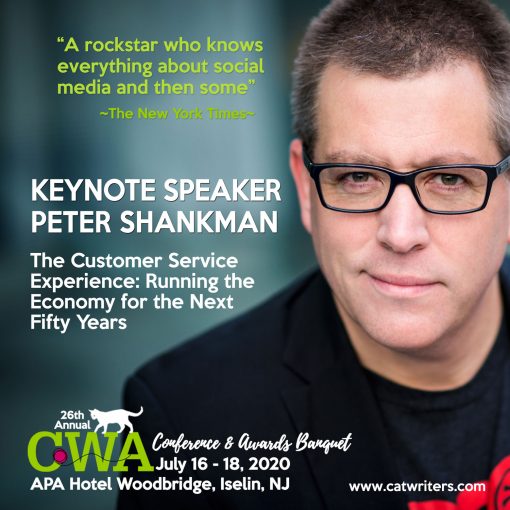 "Keeping up with trends and remaining relevant to our target audience is the cornerstone of the CWA," said Deb Barnes, CWA president. "Our organization began in 1992 with the intention of getting accurate written information about cats out to the general public, and not only has that goal continued, but it has expanded to platforms of all types of media — written, audio and visual — and we're thrilled to have the expertise of Peter Shankman to help guide us into the future."
While the focus of the CWA is cats, the conference sessions and keynote are not meant to be exclusively cat-centric. The conference will feature the experience of industry-renowned experts in fields of publishing, writing, social media, photography and other communications platforms in speaking sessions, panel presentations, workshops and one-on-one meetings and appointments, with the topics useful for anyone looking for tips, trends, information and more to further their careers in writing, publishing, editing, social media, photography and the like.
In Shankman's keynote, attendees will learn:
• The five rules of the customer economy
• Why speed matters
• How to stay "top-of-mind" in every customer's mind, from beginning to end
• How millennials, as well as Generations Z and Neuroatypicals, are consuming content, and how you can get in front of them
Along with the sessions and panel discussions, the CWA conference will feature a book-signing/fundraising event to benefit cat rescue efforts in the Iselin, New Jersey, area, as well as one-on-one meetings with editors and an additional booksigning event in conjunction with the Cat Fanciers' Association's 84th annual Garden State Cat Expo and Show. The conference will culminate in a mega awards celebration to honor the best of the best in CWA communications over the past year.
The conference is open to both CWA members and non-members and early bird registration is open now – to book a ticket and reserve a hotel room at the APA Hotel Woodbridge, please visit the Cat Writers website at www.catwriters.com