Melissa Lapierre reviews a heart-warming new book, Purr Prints of The Heart by Deborah Barnes.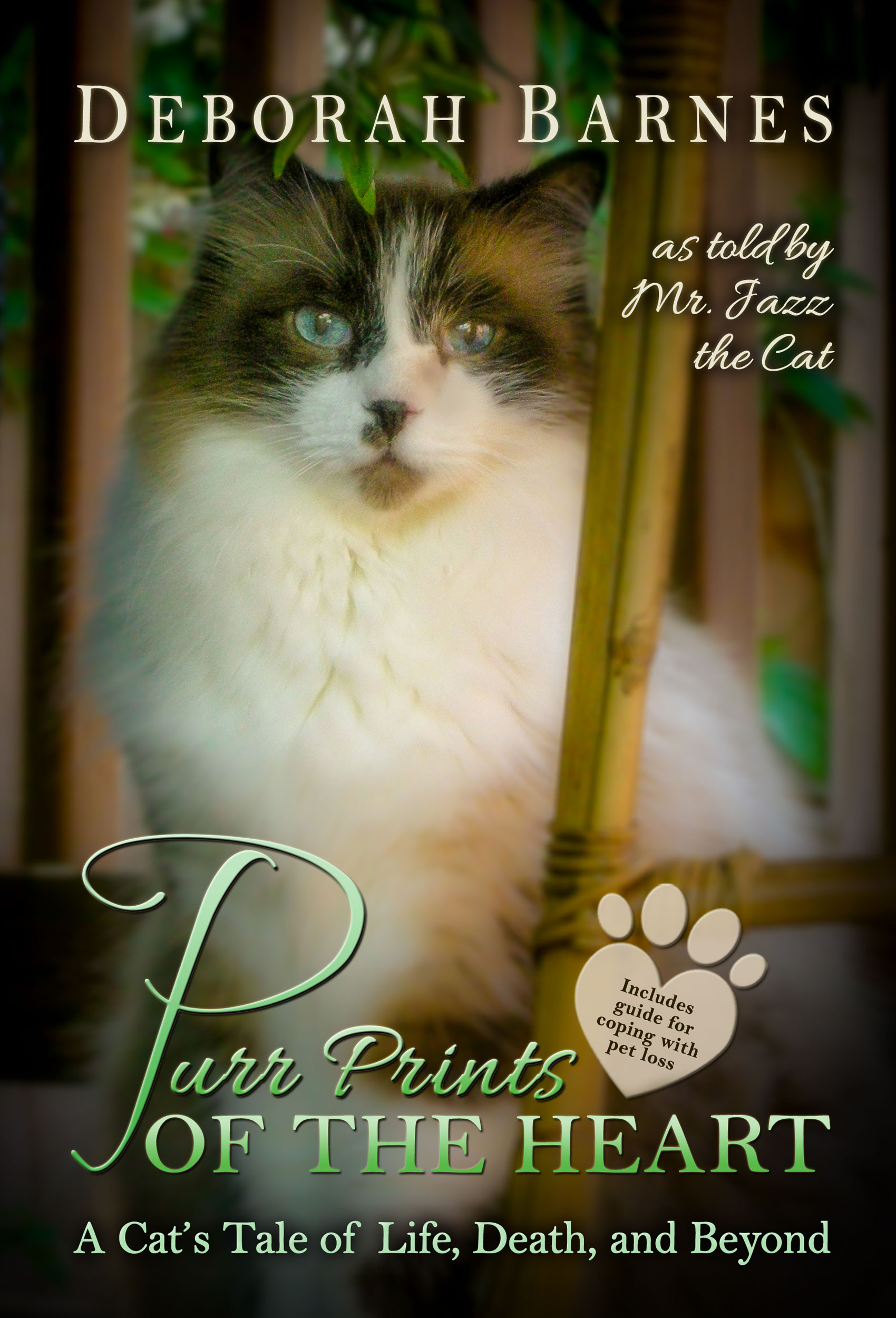 Every time we bring a new pet into our homes and our hearts, we do so knowing that the day will come when we will have to say goodbye to them. No matter how many years you have together, this always happens much sooner than we are ever ready. One of my all-time favorite quotes is by Irving Townsend: "We who choose to surround ourselves with lives even more temporary than our own, live within a fragile circle, easily and often breached. Unable to accept its awful gaps, we still would live no other way. We cherish memory as the only certain immortality, never fully understanding the necessary plan."
As a cat mom who has had to say that final goodbye 5 times now (I know, that is probably a much smaller number than many of you reading this), I have read many books on coping with the loss of a pet. Purr Prints of the Heart by Deborah Barnes is a must-have for any cat lover's bookshelf.
From the publisher: Deborah and her beloved cat Ragdoll cat, Mr. Jazz, spent a lifetime together. The bond they shared was special – he was her companion through the best and worst of it all. So when the inevitable happened – the realization he was dying at 15 years of age and she would have to face the painful and difficult decision of helping to let him go, their relationship changed, causing Deborah to learn some invaluable lessons from him about life, love, grieving, and letting go.
Yes, there were times this book made me cry my eyes out. Mr. Jazz and my own precious Tara passed away the same summer, 7 weeks apart. They were both sick for a long time and while reading about Mr. Jazz's final days, I felt like I was reliving my last days with Tara. The similarities were just uncanny.
On the other hand, Purr Prints filled me with an incredible sense of comfort. Mr. Jazz comes across as such a wise old soul, showing us that our beloved cats cherish every single moment of their all too short lives, and we need to remember to do the same. We're the ones who forget to live in the present, too obsessed with the past and future. We're the ones afraid to let go. They are so much braver and stronger than we are, and we have so much to learn from them about what living a full life means.
The loss of a pet is one of the most heartbreaking experiences we ever go through. Sadly, it is also a pain that is minimized by much of society. This book shows that there are wonderful people out there who have shared the same journey and understand that we all need to grieve in our own way. It's nothing to be ashamed of or to feel the need to hide; it is a kinship we all share. But in the end, the years of joy our precious cats bring into our lives makes the heartache worthwhile.
Amazon purchase link: Purr Prints Of The Heart
Visit Deb Barnes at her website/blog Zee and Zoey or listen to her recent radio interview on Blog Talk Radio
Melissa Lapierre blogs at MochasMysteriesMeows