The theme for the Cat Writers' Association (CWA) 25th Anniversary Conference and Awards Banquet to be held May 16 – 18, 2019, at the Drury Plaza Hotel at the Arch, St. Louis is all about improving the well-being of cats and we are honored to have the support of the Petco Foundation to aid in this important mission.
As a nonprofit 501 (a) organization, we rely on the support of our sponsors to fund our annual conference, our primary vehicle to provide our membership with relevant, timely, informative and educational sessions on all platforms written, visual and audio. Since 1999, Petco has invested more than $230 million in lifesaving animal welfare work across the country and by assisting the CWA with funding for our conference, we are thrilled to report that this year we'll be providing attendees with a record-breaking combined total of 17 sessions, 24 speakers, and two very special guest cats!
From interactive sessions on editing and graphics, to informative sessions on self-publishing, traditional publishing, marketing and sales, podcasts, photography, writing for rescues, time management, social media, and more, attendees will learn new skills, or hone those skills already in place to provide better communications to the public at large on such cat-related issues as health, nutrition, behavior, and spay/neuter.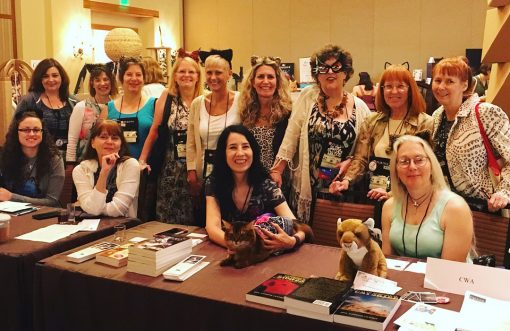 The CWA is especially excited that Dr. Debra Horwitz, DVM, DACVB will be the conference keynote, speaking about improving the well-being of cats in the home, shelters, and post-adoption. Dr. Horwitz states, "I am delighted to have the opportunity to speak to this accomplished group of writers and bloggers. They can help educate pet owners, shelter workers and the public at large about the many simple things that can be done to address behavioral issues in cats and ultimately improve adoption rates and keep cats in their forever homes."
"Finding solutions to behavioral issues in cats, and in the process improving adoption rates and addressing these problems in the home are topics of great concern to cat lovers everywhere," says Deb Barnes, CWA president. "We are so pleased to have a veterinary expert of Dr. Horwitz' stature join our conference and share her views with CWA members and conference attendees so that we can help spread the word that there are indeed solutions." She continues, "We are also thrilled to have the partnership of the Petco Foundation. We wholeheartedly support their pet adoption and lifesaving efforts and will continue to work by their side to create a better world for pets through the collective actions and works of our organization."
Along with sessions on writing, editing, podcasts, and photography, the 25th anniversary conference will also focus on several cat-related, and or rescue/adoption sessions, including "Creative Cause Marketing for Rescues & More: How to Reach, Retain, Respect, and Grow Your Audience," panel presentation by Julia Grosz, Anita Aurit, and Beth Stultz-Hairston; "Feline Health Q & A" with Dr. Jennifer Kasten of Tomlyn Veterinary Science; "The Science of Cats: Feline Nutrition & Hydration," educational panel presentation by Dr. Kurt Venator and Dr. Janet Jackson of Purina; and "What's Your Story Now? Own It! Writers and Bloggers Need Their Own Story To Help Communicate & Connect With Today's Feline Lovers in Social & Traditional Media," by Lea-Ann Germinder of Goodnewsforpets.com.
The CWA also plans to host a book signing event at the conference to help raise funds for a local St. Louis rescue (details to be released at a later date).
For more information on CWA's 25th-anniversary event, please click here for full details.