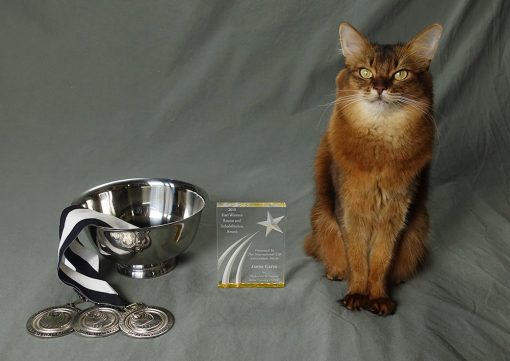 The Cat Writers Communication Contest is all new and ready for your 2018 entries! The Regular Categories have been redesigned, and there are new Special Awards, and Special Awards sponsors. And you have the option of entering completely online.
In our Regular Categories, we no longer separate traditionally printed articles, such as from magazines and newspapers, from online articles. All the topics are listed under the general Written Article section. We have also added several Video/Television Production categories, Social Media Expression categories, and Graphic Design and Fine Art categories. Regular Categories are judged by Professional Members of the Cat Writers Association, according to specific scoring criteria. Any piece that earns 90 out of 100 points receives a Certificate of Excellence, and the highest scoring piece out of the Certificate of Excellence winners earns a Muse Medallion medal in its category.
New this year as well, for transparency, the CWA is publishing the Scoring Criteria that Regular Category judges consult in evaluating entries. It is also no longer necessary to submit an entry in a Regular Category in order to enter it for a Special Award.
The Special Awards all include cash prizes of $500 and higher, and often a commemorative item. The Special Awards are judged by an expert in their field who is not a CWA member. We have two new categories this year, the "All Cats Big and Small Award," sponsored by Triple T Studios and the "PSI Professional Pet Care Award" sponsored by Pet Sitters International. The All Cats Big and Small Award is for reporting that furthers awareness of wild cats, conservation projects to protect them, or educational pieces about them (including feral cats and colonies), and the PSI Pet Care Award is presented for the entry that best educates cat owners about the benefits and importance to a cat's physical health and emotional well-being to have professional supervision when a cat guardian must leave the cat home alone for extended periods of time. And Fear Free LLC, is celebrating CWA's 25th anniversary by raising the prize for their Fear Free Pets and Fear Free Cat Enrichment Special Awards to $2500 each!
To find out more about all the Regular Categories and Special Awards, and how to enter, visit the main Contest page. You do not have to be a member of CWA to enter, although CWA members will get a discount on their entries. To qualify, entries must have been published between January 1, 2018 and December 31, 2018. The deadline to enter the contest is January 11, 2019.