An interview with CWA member and former President Nancy Peterson by Mollie Hunt.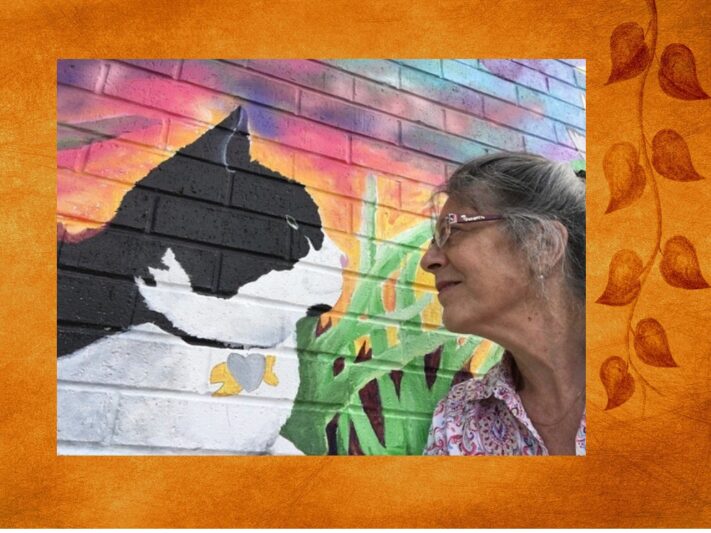 Who are the Cat Writers' Association is a series of interviews with CWA members, but not your usual who, what, and where discussion. I like to ask a different set of questions and am always amazed by the answers. I hope you are too.
Today's guest is Nancy Peterson, a pet magazine, newspaper, and blogpost writer.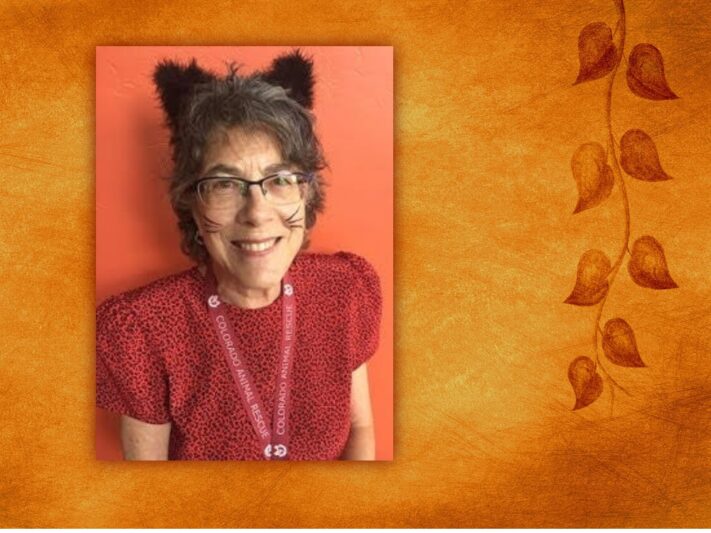 About Nancy:
I am the senior writer for the National Kitten Coalition (NKC) and enjoy writing and editing its blog articles. In addition to writing for the NKC, I've written articles for my local newspaper, The Sopris Sun, on topics such as the importance of native plants, the power of pet companionship for older adults, and the protection of pet cats and wild birds. I've also written blog articles for Fear Free, Out There With the Birds, Wellbeing International, Tucson Audubon Society, and Audubon Rockies.
Colorado Animal Rescue, aka CARE[/caption]
Mollie: Tell us a bit about your writing.
Nancy: In 1984, my first article, "The Rex Breeds," was published in Veterinary Technician magazine. But it wasn't until 1998, when I moved to Maryland to work for The Humane Society of the United States (HSUS), the nation's largest animal protection organization, that I started writing professionally. I could write, but I wouldn't have described myself as a writer. My first HSUS writing assignments came back with lots of edits, and that's how my writing improved. I wrote for The HSUS's website and Animal Sheltering magazine and created information sheets, pamphlets, and publications on a variety of topics. One of the pieces I'm most proud of was entitled "Indoor Cats, Scratching, and the Debate over Declawing: When Normal Pet Behavior Becomes a Problem"; it was a chapter I co-authored in The State of the Animals III: 2005, published by Humane Society Press. I also freelanced and wrote for Catnip, CatWatch, Catster, Veterinary Technician, and others.
Mollie: How do cats inspire your creativity?
Nancy: Cats are the reason I write. I'm a huge ailurophile, and I write to inform, inspire, and celebrate anyone who cares about and cares for cats, including fosters, pet parents, animal shelters, rescue organizations, Trap-Neuter-Return groups, and the veterinary community. I've loved animals, especially cats, for as long as I can remember.
Mollie: What do you enjoy about belonging to CWA?
Nancy: I believe I was first introduced to CWA in the early 2000s because The HSUS provided a special award, The Pets for Life award, for the annual writing conference. I was so smitten with the wonderful folks I met at the conference that I became a member. I went from being a member to being the Special Awards Coordinator and Swag Bag Coordinator for several years to being the president from 2006-2008. Writing was never my career, like it was for so many CWA members, but we sure had fun at our annual conferences and banquets. When I retired in 2015 and was no longer writing, I let my membership lapse. However, I stayed in touch with several CWA members. It wasn't until 2022 that I renewed my membership because writing once again became a big part of my life.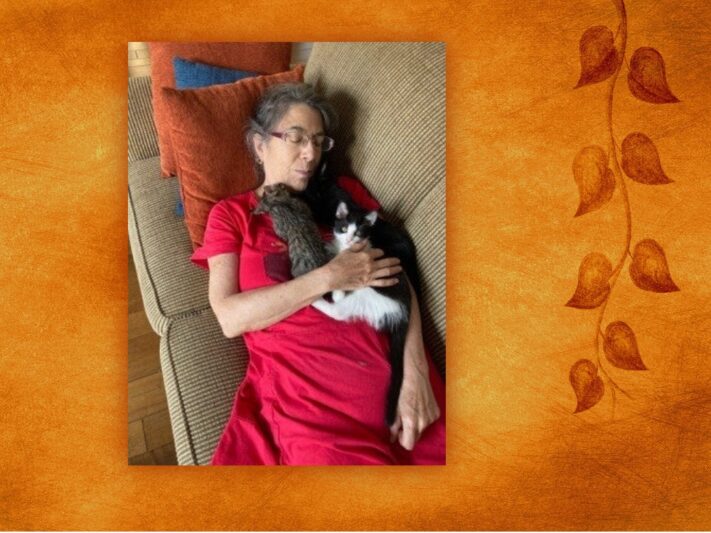 Now for a few arbitrary questions:
1. Did you grow up with cats?
Nancy: I grew up in New York City and brought home many strays. But my parents both worked, and I always had to find homes for the cats. I finally got a cat, Shasta, in my mid-20s. Over the years I've shared my home and heart with 11 cats; the most at one time were Buddy, Daisy, Stu and Monty. I returned to college in San Diego in 1978 to become a registered veterinary technician and worked in 2 small animal hospitals for more than 12 years.
I retired as the Community Cats Program Manager from The HSUS in 2015 and moved in 2016 from metro DC to Carbondale, Colorado (population 6,900). I volunteered for Colorado Animal Rescue (CARE) as a cat cuddler and switched to fostering kittens during COVID. I LOVE fostering kittens. I've served on the board of Neighborhood Cats since retiring and joined the board of The National Kitten Coalition (NKC) in 2021. I'm also a member of the Human Animal Support Services' Focus on Felines Workgroup.
2. What crosses your mind when someone tells you they don't like cats?
Nancy: It's worse than they don't like cats; some people even say they hate cats. It's interesting, you rarely hear people say they hate dogs; they either like/love them or don't. When people say they don't like cats, they usually add that it's because cats are not affectionate. I respond that they haven't met the "right" cat and, that like people, all cats have unique personalities. Animal shelters and rescue organizations try really hard to match an adopter's desires with the "right" cat. Like all relationships, none are perfect; there will be challenges. These same groups work hard to help resolve issues that threaten the bond between people and their pets.
When I traveled, I loved to visit shelters, especially those that had been through The HSUS's Pets for Life program I coordinated from 2000-2005. More than 500 staff and volunteers attended the 10-day program taught by the Dumb Friends League in Denver, Colorado to learn about implementing behavior programs that improved the animals' time in the shelter and decreased returns due to unwanted behaviors.
Before I left on any work trip, my sister would always remind me not to bring home any cats. Well, in almost 18 years with The HSUS, I only brought home one. I adopted Toby from a shelter in Florida. I was there for a veterinary conference and decided to visit colleagues who were making a video about caring for adopted cats. They took me to the shelter to choose some friendly cats for a taping. When I sat down in the multi-cat room, a cat immediately headed my way. He had to pass another cat who I just knew was going to slap him as he passed. Nevertheless, he was in my lap in no time, kneading, purring and licking me. I brought him and 2 other cats to the home studio. It just so happened that he was in the first cardboard cat box that I opened. He seemed very comfortable from the moment he jumped out. When I opened the bathroom door, he strolled out confidently and said hello to everyone. We never did film any of the other cats because he was so engaging.
The cats were returned to the shelter, but I couldn't stop thinking about the special cat I'd met. I called the shelter as soon as it opened the next day and said I wanted to adopt Tobias. When I arrived at the shelter, I learned that he was at least 10 years old and had been rescued from a hoarder's home. Well, Toby was the most affectionate cat ever and loved everyone he met, including my friends, the plumber, and my fosters. I always wondered if he was so affectionate because he didn't get any attention in the hoarder's home or if being so affectionate was the way he got attention. We had 8 wonderful years together.
3. Tell us a true cat story.
Nancy: I was inspired to write about Student Cat. Here's his story in abbreviated form. I've written a children's book about Stu but haven't pursued its publication.
Students found his near-lifeless body on the side of the road and brought him to the clinic where I worked as a registered veterinary technician. He was in shock and had congestion in his chest, several wounds, and a broken jaw. We stabilized him and performed surgery the next day.
Despite all the medications I gave Student Cat, now dubbed Stu, he was always purred and rubbed his nose on mine.
Stu's one visitor was one of the students who had gotten permission to adopt Stu. I sent Stu home with lots of instructions for his care and in big letters I wrote, "IF YOU CANNOT KEEP STU FOR ANY REASON, PLEASE BRING HIM BACK TO US."
Four days later, Stu returned because the mother was allergic. His freedom had been short-lived, and so I took him home for the weekend. It was then I realized he was limping. We x-rayed his leg again and saw a small break. While I was giving him anesthesia, his heart stopped. Dr. Zanders injected his heart with a stimulant, and I gave Stu mouth-to-mouth.
Throughout the day, I returned to Stu's cage to monitor his recovery. Whenever I put my head inside his cage, his nose met mine.
That evening, I took Stu home for good. The bond that united Stu and me for 17 years was very special. He was very lucky and so was I.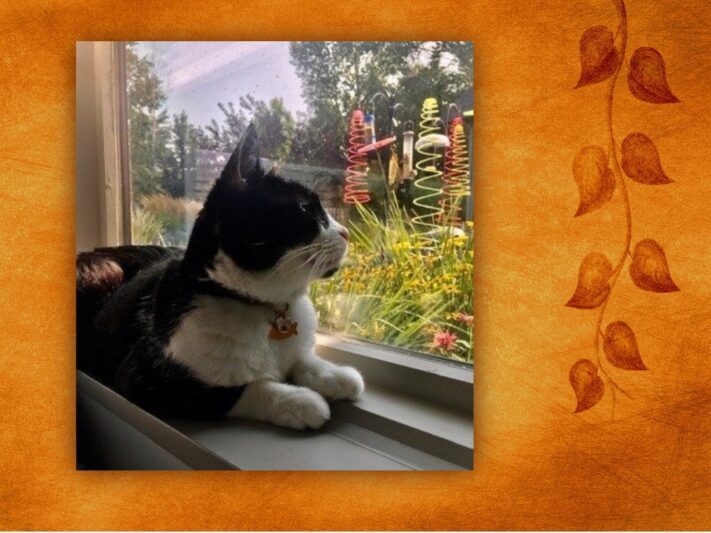 4. How would you identify your cat in a lineup?
Nancy: Jenny has white eye lashes and appears cross-eyed because her nictitating membrane is adhered to her cornea. She has a black circle on the left side of her chin, a black circle on her right paw pads, and her microchip has migrated to her left flank. She loves to have her tummy rubbed and is missing her right upper canine tooth. I've clicker trained her to sit, come, turn around, stand, and lie down.
I live with my sister with our 12-year-old cat Jenny, I always called her a Tuxedo, but Vickie Fisher, EveryCat Health Foundation's president, told me that Jenny is a solid black cat subjected to the white spotting factor to the extent of about 50% and would be called a black and white bi-color! She's actually a tabby cat but the black gene has hidden all her pattern. Wow, who knew? Jenny looks kind of cross-eyed because her third eyelid is permanently adhered to her cornea. It may be related to the double, upper eyelashes that were surgically removed when she was a kitten. She was part of a litter of 5 feral kittens that I fostered from the age of 4-1/2 weeks of age.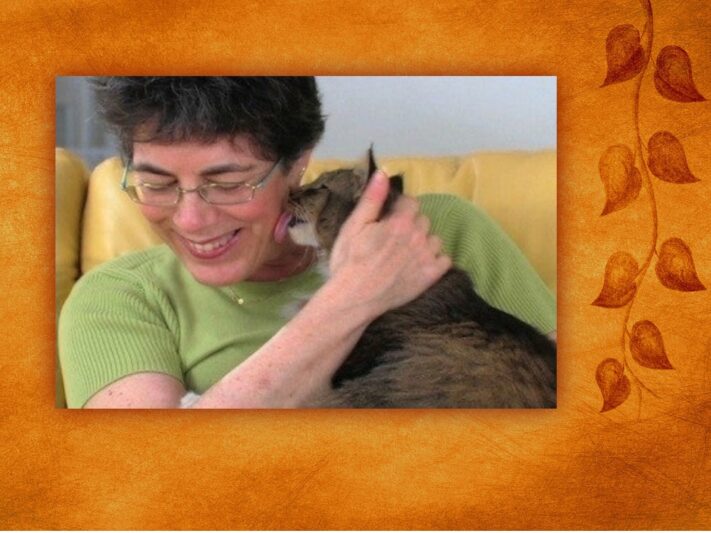 Here is a link to Research Gate where some of my attributed publications appear: https://kittencoalition.org
You can find out more about Nancy Peterson at the following sites:
https://www.facebook.com/kittencoalition/
https://www.neighborhoodcats.org