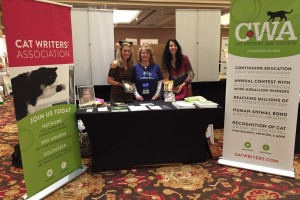 It's not a cat fight, but purring praise for the Cat Writers Association's ability to foster and attract the CREAM of the cat writing world. On March 1, 2016 a front page story of the Wall Street Journal examined the pro-and-con arguments for including cat characters in novels, and several award-winning CWA authors weighed in.
AWARD WINNING CWA AUTHORS QUOTED IN WSJ ARTICLE
All of the quoted authors–Patricia Fry, Clea Simon, Shirley Rousseau Murphy, Amy Shojai, Carole Nelson Douglas–as well as other talented member writers have not only won the coveted CWA Muse Medallion for their work, but generously shared expertise with other writers during the annual Cat Writers' Association Conferences.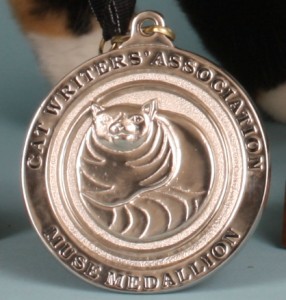 CWA has also partnered with other organizations in the past, holding its annual conference with major cat shows, as well as other pet-centric organizations including hosting a "Writers Track" with the last BlogPaws conference.
CWA & BLOGPAWS CONFERENCE
This year, the CWA again rubs furry elbows with BlogPaws and will hold a collaborative CONFERENCE that offers educational seminars and workshops for aspiring-to-experienced writers, bloggers, photographers, videographers and authors.
Anyone with a "furry muse" whispering in their ear (virtual or literal) is encouraged to attend! Learn more about the Cat Writers Association Conference partnership with BlogPaws here. And find out who will win the coveted Muse Medallion awards at the annual CWA Banquet!
Read the WALL STREET JOURNAL article here: "In the World of Cat Fiction, Fur Flies Over Whether Stars Get Speaking Roles."
The CWA Conference and Awards Programs are made possible by the generous support of our amazing sponsors. 
For inquiries about sponsorship and getting YOUR company name out to our pet-centric audience, please email the CWA President Marci Kladnik and/or the CWA Conference Chair Amy Shojai.