By Lynn Maria Thompson
In Part 1 of this year's GPE report, we explored new products from the Cat Writers' Association's sponsors. In this part, we'll venture out into the broader world and look at some of the products we saw from other companies. There's so much to see! While it's been a few months since the show, these are the things that have remained in my consciousness in retrospect.
Best New Products for Cats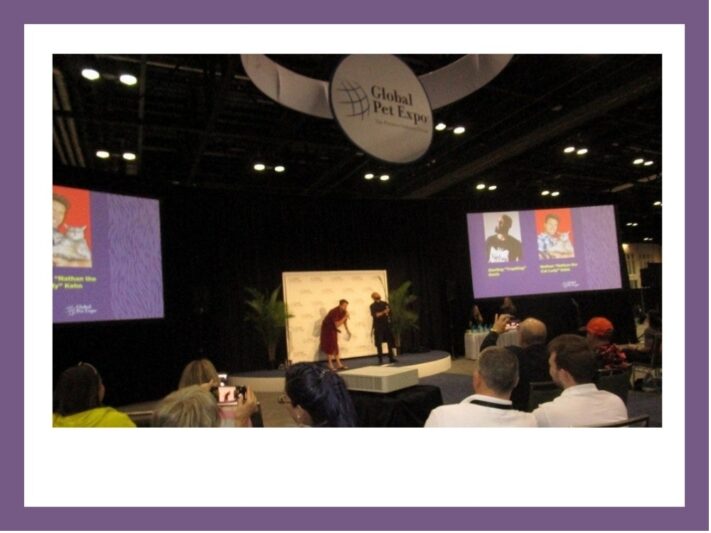 One of the most popular aspects of Global every year is the New Products Showcase, where companies exhibit all their newest and best products. Retail buyers attending the show vote on their favorites. On Thursday afternoon, awards are presented in nine categories, one of which is "Cat."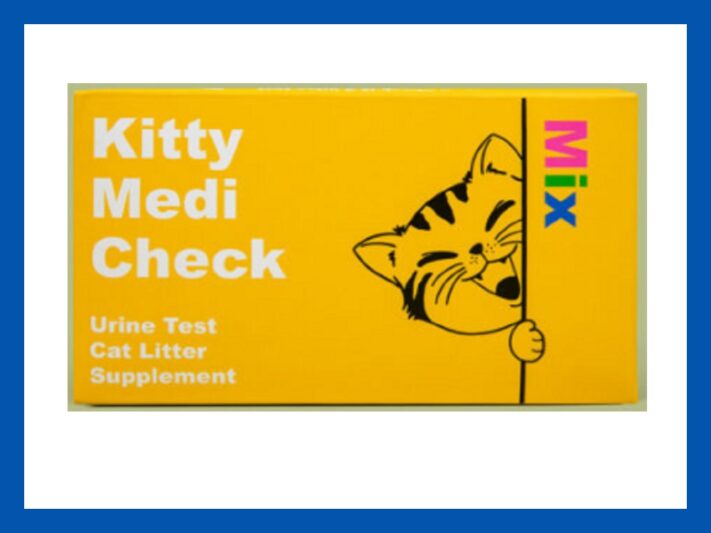 Third place in new cat products was the PETJOA Kitty Medi-Check cat litter supplement from FutureBioWorksUSA Corp. You've seen the cat litters that change color to indicate any issues with your cat's urine content. But maybe your cat won't use them. Kitty Medi-Check lets you use the same litter your cats already use, while still getting the color-changing effect by using this add-in sprinkled on top of any brand or type of litter. The additive checks for protein and blood in the urine, as well as its alkalinity. Made from corn and potatoes, it's all-natural and biodegradable. This product has a suggested retail price (SRP) of $29.99.
Learn more about PETJOA Kitty Medi-Check.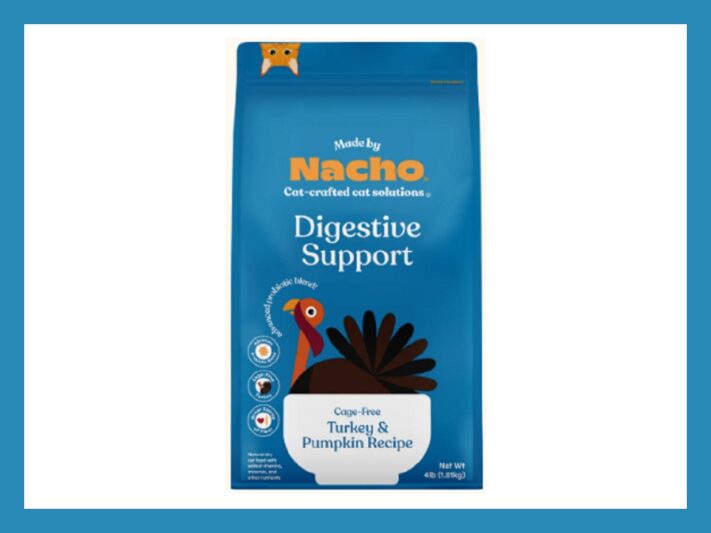 Second place in new cat products went to Made by Nacho Digestive Support Turkey & Pumpkin, from Chef Bobby Flay's line of cat food named for his feline companion, Nacho. This kibble is made from sustainably sourced protein and includes dehydrated bone broth, plus pre- and probiotics to promote gut health and boost kitty's immune system. And although it's technically kibble, it contains no fillers, corn, wheat, soy, artificial flavors, colors, or preservatives. The food comes in 2-pound and 4-pound bags, with SRPs of $17.99 and $30.99, respectively.
Learn more about Made by Nacho cat food.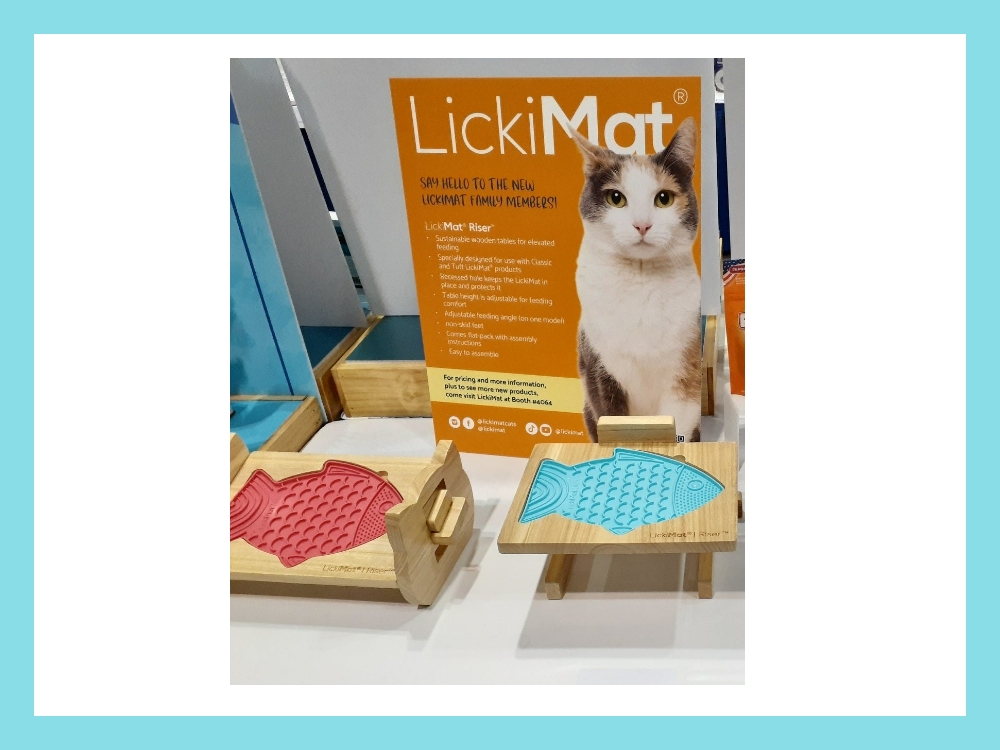 And (drumroll, please) the winner of Best in Show new product in the Cat category at 2023 Global Pet Expo was…the LickiMat® Riser from Australian company LickiMat. While the award was given for the riser, that product is not yet available However, the LickiMat itself is pretty cool. Made from human-grade TPR rubber, these non-toxic slow-feeder mats are microwave- and freezer-friendly and contain no BPA, PVC, phthalates, or silicone. A few features:
· Emulates a cat's natural feeding behavior
· Can be used for wet or dry foods, or treats
· Can be used as a meal prep surface
· Eliminates whisker distress
· Licking action produces more saliva, helping clean teeth & gums
· Easily portable for travel or vet visits
· Comes in four fun colors, three different texture patterns, and square or fish shapes
SRPs vary for LickiMat products, from under $10 to around $20.
Learn more about LickiMat products.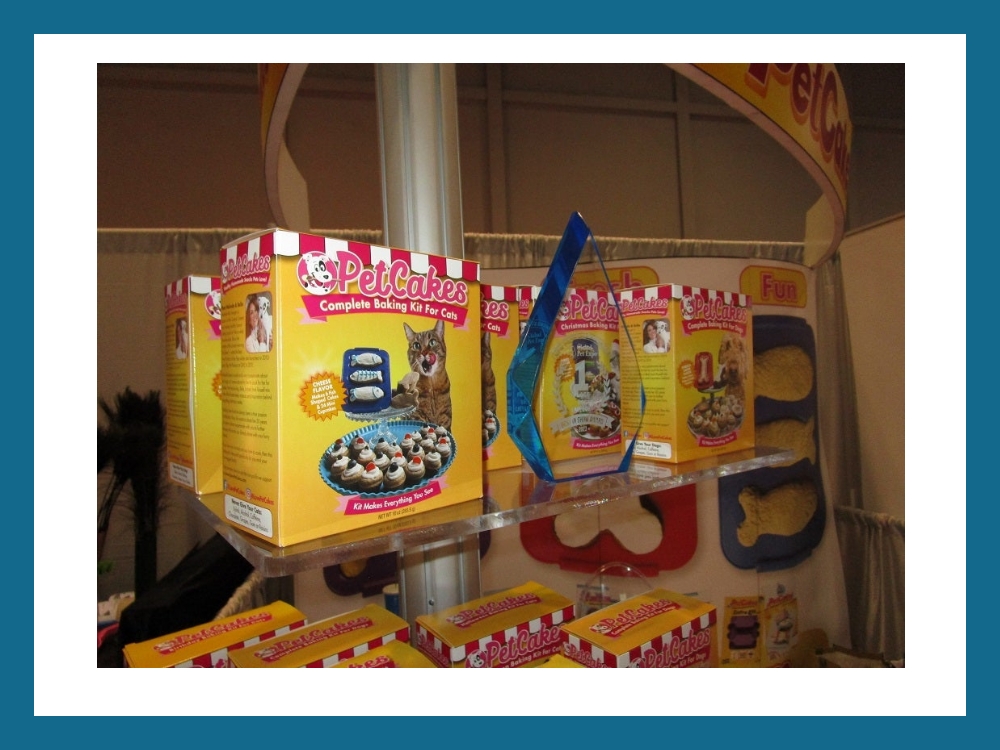 Receiving a new product award in the Dog category were the PetCakes Complete Baking Kits from Lucky Paws, Inc. Previously only available for dogs, these now come in cat varieties as well! Make either mini-cupcakes or little frosted fish-shaped treats for your kitty with the kits, all made from human-grade ingredients without wheat, corn, soy, sugar, salt, or preservatives. Priced at $25 SRP, they come in regular packaging or branded for Christmas, Halloween, or Valentine's Day.
Learn more about PetCakes Complete Baking Kits.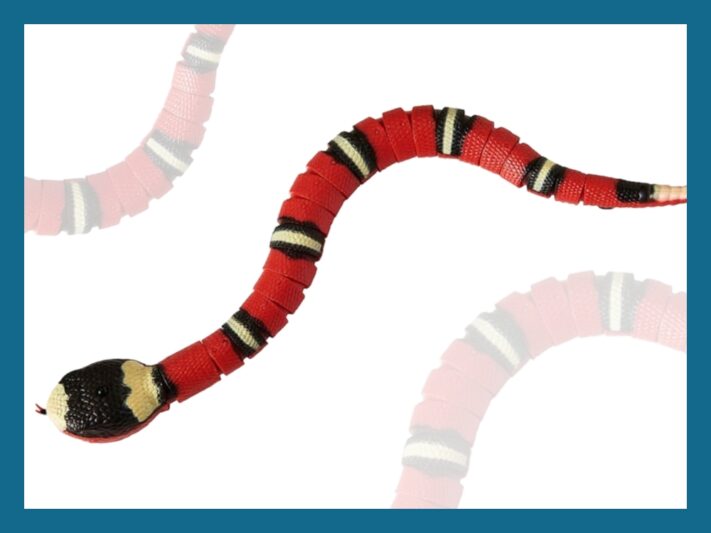 In the Boutique category, Best in Show went to Ethical Products' Wigglin' Snake. Charged via USB cable, the snake rests quietly until your cat taps it on the head. Then it starts moving, crawling across the floor just like an actual snake. Sensors in the toy will detect objects and move around them so it gives kitty a real sense of chasing prey. After a few minutes, it goes back into sleep mode until kitty's ready to play again. SRP just under $20.
Learn more about the Ethical Producs' Wigglin' Snake.
Other Companies With Cool Cat Products at Global '23
Winners of awards were not alone in debuting new products at Global, and several had items that were interesting. Here are some:
HICC Pet
This company makes grooming gloves and wipes infused with hypochlorous acid, a natural, pH-neutral, non-irritating substance that helps heal skin conditions in cats. The gloves are made with organic cotton and each includes 715 massage tips. Completely safe for cats to lick, hypochlorous is non-toxic and combats hot spots, ear mites, ringworm, allergic dermatitis, and facial conditions like yeast stains and feline acne. It is also great for staving off infection in wounds from cat fights. SRP is $79.99 for a box of 60 gloves and also available in smaller packages or individuals.
Learn more about HICC Pet products.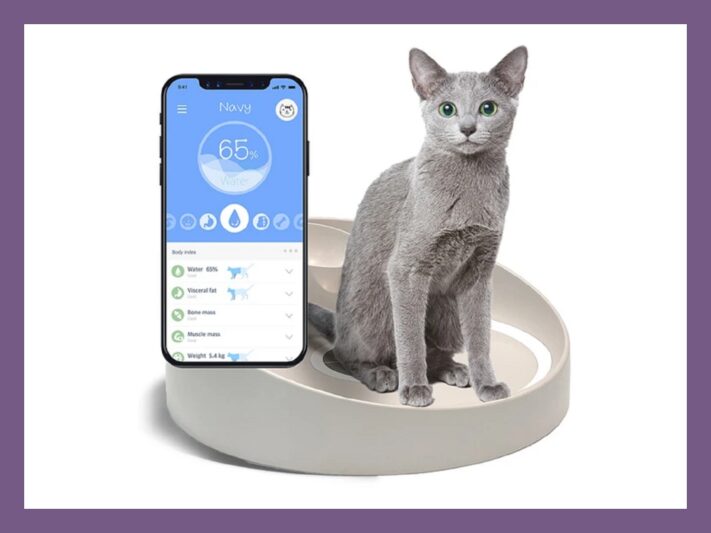 The Little Cat
This Korean company applies technology to feline health. They were launching a new product, InPet, that measures a cat's body composition, relaying information to a phone app via Bluetooth. Veterinarians, rescues, or breeders can measure a cat's weight, hydration level, body-mass index (BMI), visceral fat, protein, basal metabolism, bone mass, and muscle mass in ten seconds to monitor ongoing conditions or identify health risk factors.
Cats are attracted to the device by an adjustable LED light that defines a space, much like how a box or paper bag draws cats in. To keep kitty there while it's taking the measurements, an incorporated bowl can be filled with treats or food. The company has applied for patents to cover various features of the device, which is already being marketed to veterinarians. Here's a video from the show floor at Global:
The Little Cat also makes a smart treadmill paired with a phone app using LED lights and recorded voice messages from the kitty's human companion to entice cats to use it. The treadmill monitors the cat's BMI and can adjust its speed to provide the optimal workout for kitty. It's scheduled to launch at the end of 2023, with a suggested retail price of $300.
Ultimately, The Little Cat hopes to collect data on enough cats to establish a full healthcare solution based on artificial intelligence (AI) that can be used to formulate custom foods and provide contactless analysis and treatment for feline conditions or diseases.
Learn more about the Little Cat products.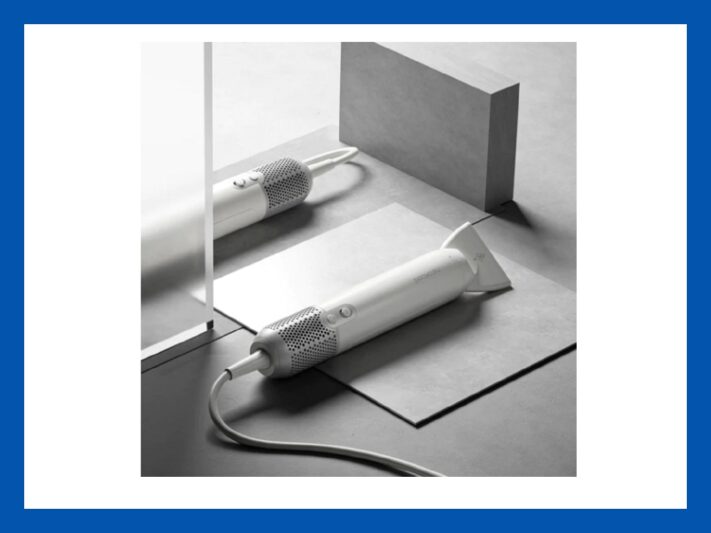 Neakasa
For mobile groomers or those who show cats and need a portable dryer, Neakasa's new F1 Pet Grooming Dryer is lightweight, palm-sized for ease of use, and will dry a cat in about eight minutes. With multiple settings for air speed and heat, it avoids overheating and operates 20% more quietly than most dryers, to avoid freaking out your cat. SRP for the F1 dryer is $129.99.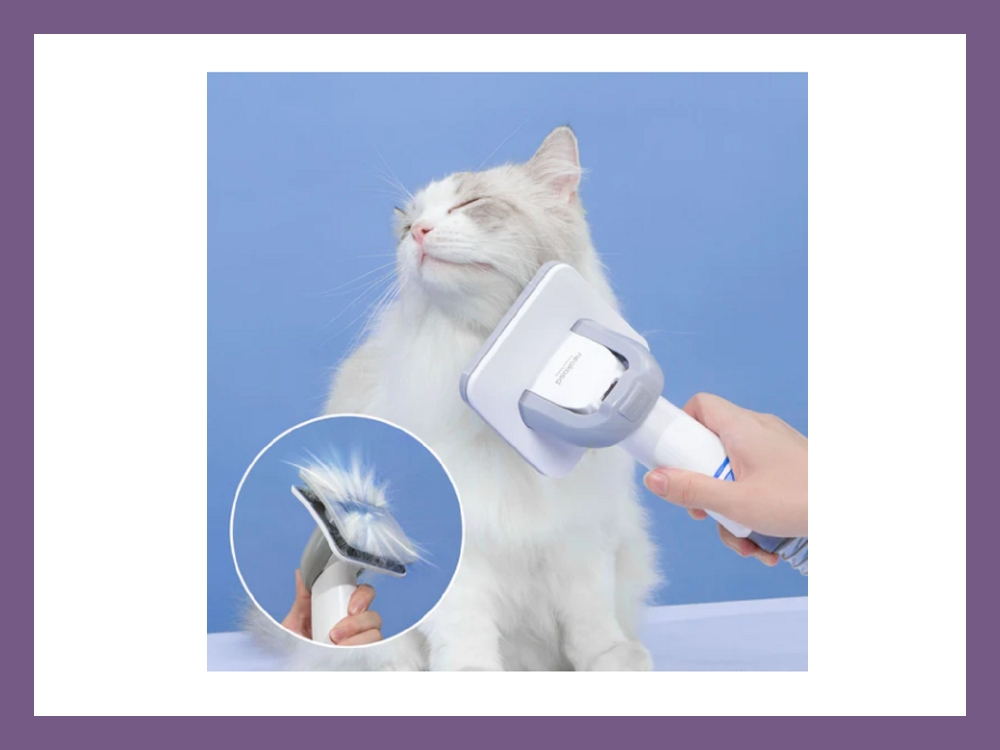 Neakasa's P2 Pro Pet Grooming System is great for people with long-haired cats who need frequent brushing. The grooming tool has a stainless steel fixed blade coupled with a ceramic moving blade to protect kitty's sensitive skin and yield smoother grooming. It vacuums in the hair and allergens as you groom, with a huge two-liter canister that can go longer between emptyings. Also designed to be low-noise, it operates at 52 decibels (most hair dryers operate at 80-90 decibels). Bonus: with its cleaning brush and nozzle attachments, you can also use it to vacuum cat hair off your upholstery, clothing, and carpets! SRP: $179.99.
To interview one of Neakasa's representatives for a story about their products, contact Gina Boubel, gina@charmed.media, or visit www.Neakasa.com for more information on their entire line of grooming products.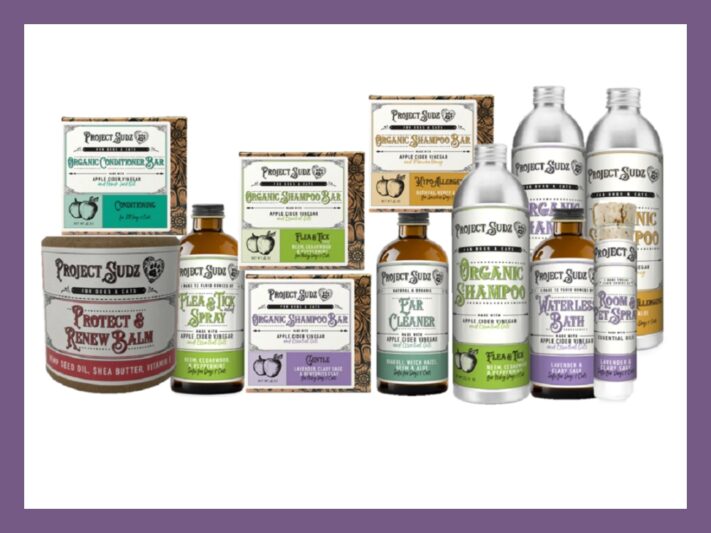 Project Sudz
This company bases its products for skin, coat, and ears on apple cider vinegar to fight itchiness. Natural anti-fungal and anti-microbial properties help both hot spots and fungal infections by restoring the skin's natural biome, help remove odors, and break down the calcium in hard water, leaving kitty's coat soft and clean.
Their Scented Soy Candle for Pet Odors won a new product award in the Natural category at Global, but their full line of cat products includes a flea & tick spray, organic shampoo bars and liquids, ear cleaner, waterless bath, balm, and a spray that can be used both in rooms and on cats. The company's fun, retro-apothecary labeling highlights their natural ingredients and essential oils. SRPs: from $5.99 (for a reusable spray bottle) to $14.99 at retail.
Learn more about Project Sudz and their products.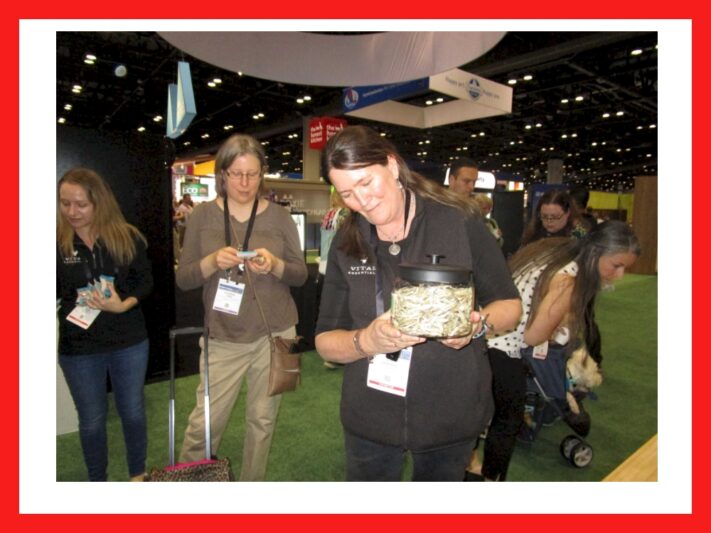 Vital Essentials
This brand is made by Carnivore Meat Company, a Wisconsin-based maker of raw, raw frozen, and freeze-dried foods for cats and dogs in their GFSI and EU certified manufacturing facility. The only ingredient is butcher-cut, minimally processed meat, with a variety of those including chicken, turkey, and beef, but also more exotic rabbit, duck, salmon, minnows, and ahi tuna. Freeze-dried entrées come in mini nibs or mini patties, frozen entrées in mini patties. "Raw bar" items include whole minnows, chicken necks and duck hearts. Treats include freeze-dried raw chicken breast, chicken giblets, chicken hearts, duck liver, rabbit, salmon, whole minnows, or ahi tuna. Quite the variety!
We got mini-samples of the freeze-dried entrées, which even my fish-addicted cats gobbled down. High praise, indeed! Funny thing: they wouldn't touch the minnows, which my neighbor's cats adored. To each cat his own! Vital Essentials are sold both online and through local pet stores. SRPs $6.49 to around $45.
Learn more about Vital Essentials food and treats.
Wellness
New at Global from this well-established pet food company whose brands include Core, Core Digestive Health, Complete Health, and Bowl Boosters, were variety packs, kitten, and senior cat formulas. Wellness makes wet foods in pouches or cans, dry foods, and food toppers that can also double as treats. SRPs range from $2+ for individual packets to around $160 for a case of 5.5-ounce cans.
Learn more about Wellness cat foods.
There was so much more at Global, it would take several blog posts to get it all in! To learn more about cat products, behavior, rescue, and the business of writing, publishing, and marketing, sign up for the CWA's virtual conference, "Back to Basics" which will be held October 14-15, 2023! Tickets go on sale August 1. Subscribe to the CWA's YouTube channel to see videos from presenters at the conference talking about their workshops during July and August.
---
About the Author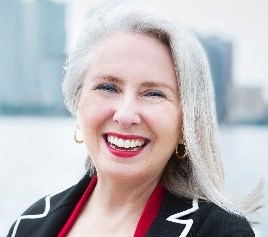 Lynn Maria Thompson is an award-winning writer, editor, book author, and speaker who has been helping other authors refine and market their books for over 20 years. She takes a little time out from leading the Cat Writers' Association as its president to write and speak about her own books, which include The Feline CEO, An Author's Guide to Online Marketing, and An Author's Guide to Literary Genres, of which she's currently writing volume 2 that covers the Young Adult Nonfiction genres.